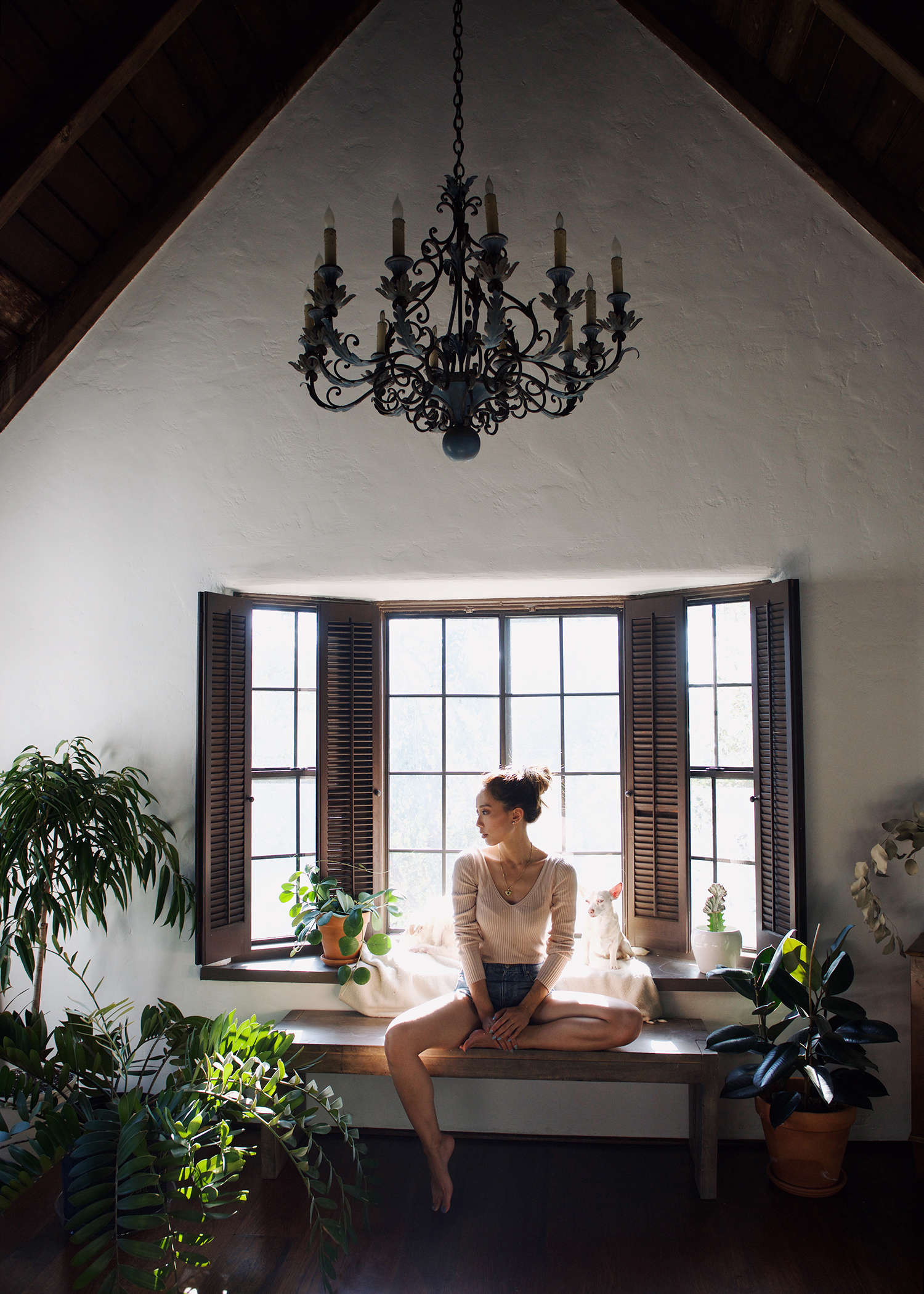 While I do love the occasional night out and having fun with friends, I think my natural state is happiest when I'm at home, by myself. I'm a bit of an introvert. I had a conversation with a friend recently and we were trying to determine whether leaning introvert or extrovert was rooted in your neurological makeup, or if it was a personality trait that's carved over time, from circumstantial situations or your upbringing. Perhaps it's both, but I know that over the years after living in a hectic part of town, I'd realized how important it was to turn my physical fortress into a mental oasis. Consequentially, I think desperately retreating to home further encouraged my introversion- and so I kept making it a point to continually improve my sanctuary.

Anyhow, after sharing snippets of my space on Instagram a few readers were curious about what my home life was like, and well, the following photos will hint that it's mostly time spent tending to plants, cuddling my dogs, reading on my balcony, and playing around with skincare products. In collaboration with Society6, I'm sharing my favorite nooks below.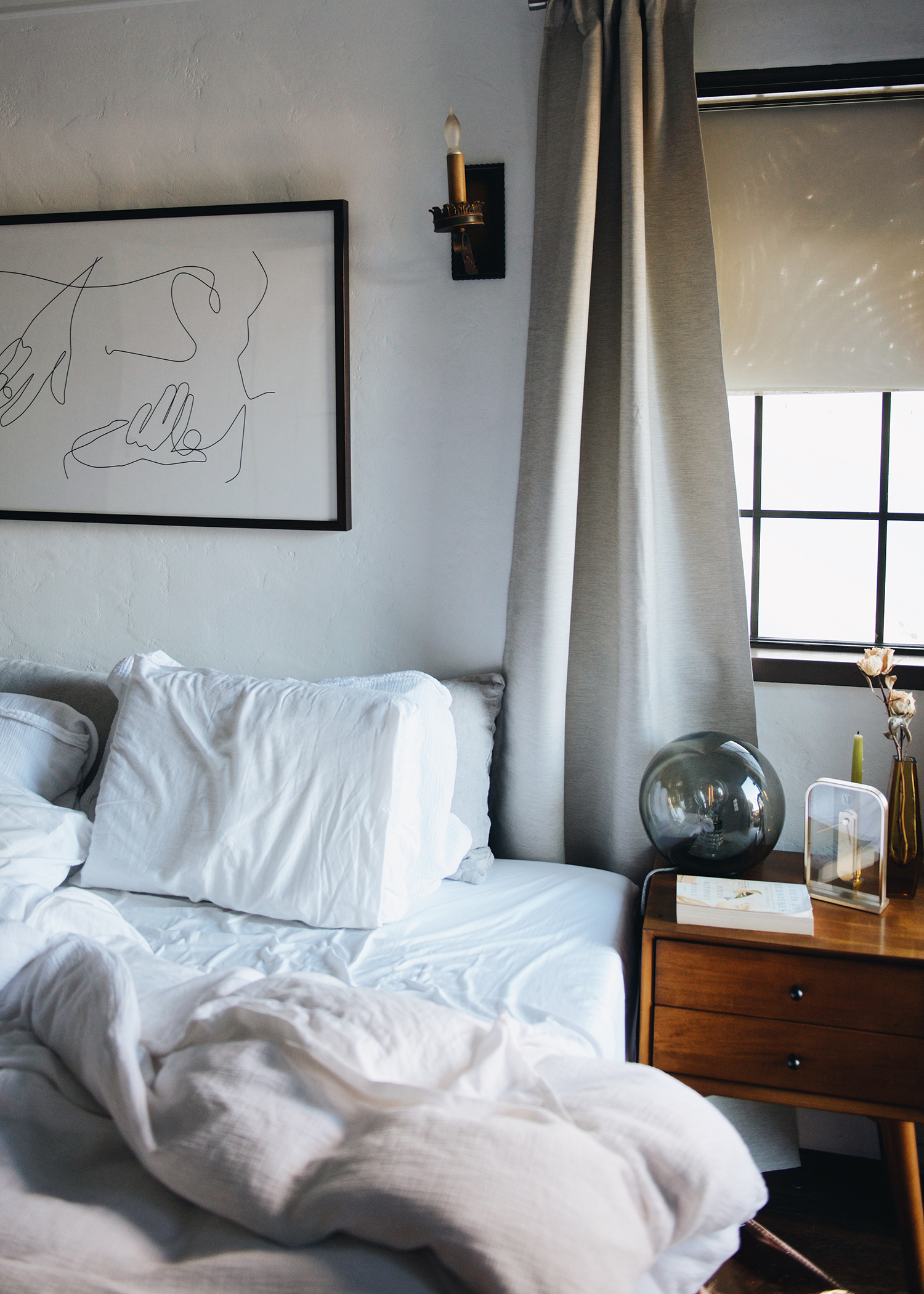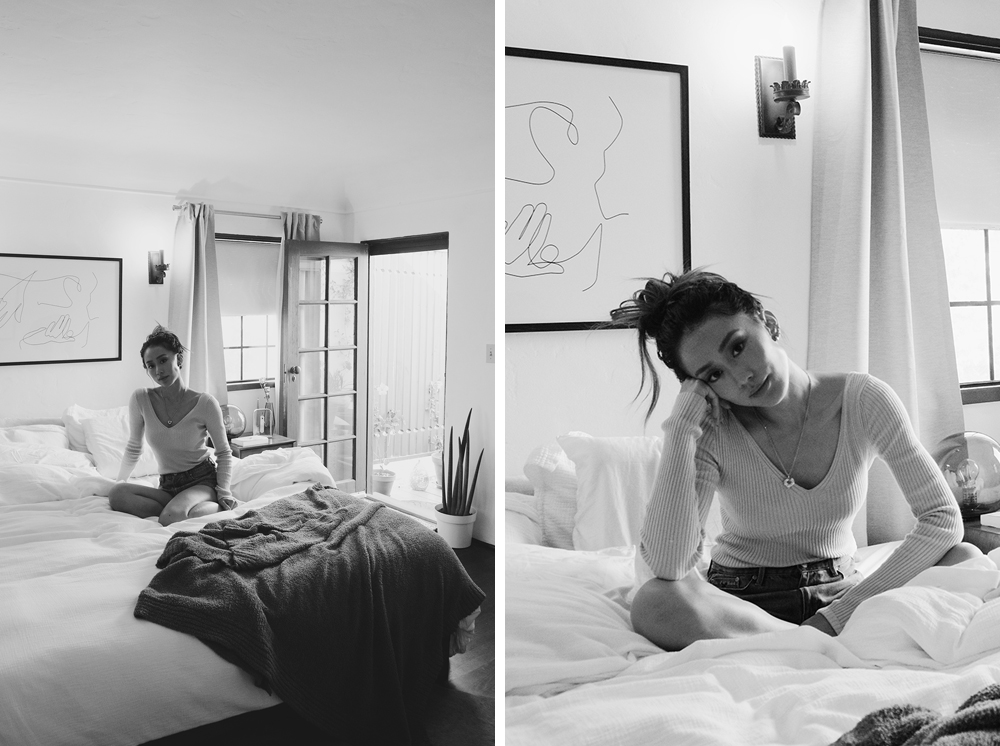 Society6 'sensual' print

My bedroom might be my least inhabited room (during my waking hours anyway), but it is probably the most personal and private space, for obvious reasons. It's where I retreat to when my mind and body desperately need to recharge, where I briefly recount my day and make note of my feelings before drifting off to sleep. As my bedroom leans more on the minimal side, I thought this piece from Society6 was fitting for its depiction of intimacy and self-preservation and -love. I might spend more time in my office or in the kitchen, but the bedroom is the most sacrosanct of all, without a doubt.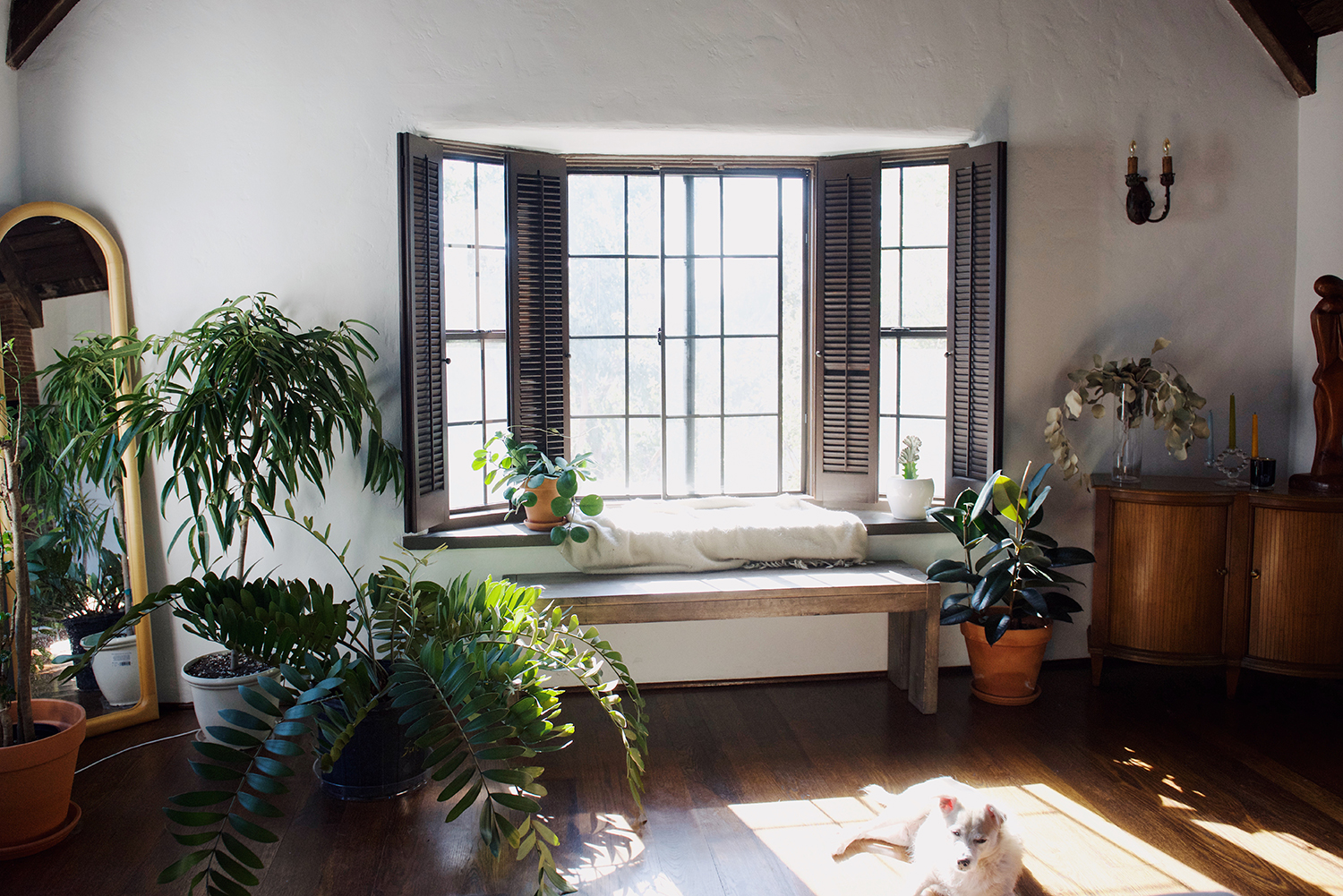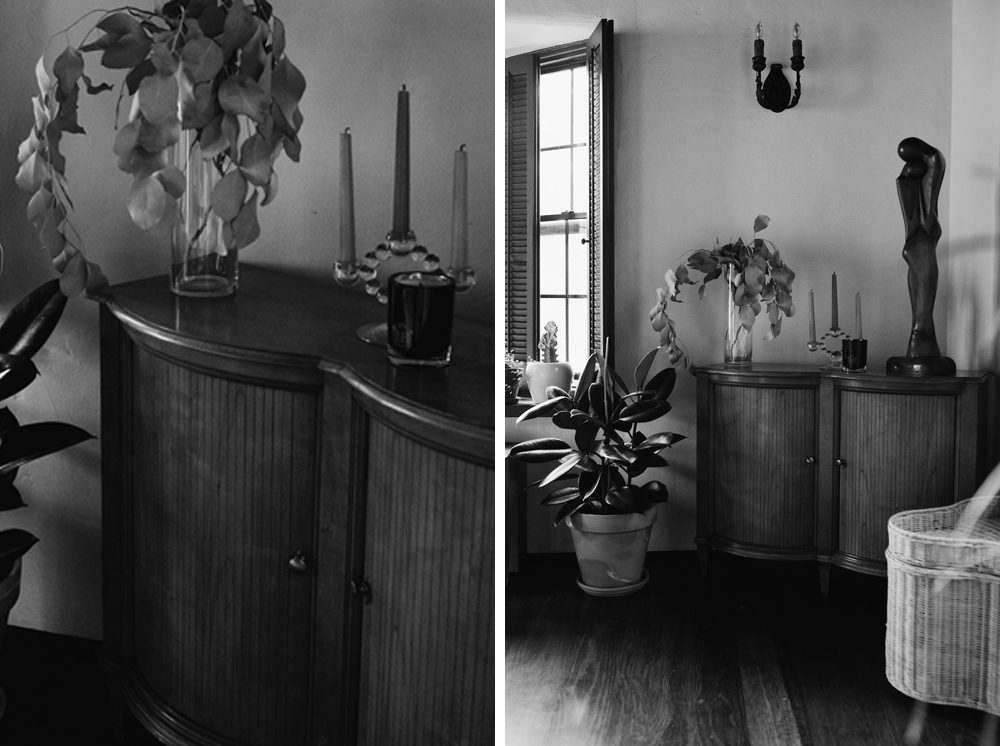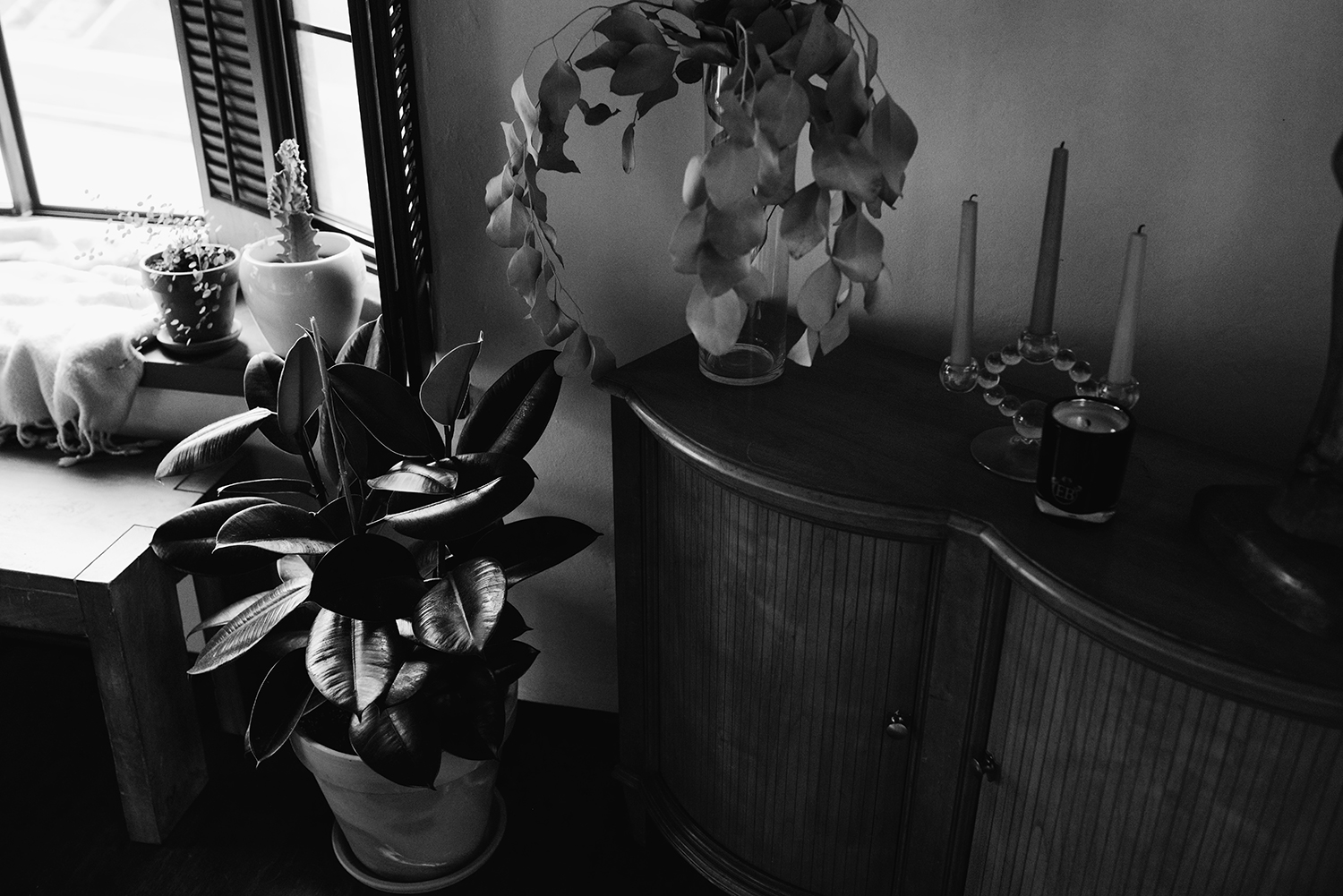 It's hard to say for sure, but the living room is maybe my favorite. I have a small dining area but 99% of the time, I just prefer to eat in here. Maybe because it's padded with plants and sprinkled with my favorite flea market treasures, but I feel like I get a deep breath of fresh air whenever I'm in the living room. It's also the spot my dogs love resting in the most, and sometimes I'll catch them sunbathing by the window, scouting for strangers and mailmen. I check in with my plants at least twice a day (and a bunch of them are not pictured here so you can imagine how much time I spend in this room), so I go in and out of this area a ton, but my favorite time of the day is when the sun starts to cower and peek through the trees out in front, creating a brief, magical shadow dance on the floor during golden hour. I know my bedroom is where I primarily calm my thoughts at the end of the night, but I love spending a few minutes here during the day to recalibrate if needed.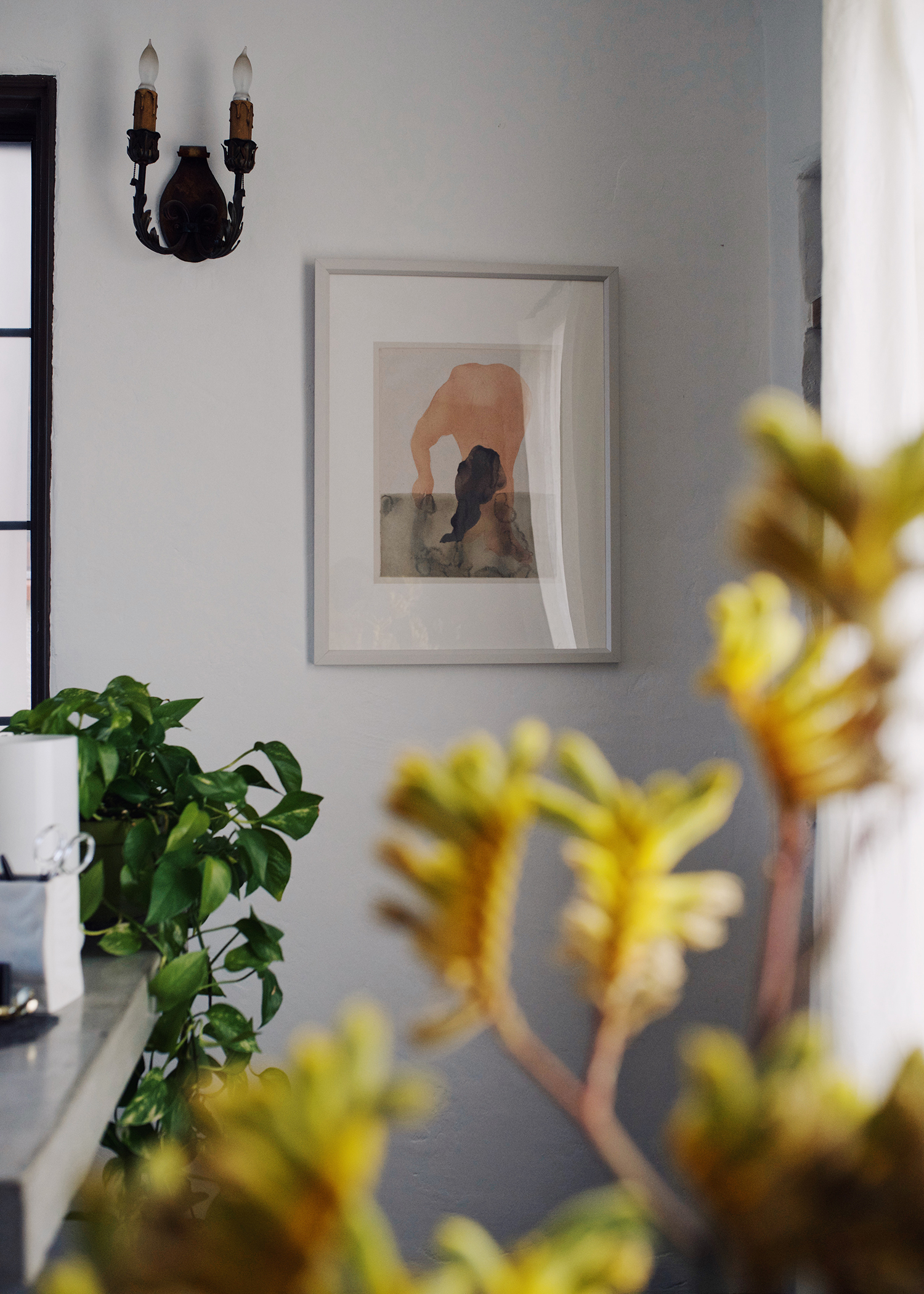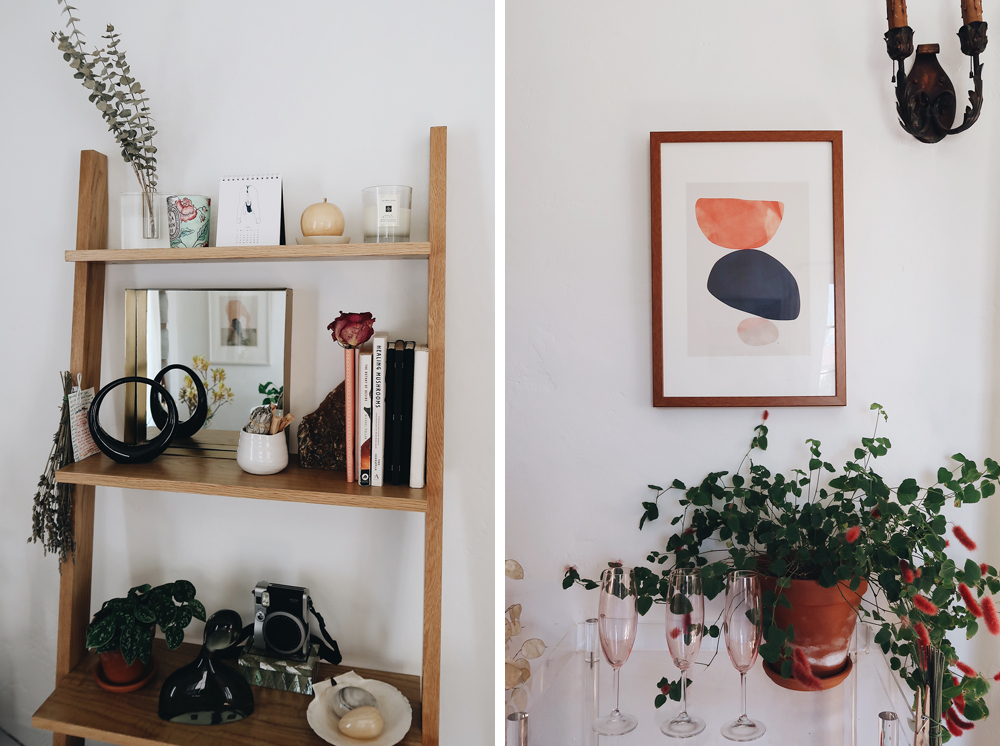 Society6 'nude figure' and 'balance' print

I work from home 80% of the time so it was really important to have a distinguishable office to separate it from the rest of my home life. I have to say that this is the most "colorful" room of all. In the literal sense, it gets the most light and has a lot of bright-colored plants, but it's also where I spend most of my days, so naturally I felt like it had to house things that I cherished most, and things that are affixed to vibrant memories. It's decorated with these Society6 prints, my favorite books, my collection of cameras, crystals, dried flowers, rocks/shells and other random mementos. I also love these two art pieces from Society6 and thought they were perfect for this space; the figure washing her hair in the first piece gives me a sense of serenity and purity, while the balancing figures in the second frame are friendly reminders of strength and willpower. I always need to be reminded of both.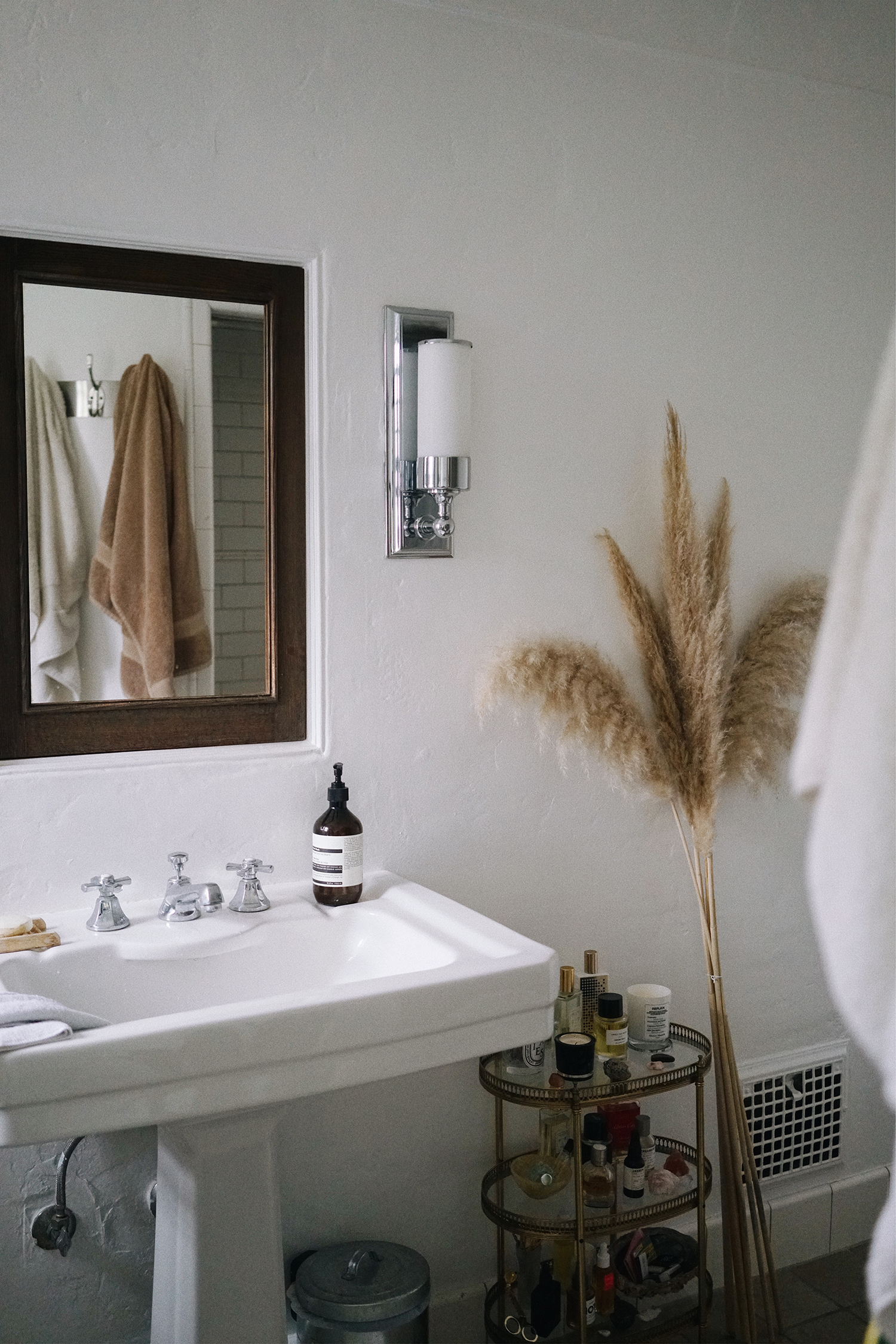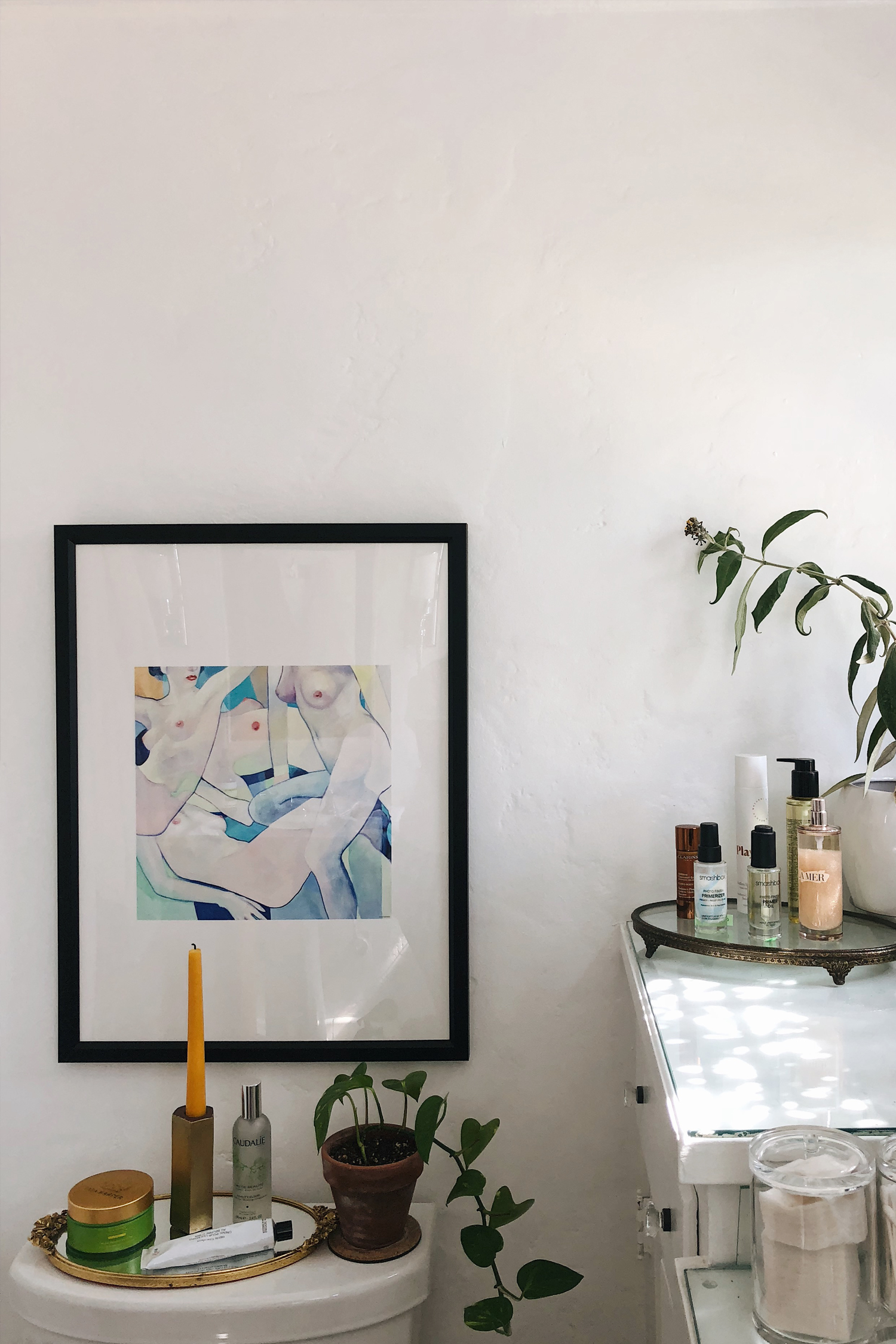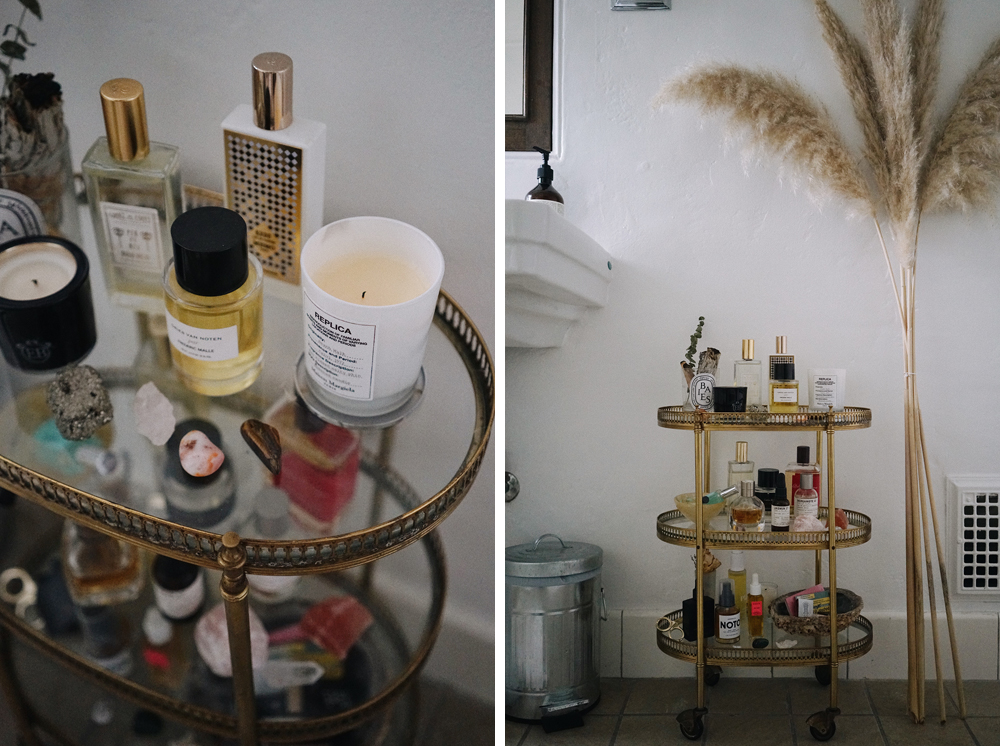 Society6 'twist' print

Ah my bathroom! As you guys know, I'm a huge skincare junkie so you can probably guess that I spend quite a bit of time here. I have an extensive skincare regimen - I'm committed to it at least twice a day and from time to time I'll utilize additional tools like the LightStim, so my actual skincare process might take a little longer on some days. I figured since I'm here often that I would try to make it more "homey" however possible, like decorating the walls with artwork, placing a few plants around small corners and some vintage fixtures to enhance the space and give it some character. I thought the rawness of this 'Twist' print, balanced by its quirky colors, was appropriate for the bathroom. It's one of my favorite pieces from Society6, and I love that it adds the right amount of eccentricity to an otherwise relatively neutral space. (PS. I receive quite a few DMs on Instagram about where I find my trays/containers. I usually just recycle old drinking glasses/candles or scour flea markets for them! It's the only way I can avoid clutter with having a ton of product, I have to make sure I have a home for everything.)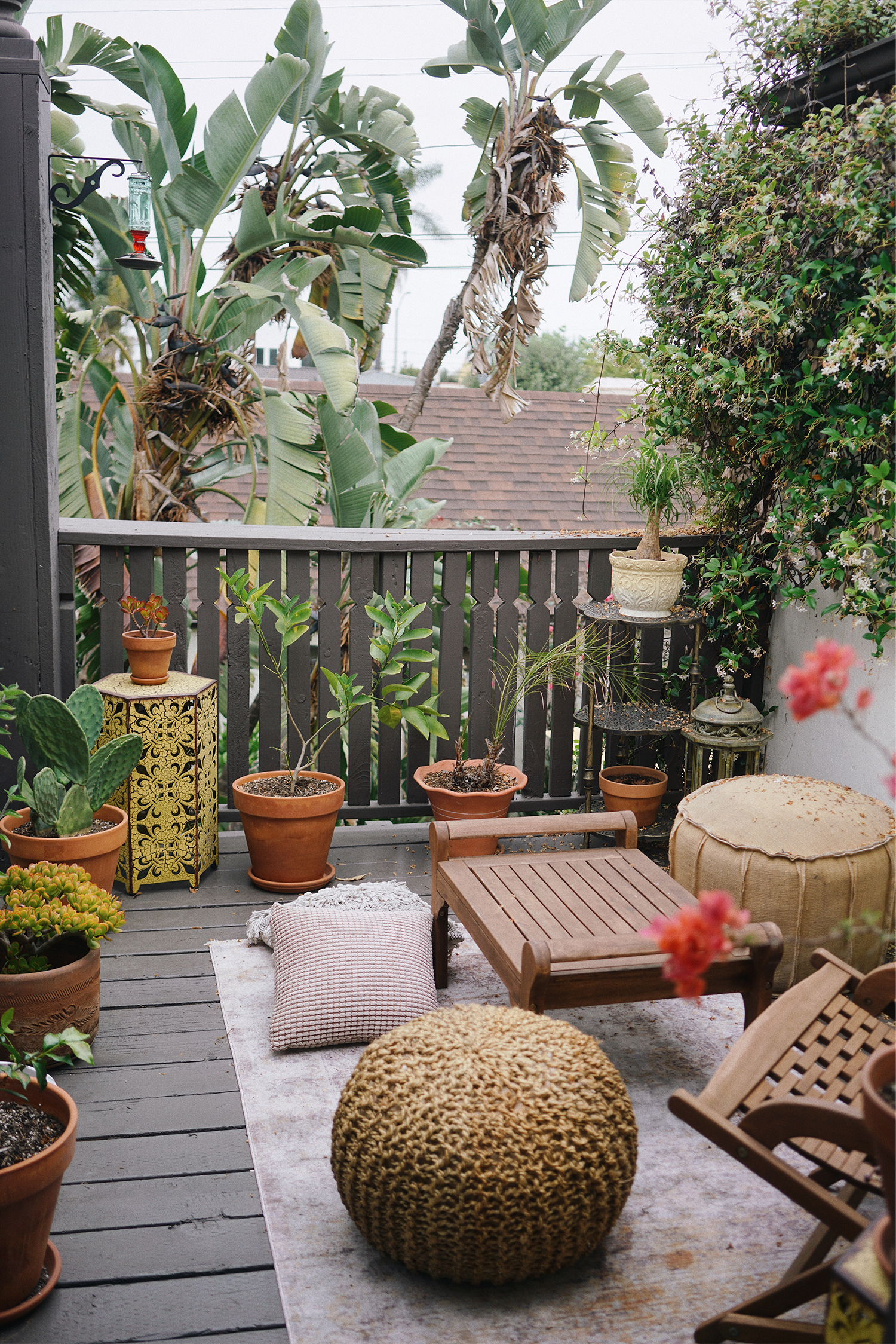 And last but not least: my balcony hideout, a place I can sit at any time to breathe slowly, properly meditate and sometimes do some quick yoga under the sun. Much like my living room, I wanted this to house a ton of plants, but unlike the former, I wanted it to feel more vibrant and energizing. Because I've always wanted a courtyard (anybody else crave being outside but want to feel completely safe and have it all to yourself?), I'd spent some time thinking about how I wanted this area to look exactly: hints of golden yellow and pink and bright greens against wooden furniture and a hodgepodge of succulents and flora with the ability to lay down comfortably. When I step outside to take a breather and sometimes catch a squirrel on the ledge, or a hummingbird or two whizzing nearby, I definitely feel grounded and grateful for the quick spouts of interactions with nature. I'm really thankful I get to call this home, even if it's only for a little while.

For more of my curated favorites on Society6, click here.