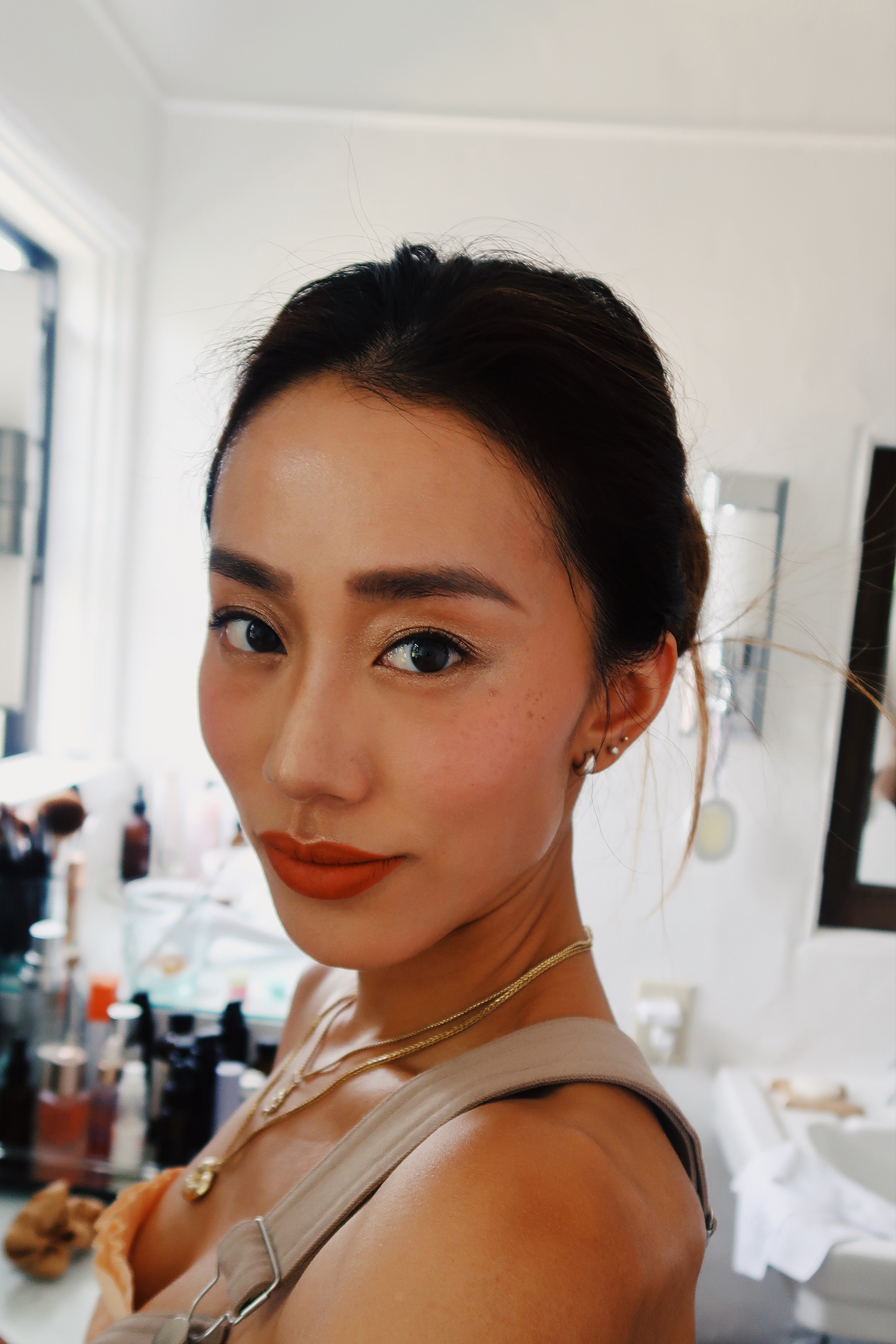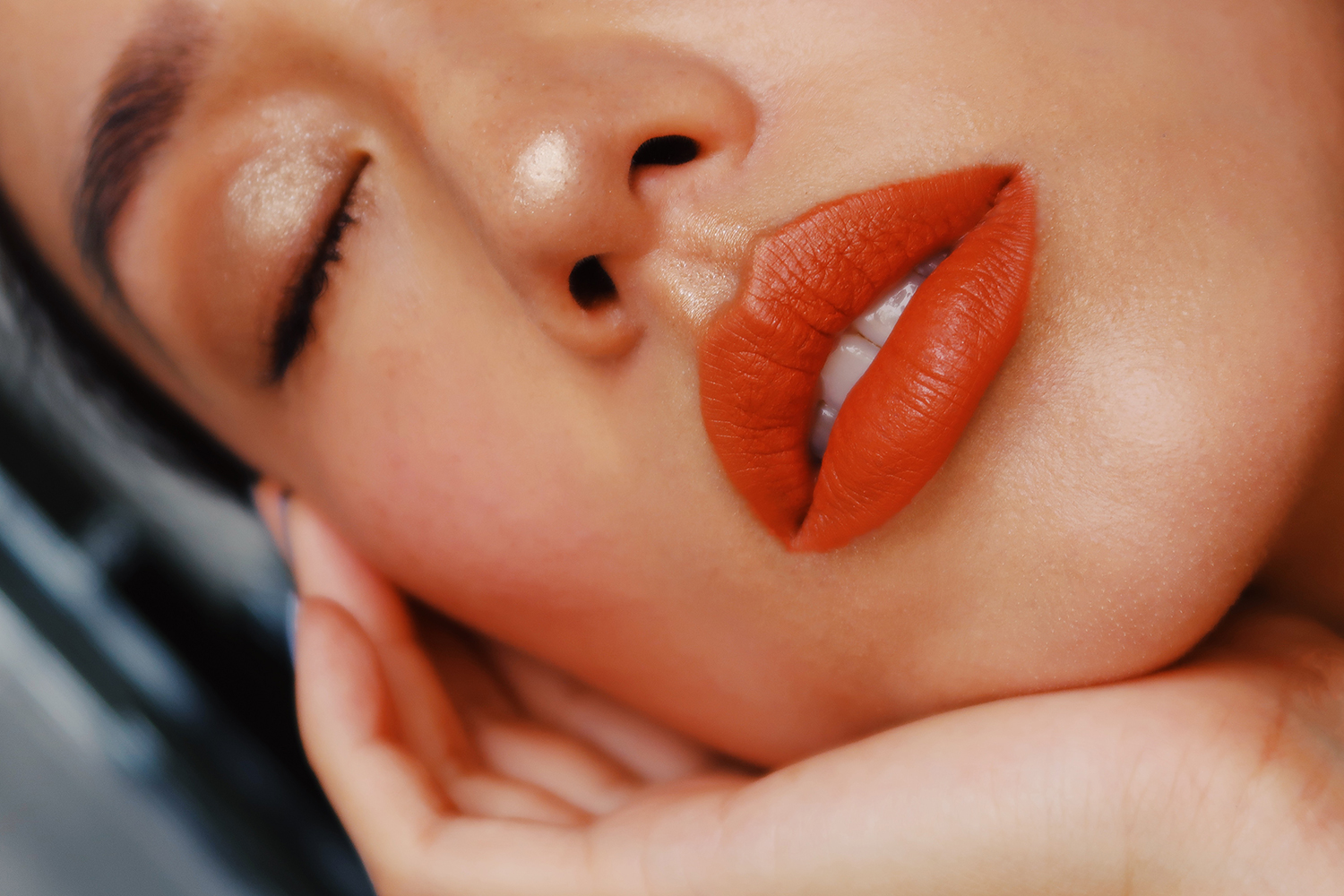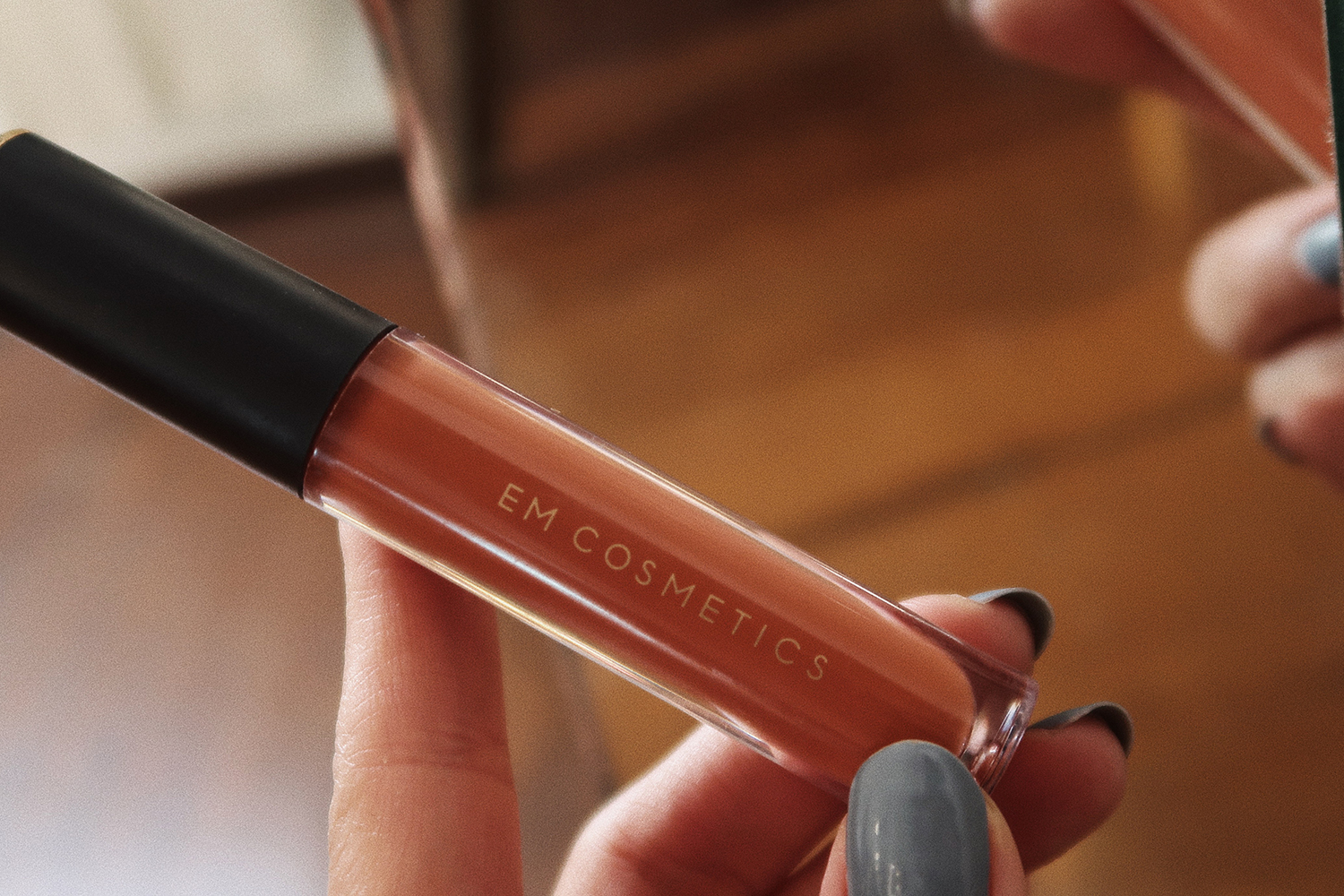 EM Cosmetics lip cloud

This past month if I wasn't bare-faced, I was most likely wearing a bit of a burnt orange-reddish lip color... namely "Faded Clementine" from Em Cosmetics. If you pair with a light pink flush for your cheeks (I'm wearing 'Puff' from Glossier here), an equally reddish/orange-y shadow and some shimmer, I think "Faded Clementine" is a great hue for that laid-back-but-a-little-put-together feel for the thick of summer. I got SO many compliments every time I wore it. Side note: it's a little drying for me and I'm not the biggest fan of its staying power (or the lack thereof), it seems to come off really easily so having it on hand and reapplying is a must... otherwise, best color ever. It's the perfect pop for a hot summer's day and/or evening.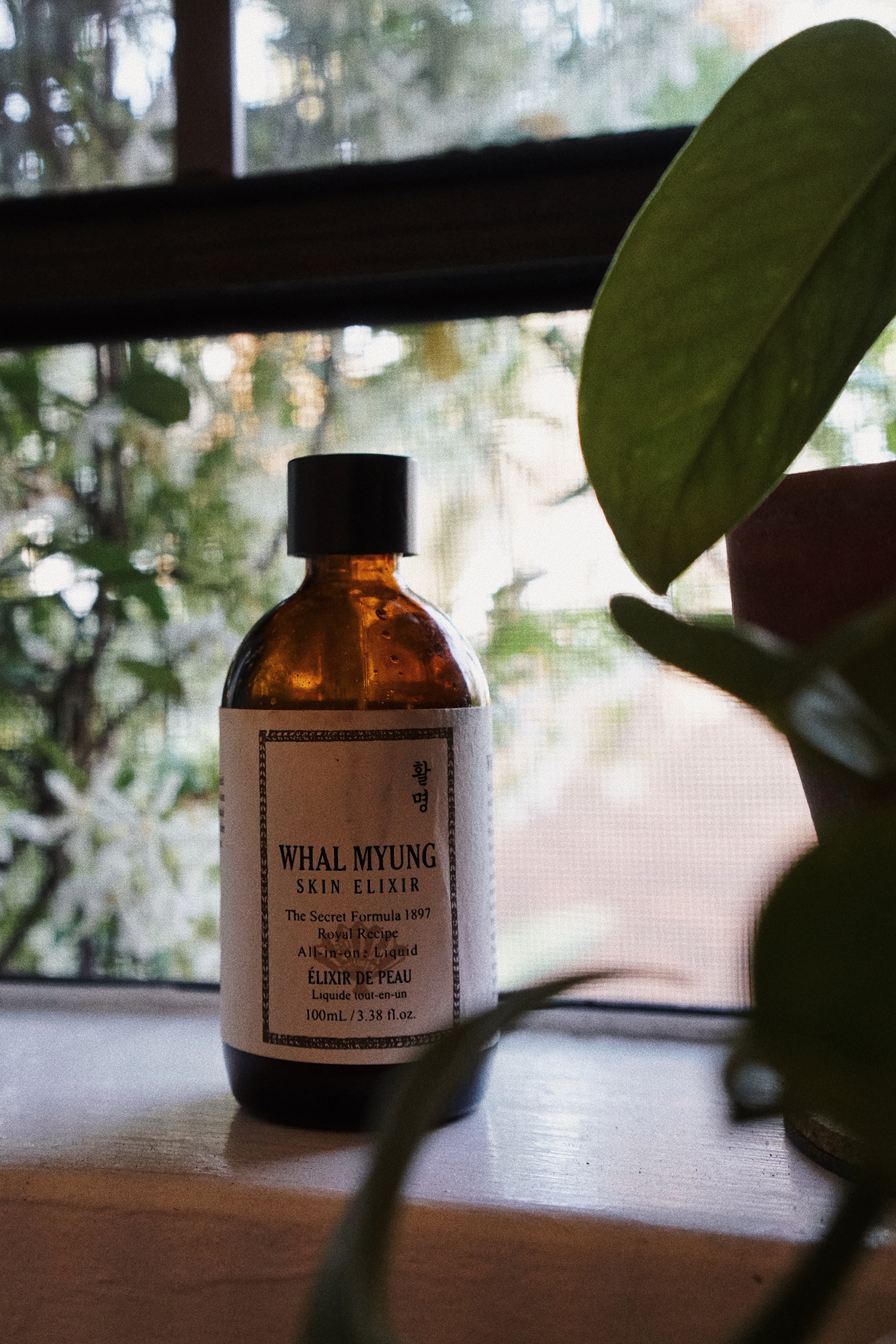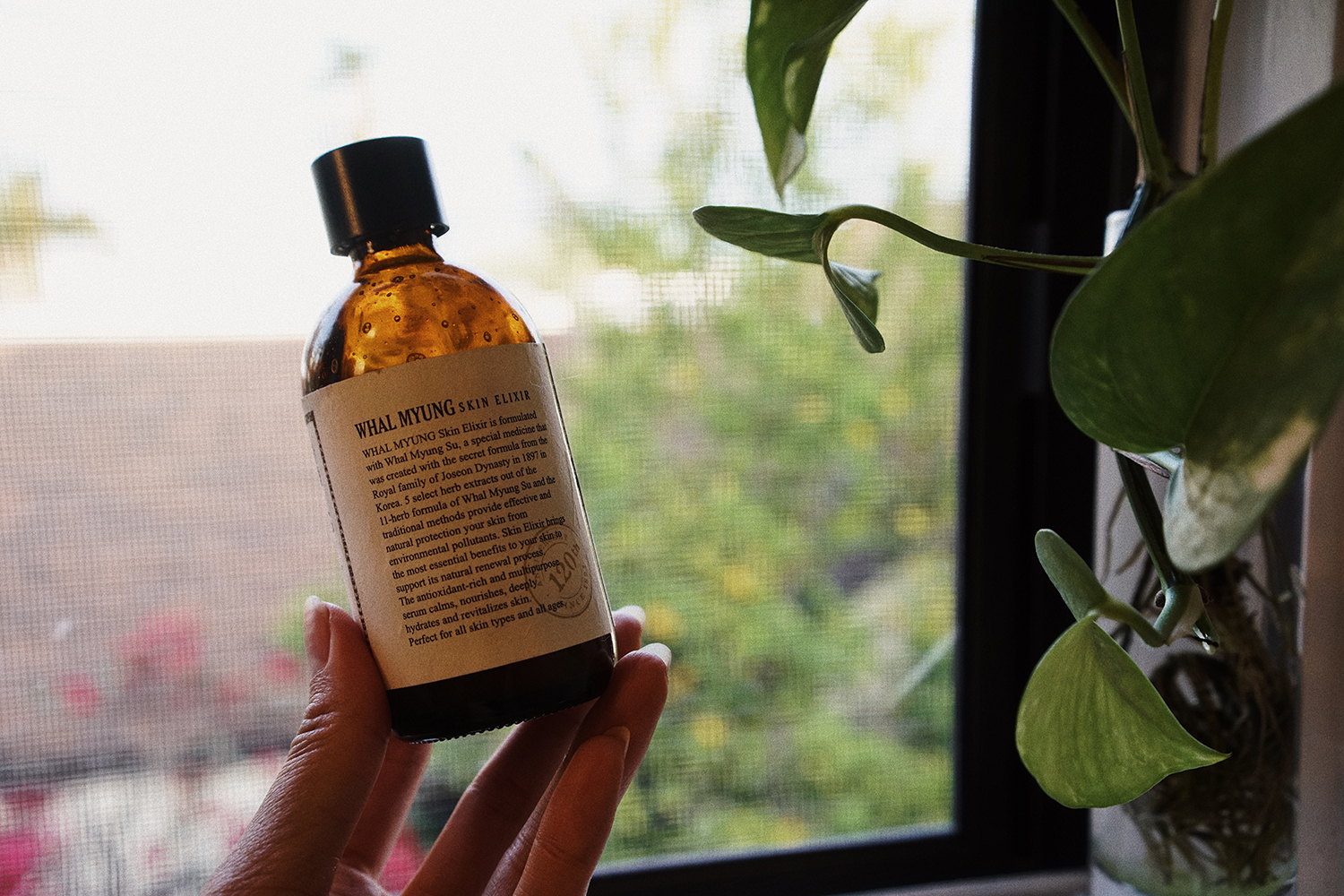 Whal Myung skin elixir

OK. Normally I don't like all-in-one anything. Every single all-in-one product I've tried has failed miserably... until this wondrous skin elixir came along. Admittedly I was very skeptical about this and thought about offering it to someone else who would be more appreciative of it, but a friend had raved about the brand and so I gave it a try and patted it on my skin one night. You know that feeling you get when you're dying of thirst and you finally quench yourself? Slurrrrrp- that's how it felt patting this onto my face. It was incredibly softening and hydrating - I couldn't believe how baby soft my face had turned. There's a bit of ceramide (makes your skin super lush feeling) and some argan oil in it (along with a handful of ingredients traditionally used for medicinal purposes), but you would never suspect it because it doesn't feel at all slick or oily- just a light, airy fluid on the skin. It's so light that I found it to be the perfect product for moisturizing in the mornings. My skin didn't feel clogged nor did it feel weighed down by product--just my skin, but better, which is how I want it to feel when it's super hot out. 10/10 would recommend!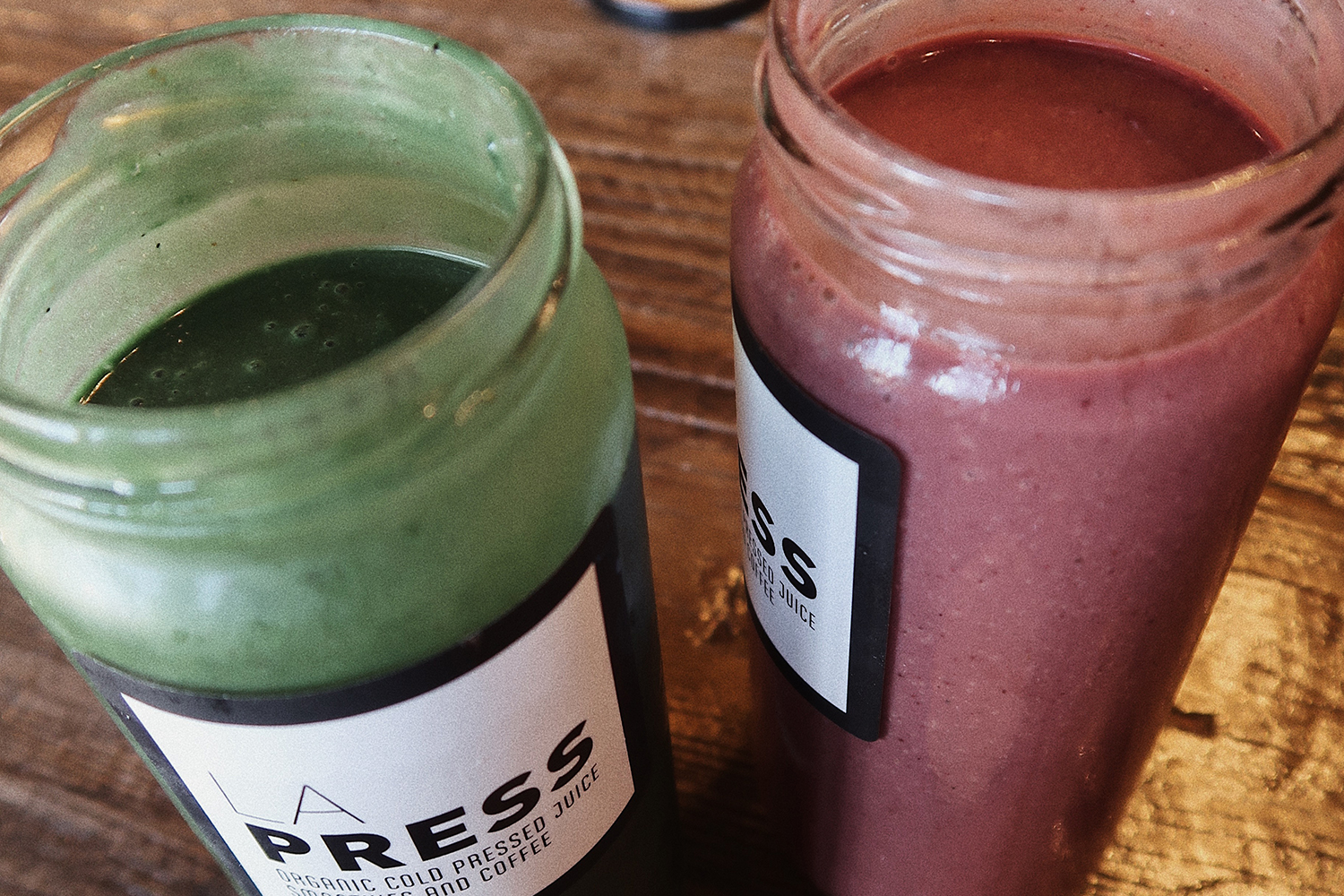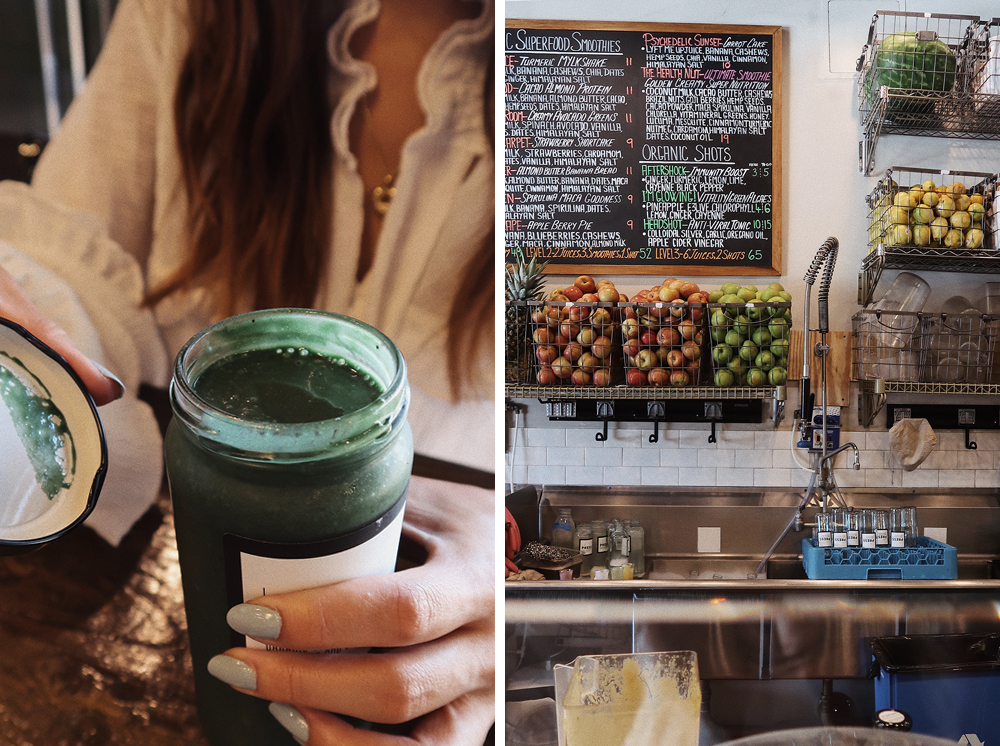 LA Press - Organic Smoothies & Coffee

Hands down the best tasting smoothies in Los Angeles, and possibly even of all places. I'm usually really frugal when it comes to buying beverages like coffee, juice, and especially picky when it comes to smoothies but I will happily drop for some LA Press. I've yet to try their coffee, but taste wise, their juices and smoothies are so refreshing and delicious without being too sweet. The consistency is perfect and I've found that almost every smoothie I've tried has truly been perfected and balanced (my go-to is the 'Go Green' smoothie, made with spirulina, maca, in-house coconut milk, banana, dates, Himalayan salt). At the risk of sounding super "LA", I feel renewed and energized after having a smoothie from LA Press, which was exactly what I'd needed all this past month. A huge bonus: their smoothies come in glass jars instead of plastic cups (YES) and you can either keep them for yourself or wash them at home and bring them with you on your next visit and receive $1 off your smoothie.

824 South La Brea Ave
Los Angeles, CA
(323) 592-3415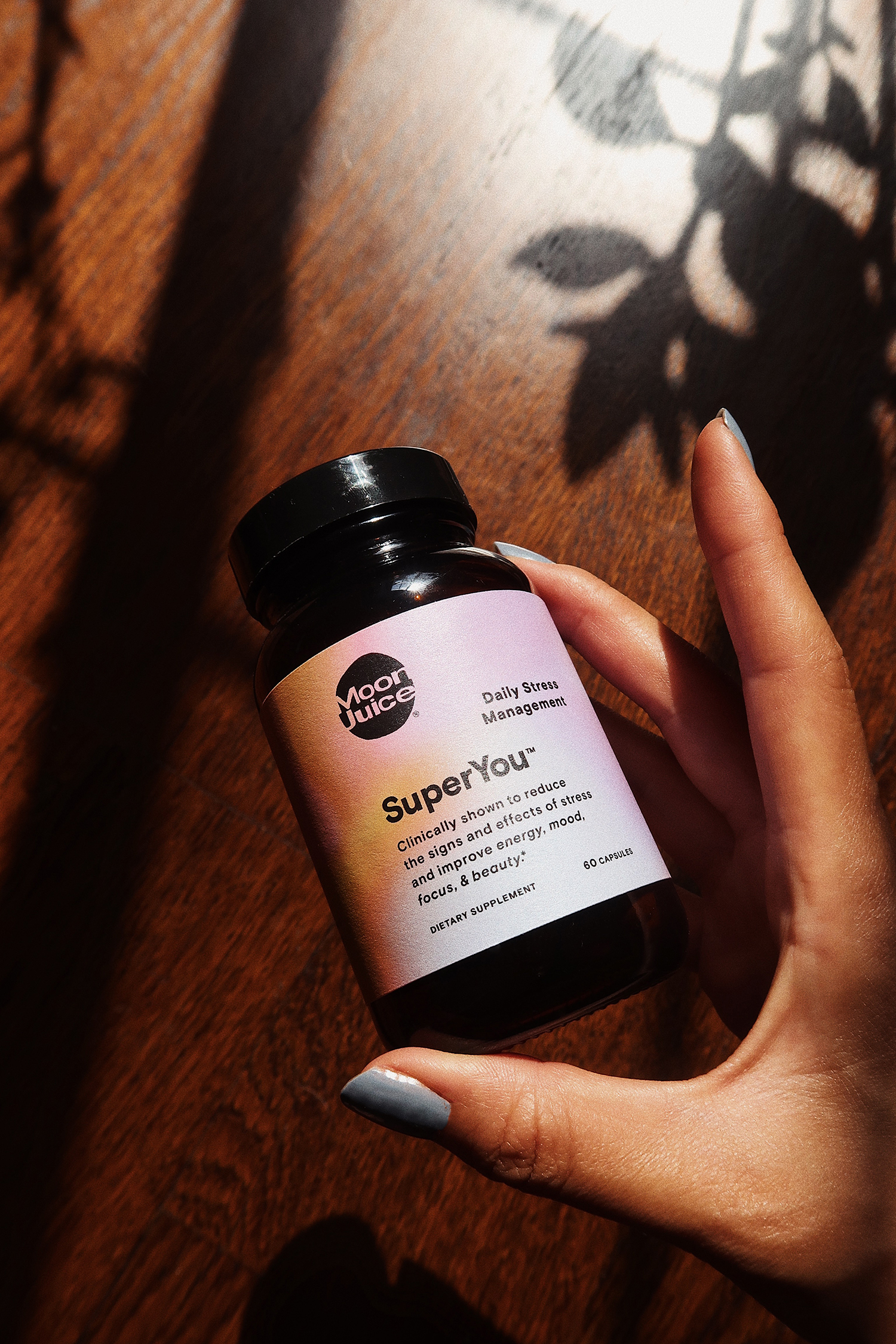 Moon Juice SuperYou

So! July was kind of a rollercoaster month for me. And considering I typically experience a bit of anxiety on a normal basis, in short: I needed this so fucking much. I will have to say, even as a native and a huge lover of Los Angeles, I usually roll my eyes when it comes to laughable, archetypal LA things like tarot cards! and crystals! and astrology! excessive workout and diet fads! Instagram traps galore! (...the list goes on). So you could guess that I'd felt skeptical about plant-based products and their claims with regulating stress levels. BUT after taking these capsules for the past month and feeling the positive effects every single time, I'm convinced that maybe I don't have a total aversion to the idea of crystal healing and angel readings. I take one every time I feel the stress and anxiety kicking in, and in about 30-40 minutes, I can actually feel my mind and body releasing the tension and worry. What I love most about it is the fact that I still feel productive and fully functional on it, just without the nagging stressors I generally get. Not sure what I was doing before this!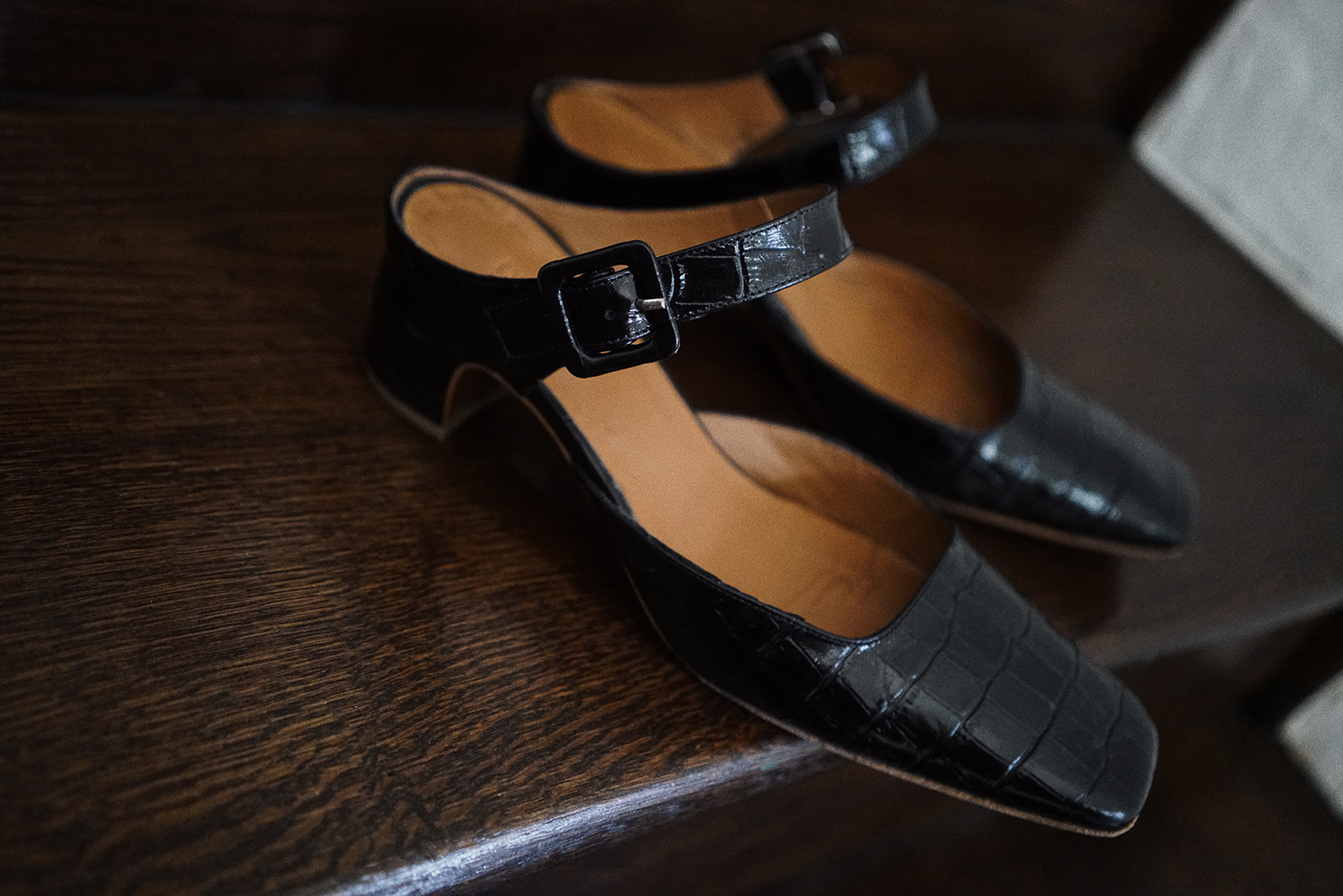 By Far sling back pumps

These days I hardly find myself in heels anymore- and if I'm in heels, they're probably no higher than 2-3". The pair on repeat for the past couple months is this lizard-effect slingback from By Far. This low-heeled, modern Mary-Jane silhouette meets the criteria for comfort and surprisingly goes well with almost everything, day or night. Long live the kitten heel (my feet are sorely thanking me for this newfound sentiment).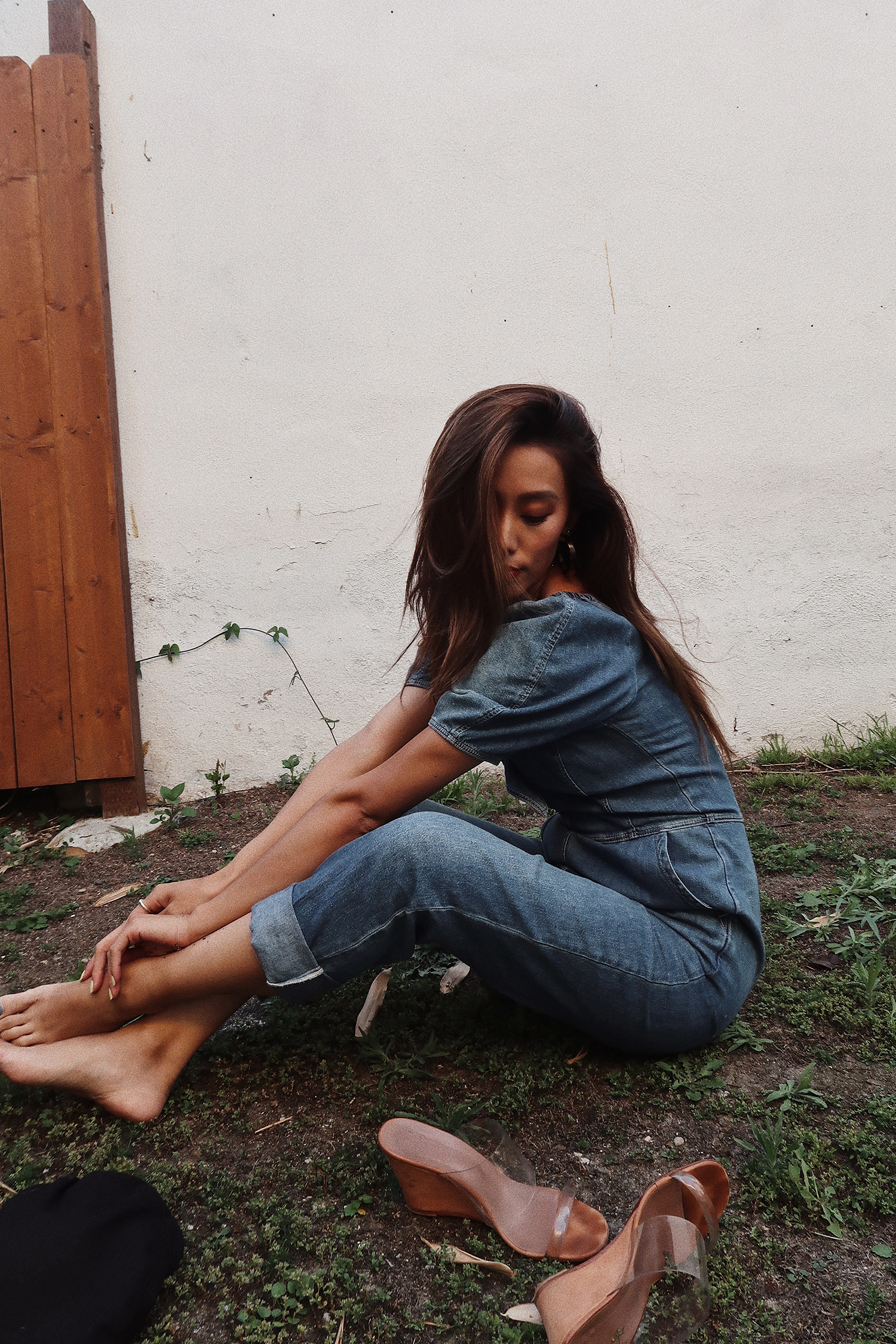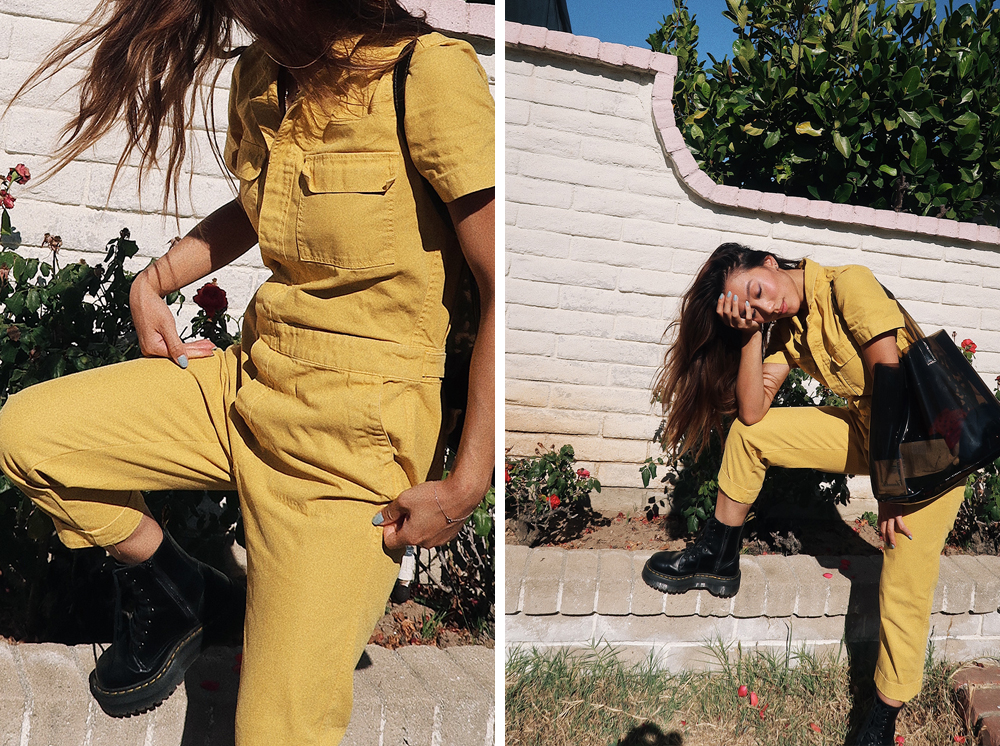 Rebecca Minkoff bow-tie denim jumpsuit, and Madewell yellow denim jumpsuit

Not sure if it made ANY sense to wear a long one-piece in the middle of summer, but I often found myself gravitating towards jumpsuits this month. Obviously it wasn't functionality I'd cared about (using a public bathroom while wearing one of these proved to be kind of annoying and awkward), but it was simply the fact that I just didn't want to have to think about what I needed to wear. I just wanted to feel good and go. And these did that for me. I believe jumpsuits look good on EVERYONE so if you've been thinking about getting into it, I say go for it. Find yourself a good one and keep it forever, because it's so easy to wear.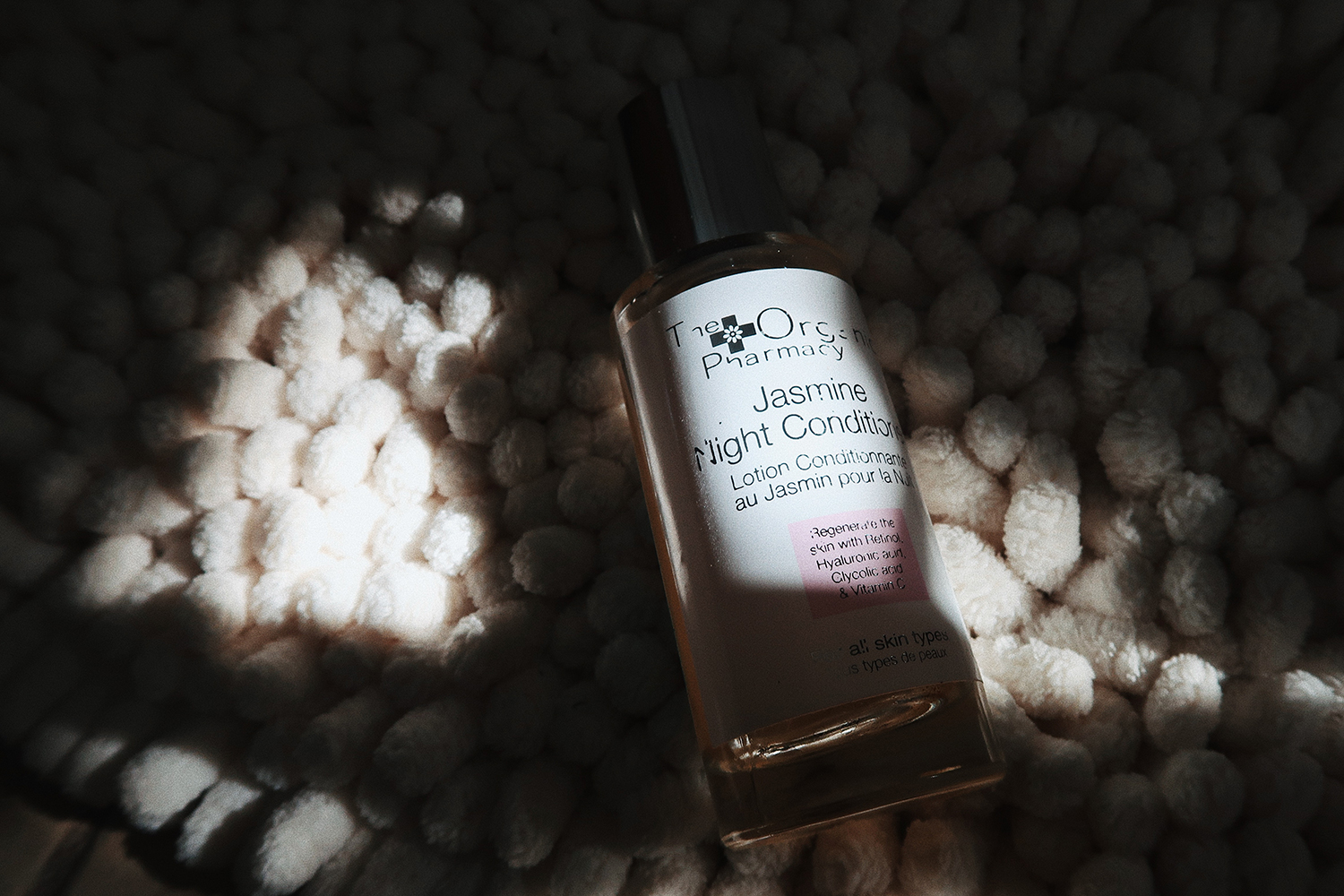 The Organic Pharmacy skin conditioner

Okay so I kind of use this all year round but more so during the summer. It's my favorite retinol product to use during warmer months because it doesn't feel as drying and it goes on super light. I generally spray a bit onto my hands, warm it up a bit by rubbing both hands, and then pat it onto my face. It smells wonderful and it's a powerhouse of ingredients: retinol (reduces appearance of fine lines, dark spots, etc), hyaluronic acid (keeps skin moisturized and plump), glycolic acid (exfoliating), and vitamin C (antioxidant and great for collagen)!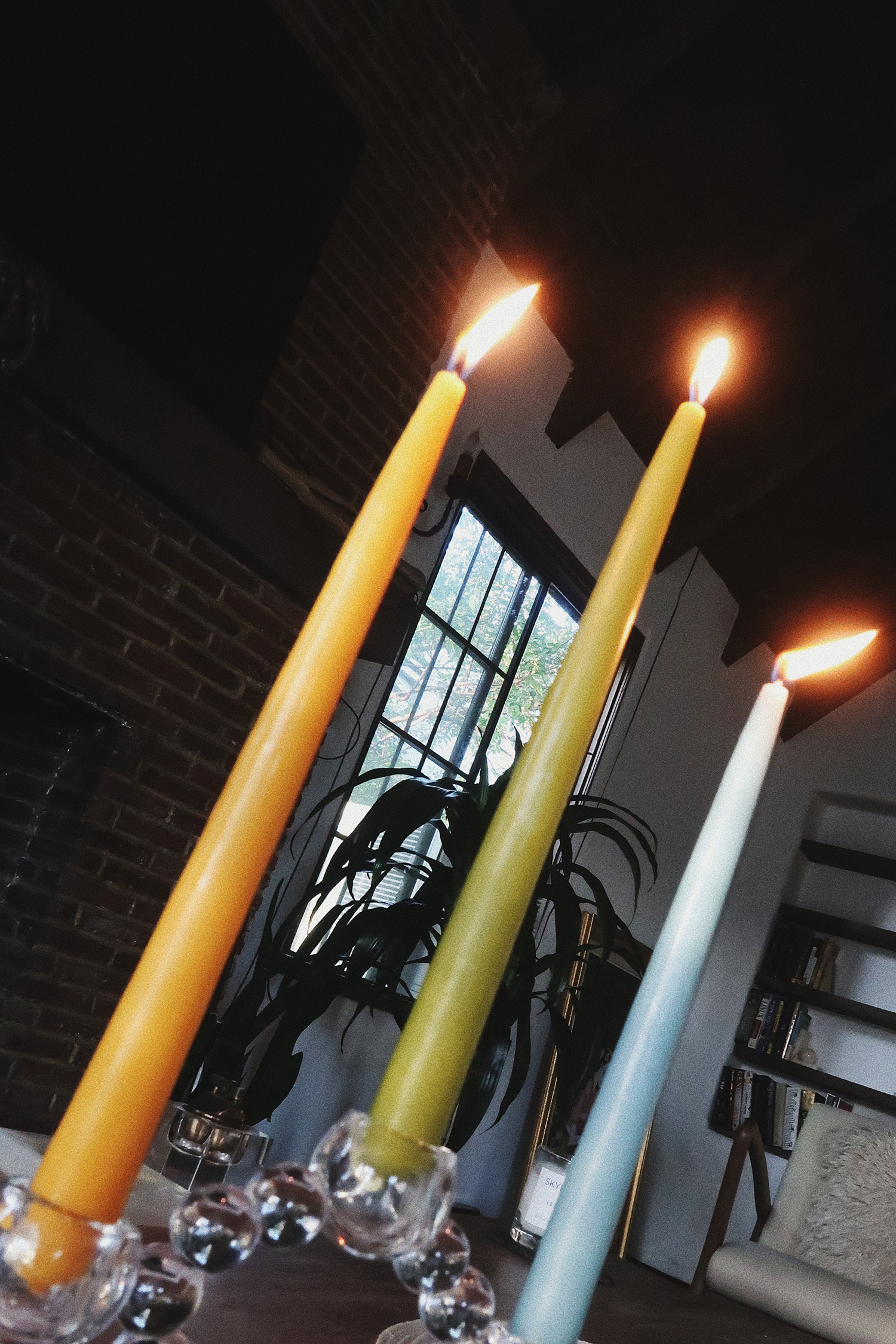 World Market taper candles

I've been wanting to use colored candles for awhile, but couldn't really get my hands on affordable ones. So far, World Market offers a decent collection. They seemed to match the mood for July :)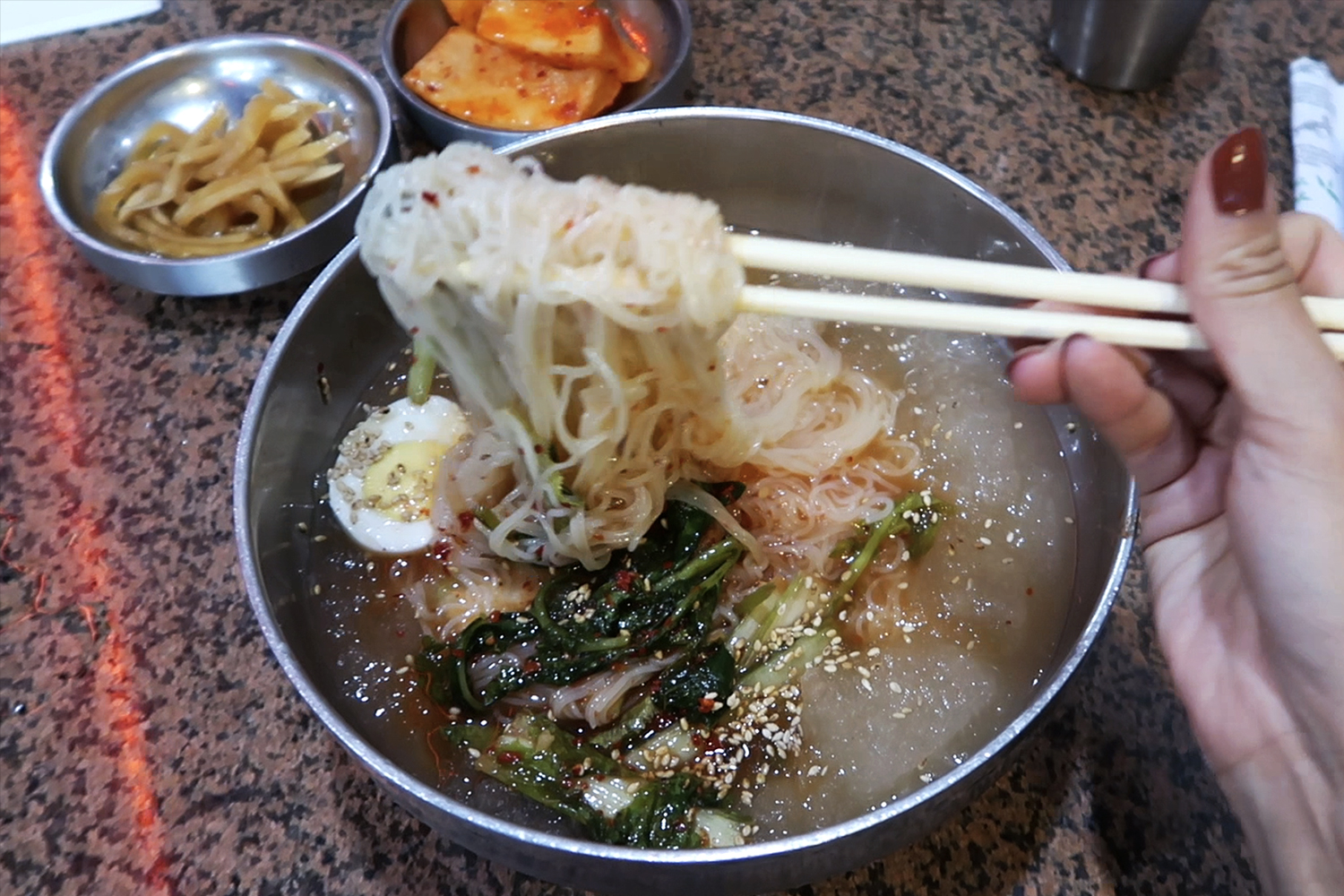 ngaengmyeon (Korean cold noodles)

We hit 110 degrees this past month and it was brutal even stepping out of the house for a couple of seconds, but I braved the suffocating heat for these ice cold Korean noodles a couple times that horrid week. They're god-send and I'm so glad it's offered at plenty of places around LA. If you're ever around Koreatown, make sure to visit YuChun and order this dish.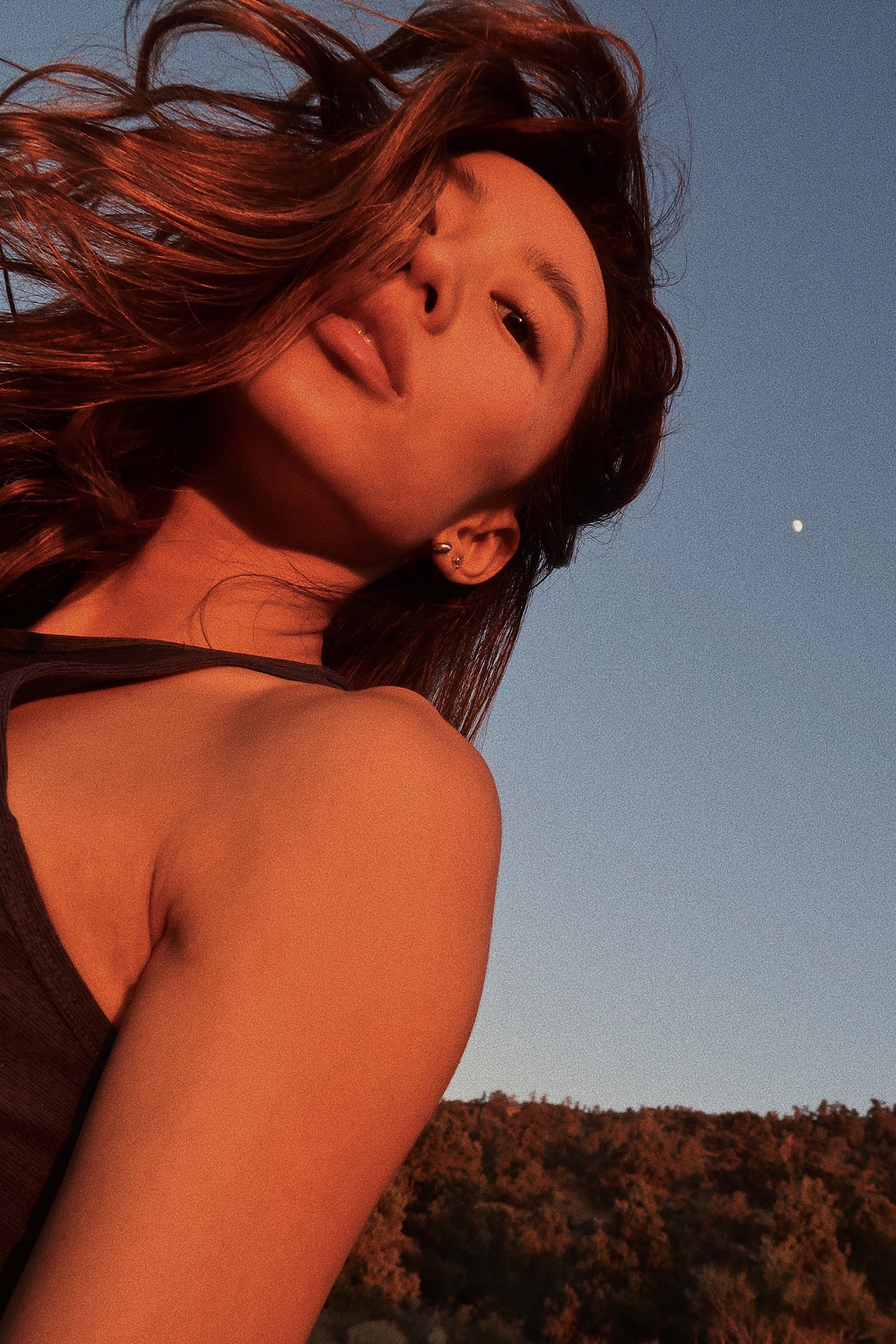 Lastly, contrary to the first favorite item listed here, the best thing about July was that the majority of it was spent makeup-free and (perhaps subsequently?) feeling free. Or at least it was spent in the pursuit of that feeling... which, I've come to realize, only really materializes during the summer and that should not be the case. I'm letting July be a lesson in improving that and making it a year round pursuance, despite how long the sun chooses to stay up.