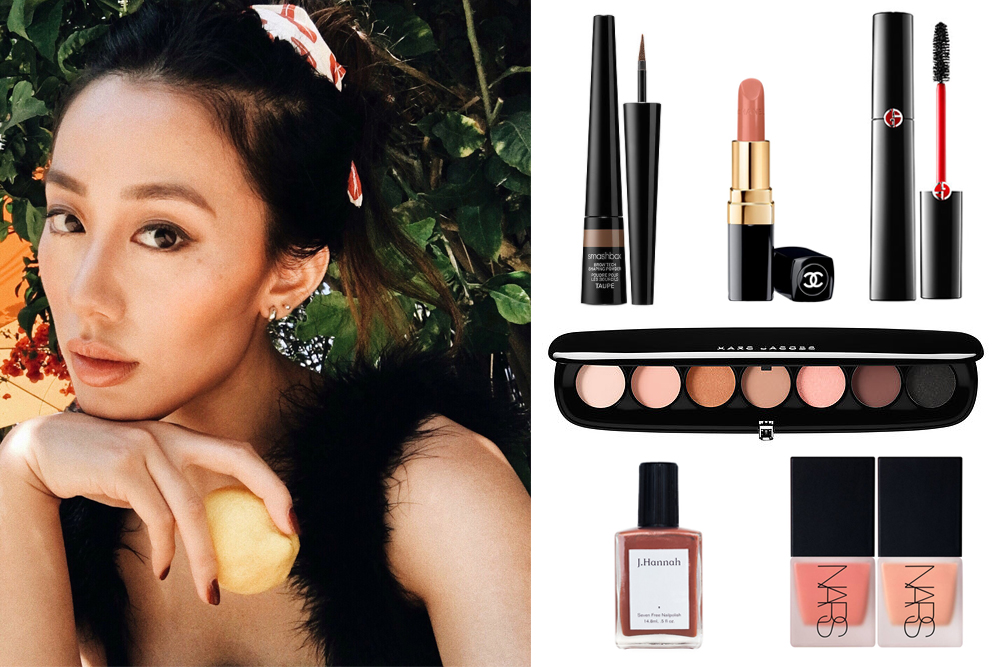 Réalisation Par handkerchief, Staud top, J.Hannah earrings

This summer, if I'm not bare-faced you can find me in warm, golden hues--

Brows: Smashbox brow tech shaping powder is one of my favorite brow products. It's kind of tricky, though- the applicator is finicky and sometimes deposits a lot of product, and sometimes doesn't. I can never tell if one flick of the wand will let loose a bunch of powder onto unwanted areas, but the few times I do get it right (and when I clean it up), I'm pretty happy with this. It does what it says it does: it adds natural looking volume and really does stay on all day long (without turning your brows oily later in the day).

Eyes: I used all but two of the shades in this Marc Jacobs eye-conic eyeshadow palette. I love MJ's shadow palettes- they're pigmented, usually packed with all the right warm tones with a hint of fun color, and can easily be worn as liner. A mix of matted base colors, a swipe of a metallic-y muted orange, and a thin line of wet black lamé. Top off with one layer of Giorgio Armani Black Ecstasy mascara, a great formula that glides right on for full but natural-looking lashes.

Cheeks: I like putting on two shades of blush, not for any other reason than the fact that I feel like it looks slightly more natural than one large flush of a single hue. NARS liquid blush in "Luster" and "Torrid" are my go-tos this summer; the combo is just the perfect amount of peach with the right amount of luster for a hot day.

Lips: as echoed in many of my previous beauty posts, I'm not much of a lip-wearer. I appreciate lipstick on other girls, but for some reason the feeling of anything on my lips makes me feel super self-conscious. That is, until I started wearing Chanel (474 - Daylight here to be exact). Their formula is pleasantly and surprisingly hydrating, and rich but lightweight all at once. Chanel, you've got a convert.

Nails: polish and color of the season, "Ghost Ranch" from J.Hannah.