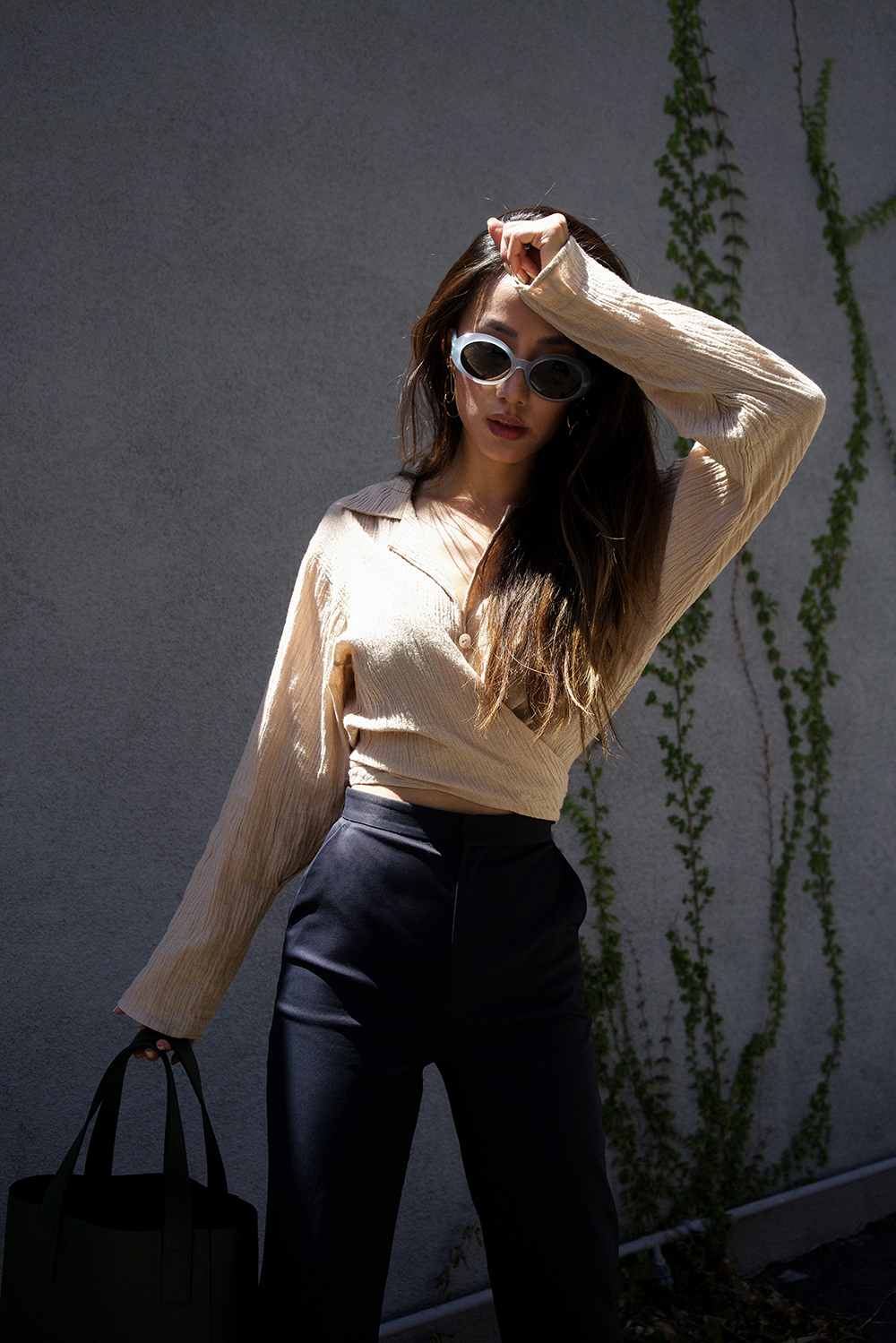 vintage blouse, Frilly trousers, Saint Laurent sunglasses, Tome x TDE tote, Adornmonde earrings

While aging is considered to be unnerving in the beauty industry, I'd like to think that growing older has been a blessing in regards to fashion. My personal style has really begun to cement over the past few years: I'm no longer swayed by trends and it's taken a load off--both metaphorically and literally--not having to think about what to wear or how to wear things because of a more cohesive wardrobe, or conversely, not having to stress over all the clutter that accumulates from collecting cheap thrills. I really wish someone had advised and pressed me about the better ways to shop, and reasons for doing so (more on this in a later post), so that I could've saved myself from wasting time, money, and more importantly, the environment. Here are some tips for a ("fashion") life better spent:

Ageless vintage - If you have a bit of patience (and it is a virtue), scouring for vintage pieces is the most rewarding as they're the ones that have gone through a couple rounds of curation, more or less, and a few rounds of appreciation. This wrap-blouse I found at Goodwill six years ago is still one of my favorite things hanging in my closet. It's delicate, timeless, surprisingly versatile and the best three dollars I've spent. Those who have thrifty minds with expensive taste should try The Real Real, the best luxury consignment stop, IMO.

Bust/waist/hip - Know your measurements! I know vintage and thrifting isn't for everyone, so if you prefer to shop new, having this bit of information makes it easier to purchase clothing that fits well (and therefore have more staying power). You won't have to waste time hassling with returns, or keeping clothes that fit just O-K and then potentially never wear them again. I can't stress it enough, but I'd like to think that having a good sense of sizing preps you to shop slowly and make better choices, causing you to question things like, "I really like this style or collection, but will this item even work for me?" or "How does this piece accentuate MY body?"

Customize - If something is made just for you, I think it signals that 1) getting something personalized must mean that you really like this piece, and/or 2) there's meaning behind it, with room for potential stories. When you begin to buy things for yourself--things with unique details, etched initials, customizable features--without any external influences, it's that much more special. As a result, you might cherish these pieces more and I believe that's how fashion should be. My friends over at The Frilly are doing amazing things with a platform and technology that give consumers an easy way to buy quality made-to-order pieces (with in-house designers formerly found at luxury brands). I've got about five items from The Frilly and I'm really blown away by the accuracy in my customized pieces (these wide-leg pants fit me like a glove).

Having a hand in this process of slowing down and choosing how and what to buy is the first step we can take to lessen our environmental impact. I appreciate fashion and the creativity behind it just as much as the next person, but I believe the formula of mass-produced styles eventually goes down in vain and that is a luxury our world can no longer afford.