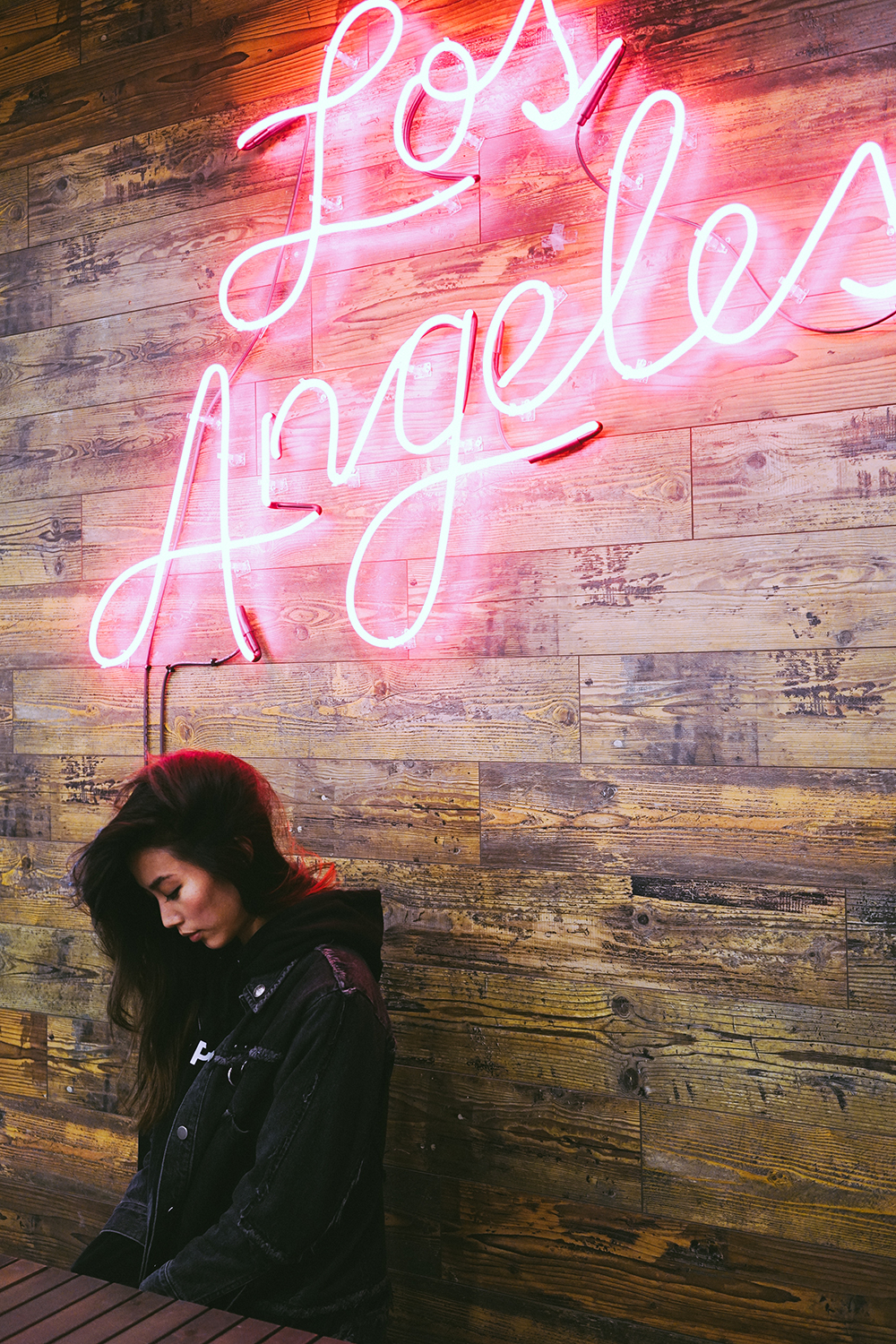 Rachel Comey denim jacket (similar), Dimepiece hoodie

Having been born in Los Angeles, I was fortunately introduced to a number of flavors from varying cuisines at an early age. I'd like to think that this variety of food cultivated an acknowledgment and gratitude for cultures outside of my family bounds. In this beautiful urban sprawl, you can have just about any thing you could think of: piping hot pupusas and pozole, a hearty bowl of bamboo-soaked chicken noodle soup, mac & cheese sprinkled with hot-cheeto crumble, beautifully tender slices of marbled wagyu, Himalayan curry, the most sightly bone marrow with fluffy/crispy spinach gnochetti, unleavened Ethiopian sourdough topped with an aromatic blend of stewed lamb and veggies, Thai tea-flavored panna cotta, fire roasted Brazilian steak, a beautiful marriage of grilled onions, french fries and beef tri tip... the list goes on.

Unfortunately, part of the plight of running a restaurant rests on heavy LA traffic - a lot of people feel unmotivated to go across town (or sometimes even just three to five miles out) for their friends, much less for food. To add, some districts--sometimes blocks, and even corners--of LA are avoided altogether because they're either undergoing renovation or having difficulty with an uncontrollable transition. One of my favorite restaurants, Simbal in Little Tokyo, fell under those pressures and dimmed its lights for good last weekend. Although tricky to find because of its inconvenient locale, Simbal was truly a gem in the neighborhood. With its unique Southeast Asian flair, attention to detail with every single dish and cocktail, each bite, each sip was like peeking into the journey of a brilliant mind. I was a semi-frequent patron; whenever I was back in town and could afford myself a thoughtful and nuanced meal, I would head to Simbal. I'm so disheartened by its closing, to have to bid farewell to a spot that was as familiar as it was fresh and new with every visit.

I could digress and lament over this for some time. I'm hoping to share my favorite restaurants more frequently here on Neon Blush, but for now, I wanted to take this time to urge people to shop small and visit local restaurants whenever possible. It matters. Don't hesitate to go across town to try new food or diversify your palate-- it could mean that you'll be supporting the growth of new, talented chefs and sustaining their ability to tell stories, to share their histories... or maybe even chancing upon a new favorite spot. I've always found that it's worth the trek.