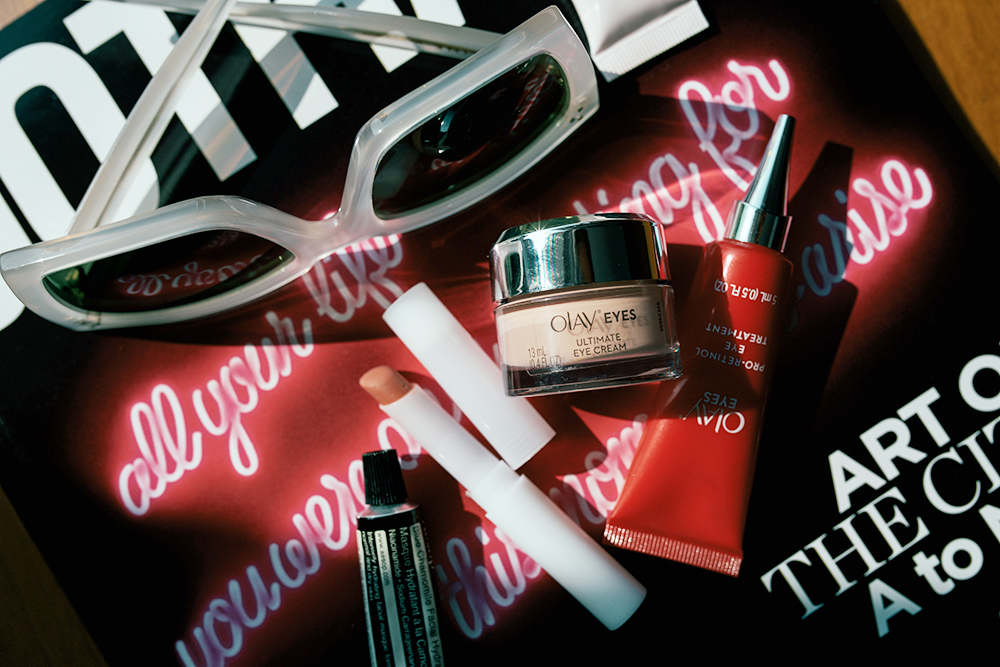 Olay 'Ultimate Eye Cream' and 'Pro-Retinol Eye Treatment', Céline sunglasses, Glossier lipstick, Aesop face mask

My secret to being flexible with and having enough energy for last minute trips is in drug-store products. I have to leave my days open for work that may beckon a six-hour flight out the next morning for a one-day trip. This can be tiring, so I prefer to pack light and only bring with me effective, but small and inexpensive beauty products. Ones that have dual purpose and act as skincare and makeup are an obvious plus. Cue: Olay's new 'Ultimate Eye Cream', a color-correcting cream that tackles wrinkles, dark circles, and puffiness all in one. I'll apply this over my lids and under my eyes before stepping off the plane, and in the mornings before I start my day for an immediate boost. You can get the instant results of the top department store eye cream without paying twice as much.

And never mind the exhaustive nature of spontaneous short trips, flying in recycled air itself is notorious for heavily drying out the skin and if you're like me, unable to sleep anytime on a plane, fine lines are readily visible. To help reverse this and prep my skin for the following day, I'll swipe some of Olay's 'Pro-Retinol Eye Treatment' and glide it under my eyes to smoothen out that sensitive area; an ideal quick fix to accommodate what otherwise could be an expensive lifestyle.

Tip: buy Olay Ultimate Eye Cream and get Olay Pro-Retinol Eye Treatment as a free gift before it's available to anyone else during this exclusive pre-sale with Allure.