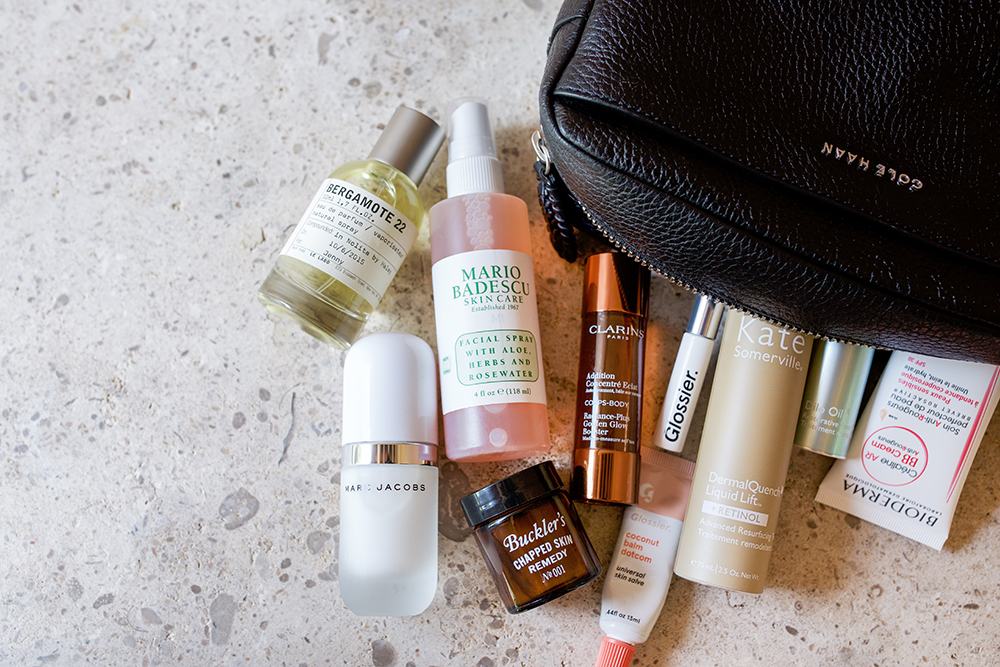 Cole Haan travel case: Le Labo perfume, Marc Jacobs primer, Mario Badescu facial spray, Buckler's chapped skin remedy, Clarins golden glow booster, Glossier boy brow and coconut balm, Kate Somerville DermalQuench Liquid Lift and Dilo Oil, Bioderma BB cream

I know it's a warm week, but with LA experiencing quite a drop in temps in the last month with El Niño in the works, I just thought I'd share my favorite products to use during the colder season. Some are newly discovered and some are tried and true. Read more* below to see why this is my arsenal for dealing with winter skin.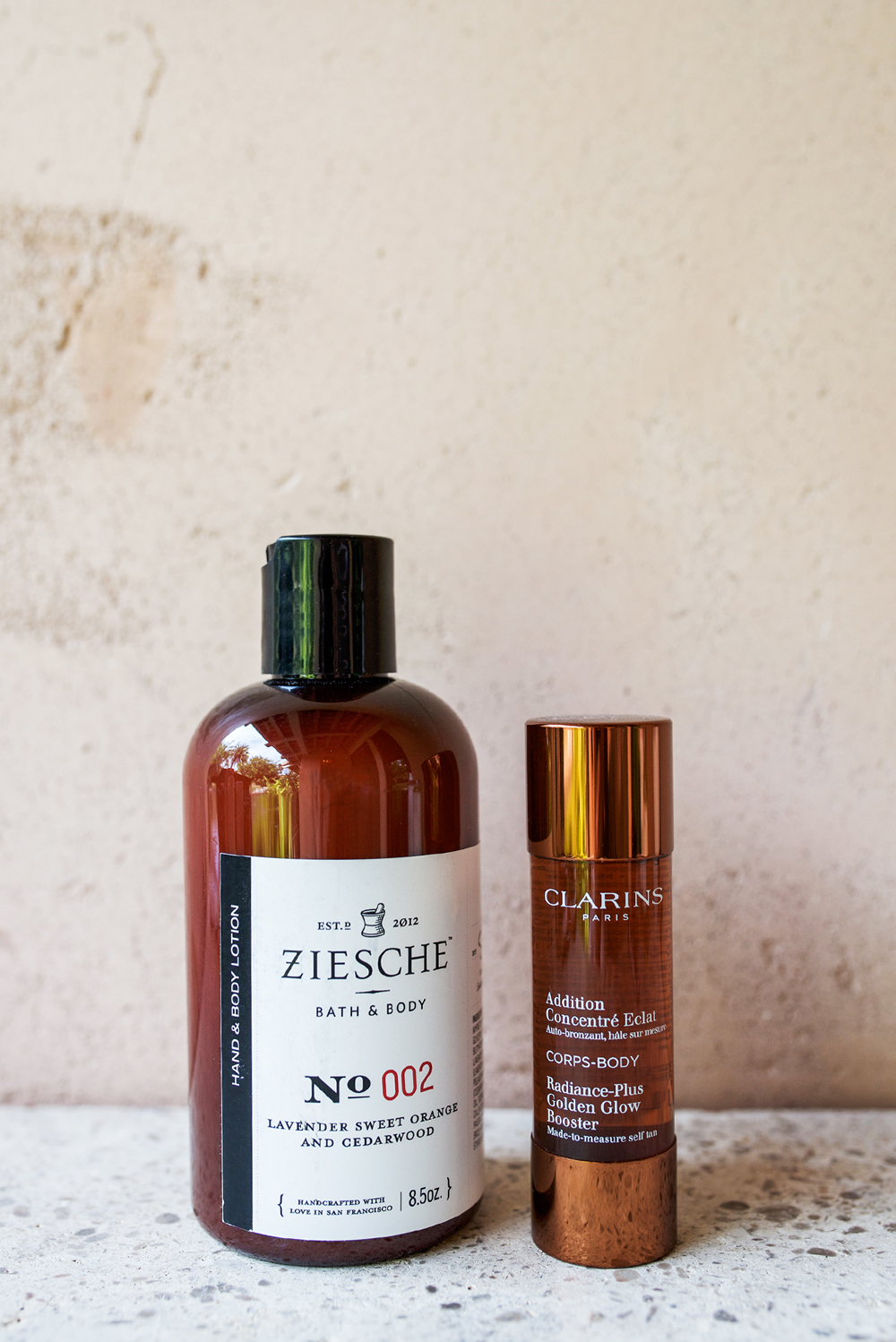 A winter's glow: As we all know, skin tends to dry out during these months so I like using a thick but absorbent lotion. Before the day's end I'll use this plant-based one from Ziesch and climb into bed feeling like I'm cocooned in lavender goodness. For days out when it's a little warmer and appropriate to show some skin, I put five or six drops of Clarins' Radiance-Plus Golden Glow booster into my palm (with lotion) and lather it on exposed areas, e.g. neck, arms, shins. I've tried self tanners a few times- they're alright and they do the job... this Golden Glow booster offers a much more natural looking tan though, which is perfect for winter when skin pales and you don't want to cake on the bronzer.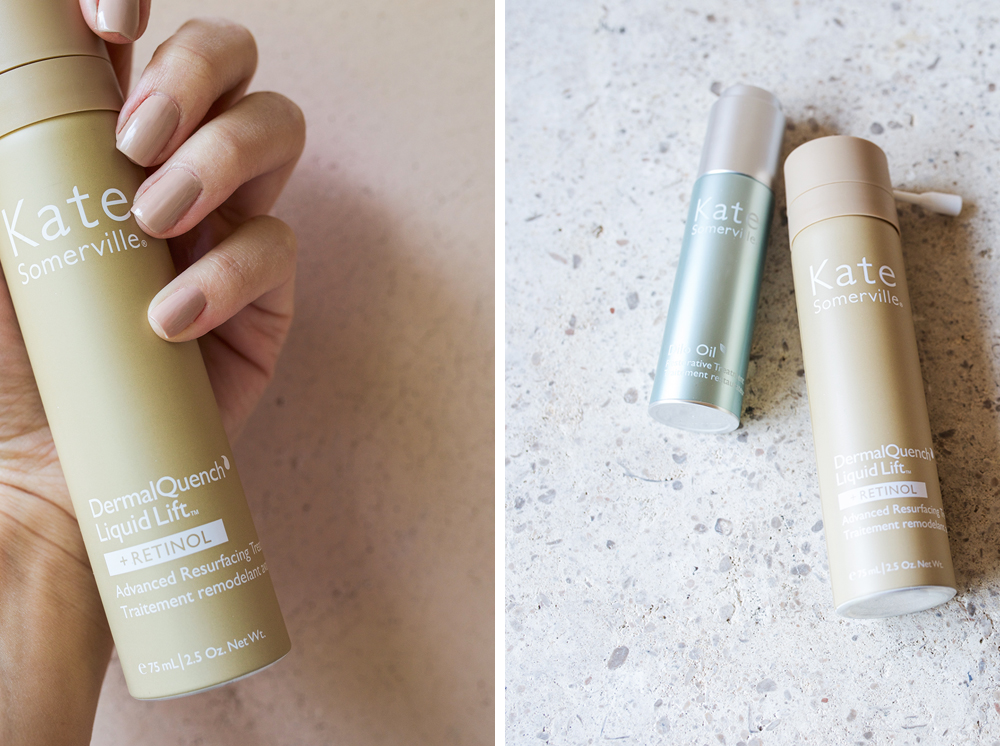 Quench your skin: I'm a BIG fan of Kate Somerville--discovering her RetAsphere night cream a few months ago has been remarkable. As mentioned in an earlier post, using her retinol cream felt like breathing new life into my skin, visibly seeing it brighten even after having a long night with little sleep. Kate Somerville's patented 'Carrier System' brings the retinol directly into the skin through a lipid shell to even out tones and texture the best way it can.

While receiving a facial at KS recently, I learned through one of their aestheticians that using retinol on a regular basis can actually dry out the skin quite a bit. So while it does generally improve and smooth skin, consecutive (over)use can be detrimental. AHH- much thanks to Lucy for being real with me. Upon learning this, I immediately wanted to get a new post up and share this info with you guys considering what I had written in the past. I was recommended the new DermalQuench Liquid Lift + Retinol, which has all the benefits of the RetAsphere cream, but with the power of oxygen-carriers so that your skin doesn't dry out with the use of retinol. I suppose this is the ticket for those who have sensitive skin and are more prone to dryness. It's feels very airy dispensed from the bottle, and makes your skin appear like so the morning after. It's wondrous.

Lucy, the aesthetician, assured me that the use of retinol a few times a week is fine, but probably not best for every night. In cases where your skin feels totally dry at night (or day), dabbing a bit of face oil would be a better idea. I started applying this Dilo Oil a few times a night, substituting the retinol cream but not without a moisturizer, and found that my face in the mornings was still bright and evenly silky. It's a thinner oil than most I've tried, and it smells great and absorbs well.

Other pertinent info I learned from Lucy: if you're like me and you try to go a day or two without washing your hair, you might want to (gently) wash your face in the mornings. I used to wash my hair every night but felt it drying out so nowadays I try to refrain from washing for a day and a half to two days... although my hair is looking shinier, this meant that my face would collect the oils from it when I'd sleep, toss, and turn on my pillows night after night. What I gained for my hair I paid on my jawlines: I had acne building there for a while and was embarrassed to admit to Lucy that I was stubborn about not cleansing my face in the mornings because long ago I had read in some magazine that over-washing would ruin my skin. ANYWAY, this is convoluted! Bottom line: if you're not washing your hair everyday, you'd better wash either your pillowcase or face much more often.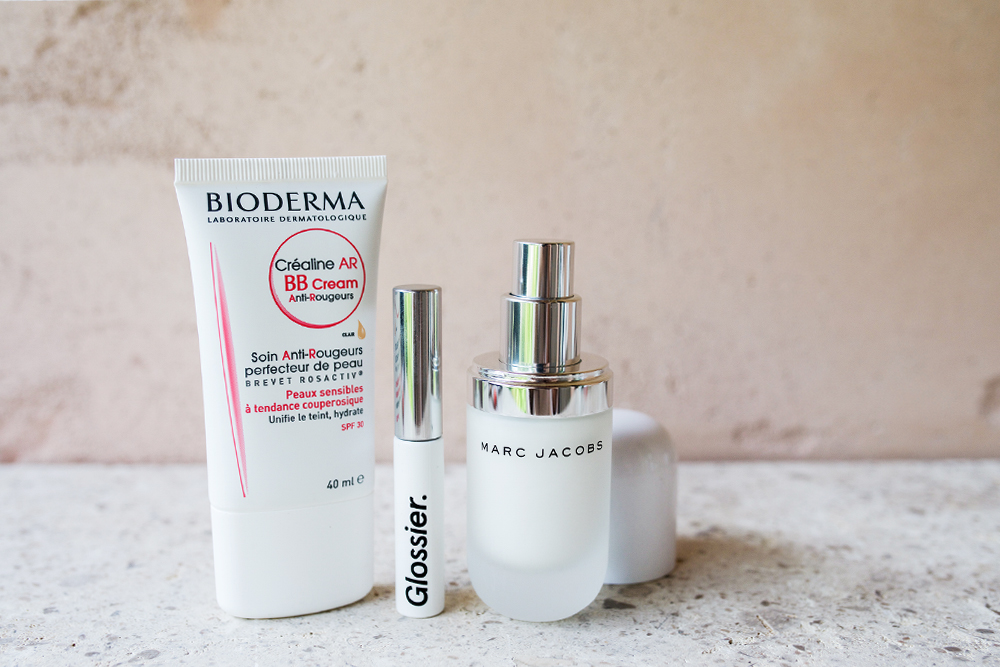 Clean coverage and minimal: if you're looking for a lightweight primer that preps the skin to look just fine without much face makeup, Marc Jacobs Under(cover) Perfecting Coconut Face Primer is your ticket. It is airy and smells fantastic; it dries rather quickly and doesn't leave the face tacky nor does it feel oily.

If you're looking for a good amount of coverage, I'd go with Bioderma's AR BB cream. It conceals very well and is a bit thicker like foundation, but I can really get behind the fact that it has SPF (always necessary even on gloomy, cold days). It also even feels hydrating, dare I say it. This is the only thick BB cream that I've found to be *great* on my skin even after leaving it on for hours, or overnight (I've done it once, AHH I know, but my skin felt great the morning after lol). Because it is closer to the foundation look, Bioderma's AR BB cream is great on its own, meaning there is no need for powder, concealer, etc... maybe just a bit of Glossier's Boy Brow (YES, believe the hype) and you're good to go with a clean wintery look.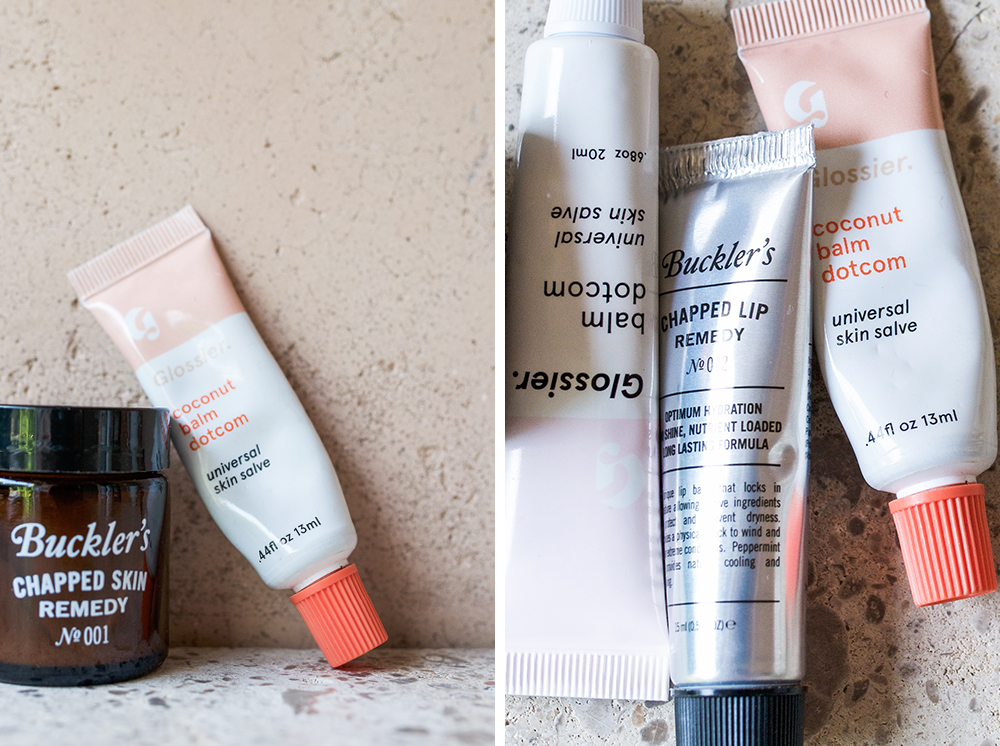 In the details: the space between my fingers always gets extremely dry during windy days, my lips also dry out much more quickly, and my regular chapstick or body lotion just won't do the job. I need heavier duty products for these areas, and I've found that Buckler's Chapped Skin Remedy and Glossier's coconut balm dotcom or balm dotcom are life savers. These skin salves are soothing and keep my cracked skin/lips hydrated throughout the day. No need for constant application, something I really appreciate.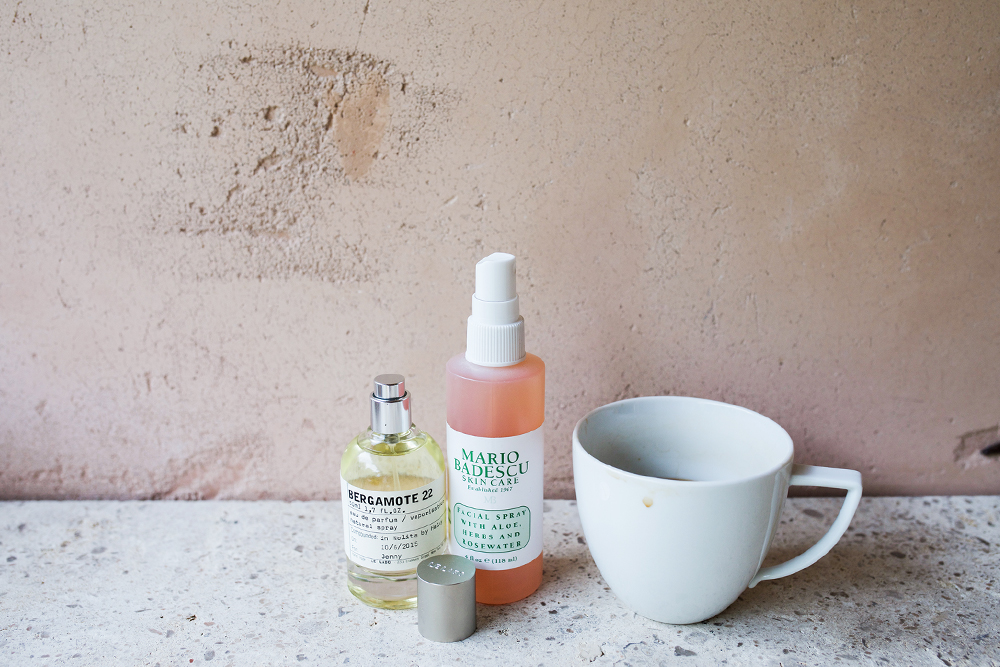 Smell good, feel good: and lastly, I know this may seem unnecessary to many, but when I'm four layers deep in clothing without my usual makeup on, sometimes a spritz of Le Labo's Bergamote 22 makes all the difference. It's perfect for winter with its slight musky sweetness. And, I'll always carry a small bottle of Mario Badescu's Facial Spray to re-hydrate my face throughout the day. It doesn't hurt that it smells absolutely beautiful, too.

Above all, if there's anything I learned from getting terribly sick two months ago (I was bedridden for three days and out almost an entire week), it's that a good amount of water, sufficient sleep, and green juice will do your skin more good than any product ever could. I wasn't able to stomach much solid foods so I mostly kept to h2o, bananas, a few crackers and lots of juice that week. Although I was still diligent on applying night creams, I noticed that my skin shone, and my eyes even brighter, even without any makeup. Sometimes letting your skin and body rest properly is the best remedy.

*And lastly but maybe more importantly... I'd been meaning to post about this for some time now. A couple of months ago there'd been a lot of clamor over Essena O'Neill's tirade on social media. While I definitely felt for her and am aware of the different impact social media must have on someone her age, I felt compelled to address the matter simply because social media/blogging is what I do for a living. I grew up blogging, pretty much - I had accounts on Livejournal, Xanga, and even started designing my own websites on Angelfire/Geocities at eleven years old and eventually convinced my sister to purchase domain/webhosting so that I could run a more sophisticated blogging system (ha). With that said, contrary to what Essena had mentioned (and again, I'm aware that everyone's experiences are unique), I feel like I found my identity from growing up with the internet. Does that sound weird? Okay, maybe I didn't 'find' myself, but being exposed to so many things--people, ideas, pieces of information on the internet--I was able to quickly discern what I liked and what I did not like. And because the internet is so vast, I was able to separate myself from what I found to be dishonest, mundane, etc. While I can't say that Essena is lying about the photos we'd see of fake moments in faraway lands (I've definitely seen it happen), I hope that this space I have here on Neon Blush (and my respective channels) is a place of trust between you and I. What I post, especially from travels and during festivals/events, I really experience, appreciate, and feel deeply about.

I started Neon Blush not ever thinking that it would/could evolve into a business. How is this relevant to this post on skincare and beauty? Well, I still try to maintain it as I did back then: a chronicle of products, style, fashion, etc. that I truly like. This post was entirely unsponsored, and so are many others here on NB. Yes, I will be transparent and admit that many of my posts are sponsored, but I want to assure you that I would never endorse something that I don't agree with. Regardless of whether it is sponsored or not though, my posts are all the same in that I will always choose to share what I like and support... because that's what I've been doing since I was a kid. Trust is of high currency to me, so thank you for following along x