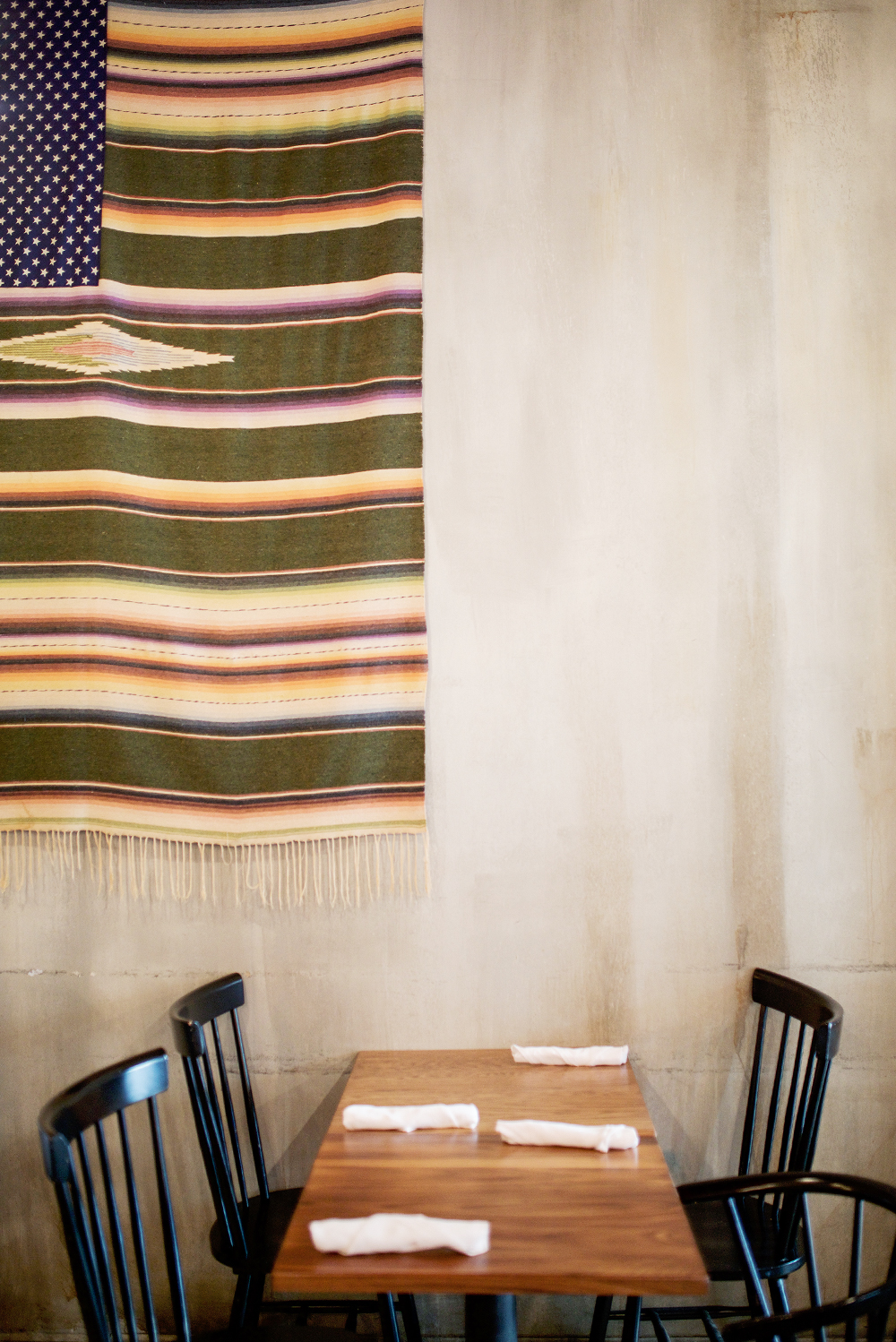 B.S. Taqueria: 514 West 7th Sreet

I'll be starting a new series of posts on recommended spots to dine and wine at, highlighting a few of my favorite dishes and notable drinks to try at these restaurants. The first of which will start with my preferred stomping ground in Los Angeles: Downtown. There's been a huge boost in activity in the last year, with a burgeoning restaurant scene and festive events happening around town. Though it can be hectic navigating the streets, I love DTLA because everything is accessible within walking distance-I can spend a full day out and grab the tastiest breakfast, lunch, and dinner, and shop for the holidays in just a half mile radius.

Check below for my picks on where to eat for BLD, as well as the perfect shop to pick up tasty treats.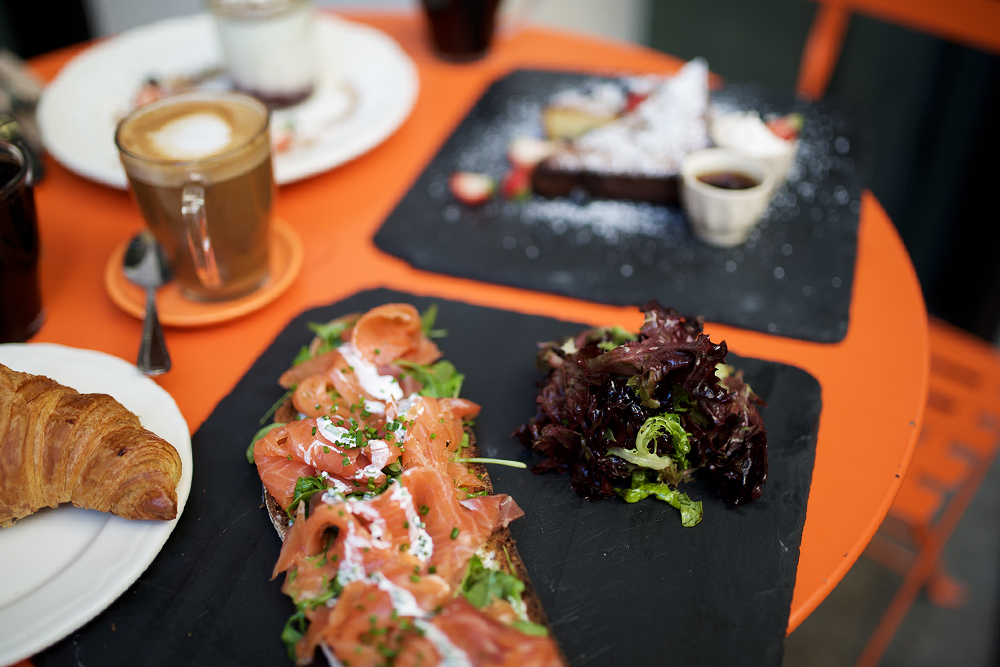 Breakfast spread with the Salmon Tartine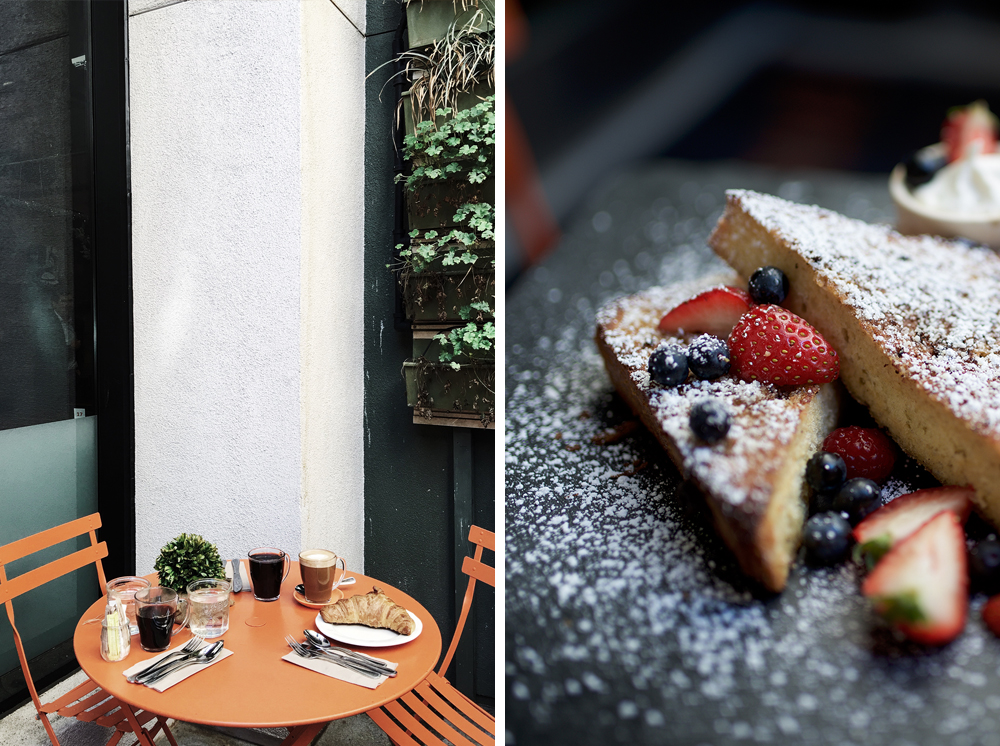 L: outdoor patio seating area; R: the French Toast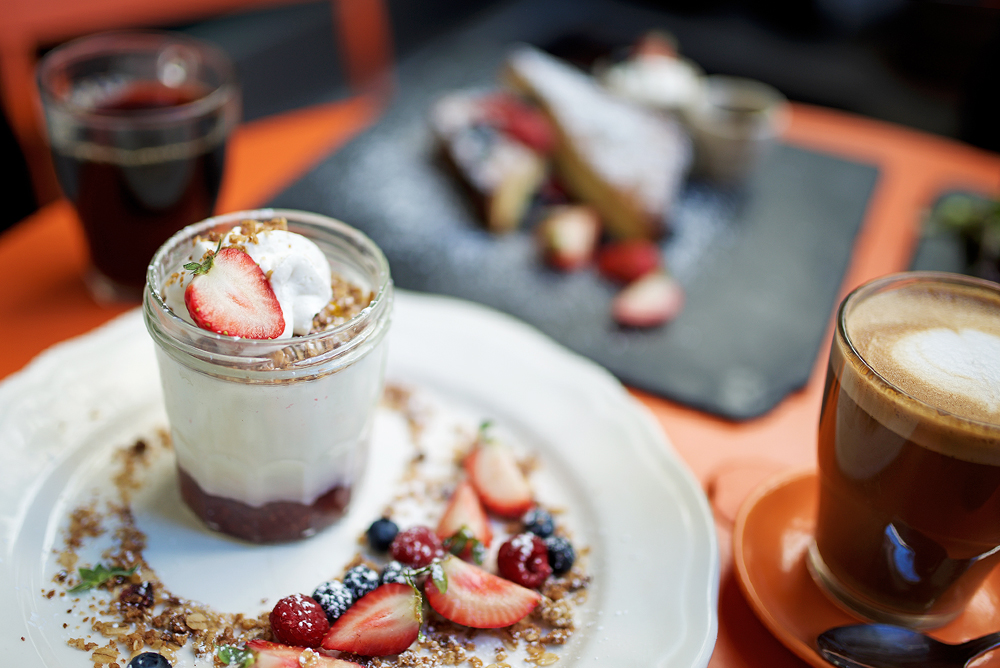 Le Parfait with homemade yogurt and granola and a cap to start

Breakfast: start your day off with a well-balanced tartine and a picture-perfect parfait, or simply a petit déjeuner at Pitchoun Bakery. Either way, you get a slice of French cafe culture and quality at this artisanal boulangerie.

My boyfriend and I stumbled upon Pitchoun Bakery after waking up pretty early on a Saturday and were charmed by its bright outdoor seating (you don't see that too often in downtown). Finding it was sort of serendipitous as I'd just told him a few days prior how much I sorely missed Paris so we decided to check it out. I walked through the doors and straight into wafts of fresh pastries and snippets of conversations in French. Perfect.

Although we were up early enough for breakfast, we opted for their lunch menu items. A "French Club" traditional cooked ham with gruyere cheese, mayonnaise, butter lettuce, tomatoes on a croissant(!!) for me, and a "Croque-Monsieur" for him... both were delicious and authentic. You could taste the crispness and freshness in the croissant. I went back on another day to try their breakfast menu and well it was equally tasty. They make everything in-house, so you really can't go wrong. You should definitely try their salmon tartine, Le Parfait (with homemade granola), and bag a couple of croissants for later. Fresh-squeezed OJ tastes just like how I remember it in Paris, and Pitchoun Bakery also boasts delicious coffee. If you're looking for a cozy spot with an authentic French flair, this is it.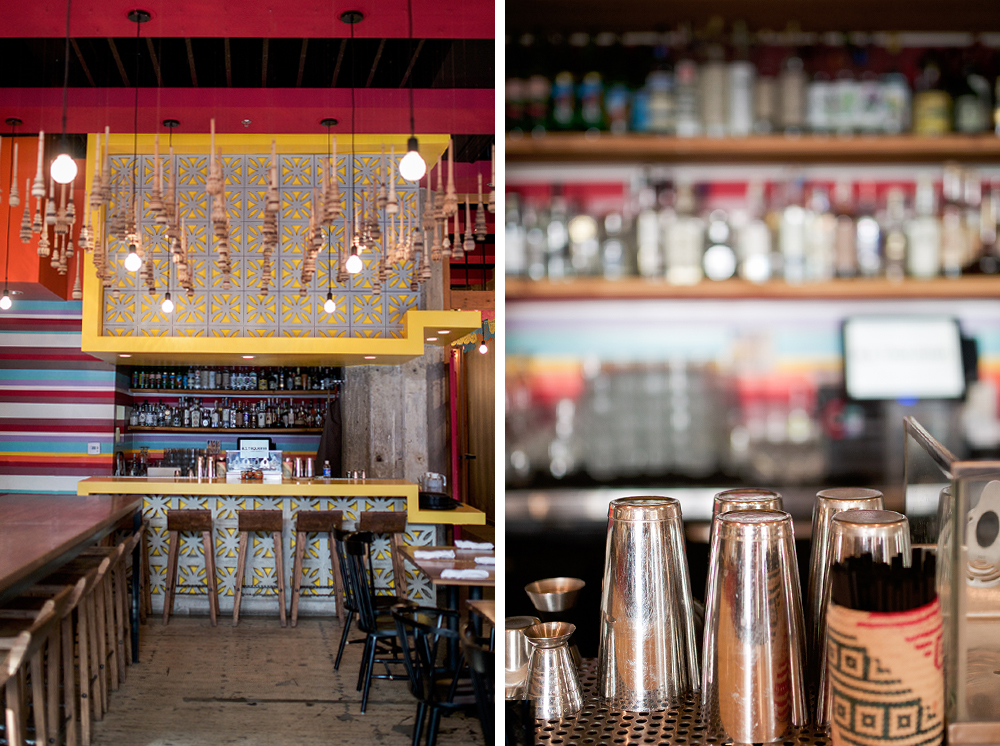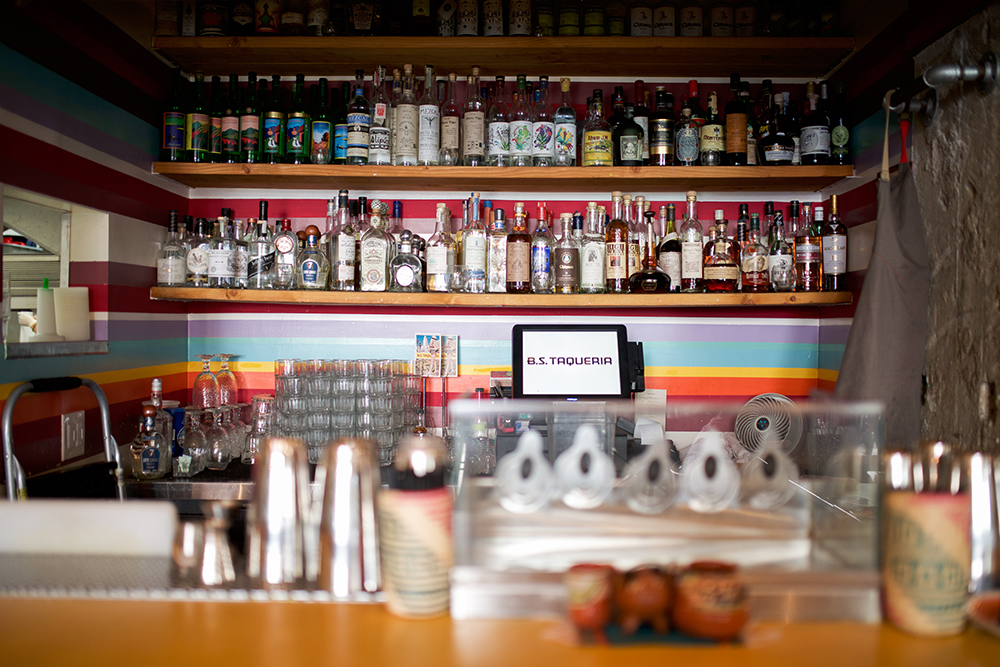 Lunch: one of my go-tos in this area is the new kid on the block, B.S. Taqueria. It's vibrant, it's fun, and it's delicious. No, it doesn't stand for what is more commonly known as "bs", but actually "Broken Spanish"... and that kind of explains the whole vibe here at B.S. Taqueria quite nicely. LA is known as a destination for authentic Mexican food with taco trucks and mom-and-pop Mexican restaurants galore. But no one really had created a space for contemporary dining approaches with elements of Mexican tradition. Enter B.S. Taqueria, where you can find "authentically inauthentic" fare in an upgraded casual dining experience.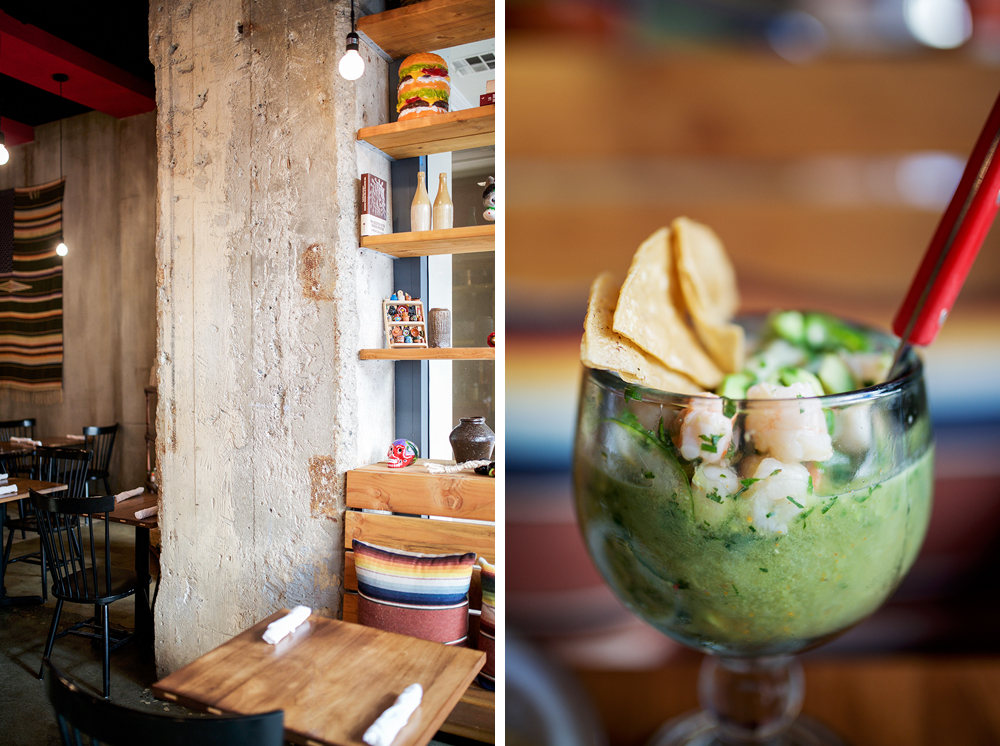 L: warm setting at B.S. Taqueria; R: the "Campechana Verde", their version of a ceviche made with scallop, squid, shrimp, octopus, and snapper with tostadas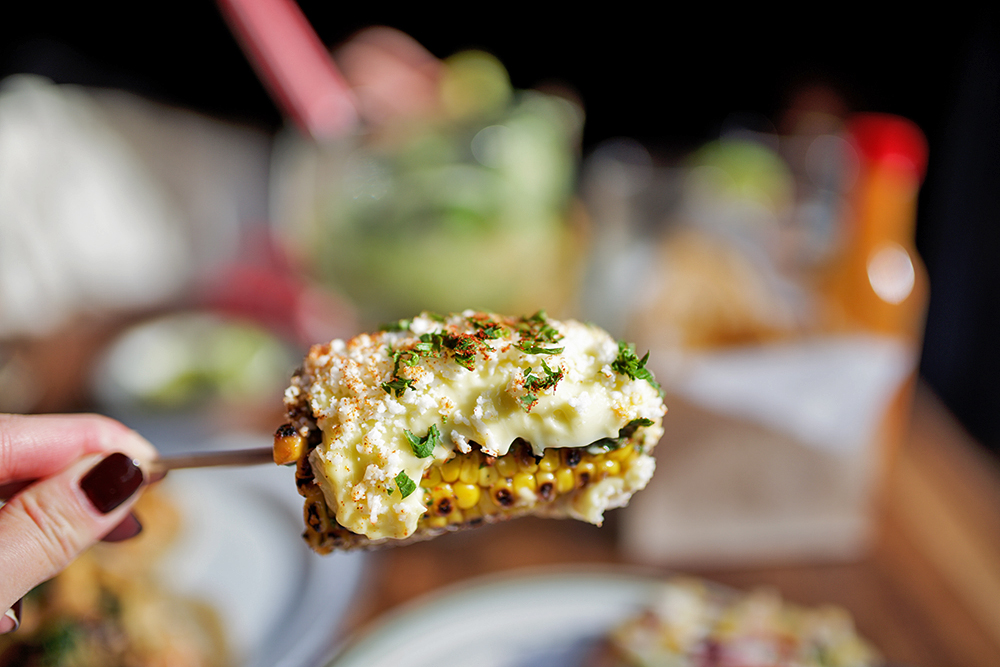 The "Grilled Brentwood Corn"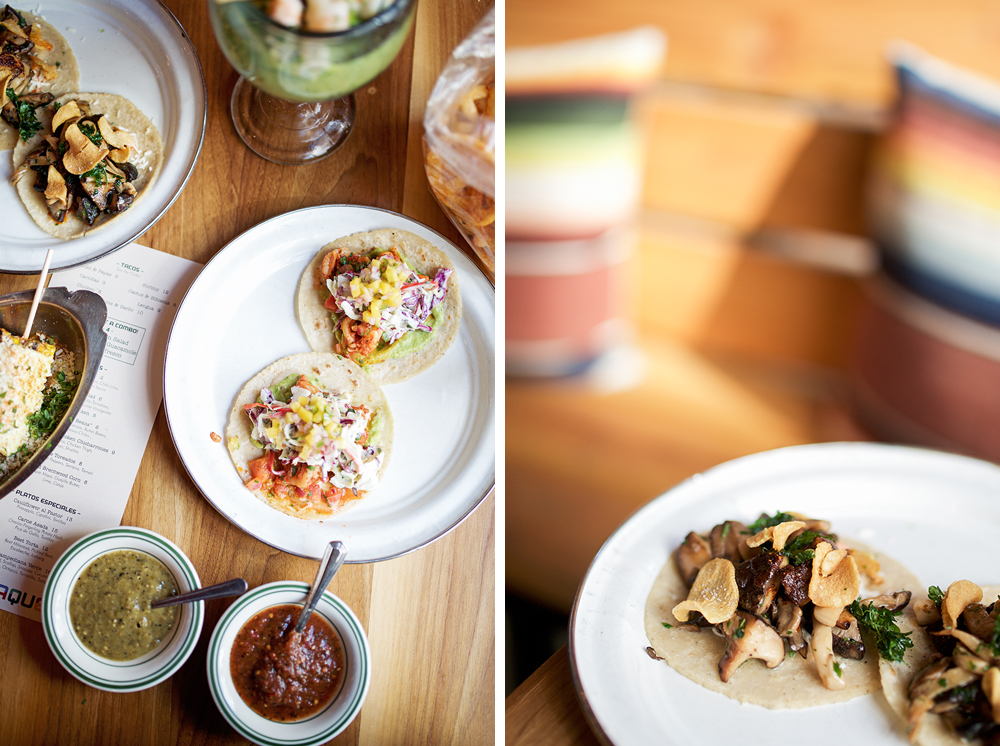 L: shrimp tacos with the rest of the gang; R: mushroom/garlic tacos

A lot of the menu items are unique in the way that they are fresh takes on street favorites, e.g. rice and beans are actually crispy, with garbanzo and cannelloni beans; chicharrones made from chicken; grilled corn with kewpie(!) and guajillo butter. And although their chorizo/papas, lengua, and clam/lardo tacos are delish, vegetarians will be happy to know that their mushroom/garlic (and seasonal cauliflower) tacos are THE best... like out of this world good. Not only are the flavors mouthwatering, but the texture play with soft corn tortilla, warm chewy mushroom, and crispy garlic chips is golden.

My best tip for new diners is to go in a group of four; that'll make it easier to cover more of the menu at B.S. Taqueria, and because you have to have to have to leave room for their churros and tres lesches cake. Come back during dinnertime to try out their impressive cocktail menu, with my favorite ones being the "Cascabel" and "Gordo Cup".

(And when you're ready to go to the next level, check their older, more serious sister restaurant, Broken Spanish.)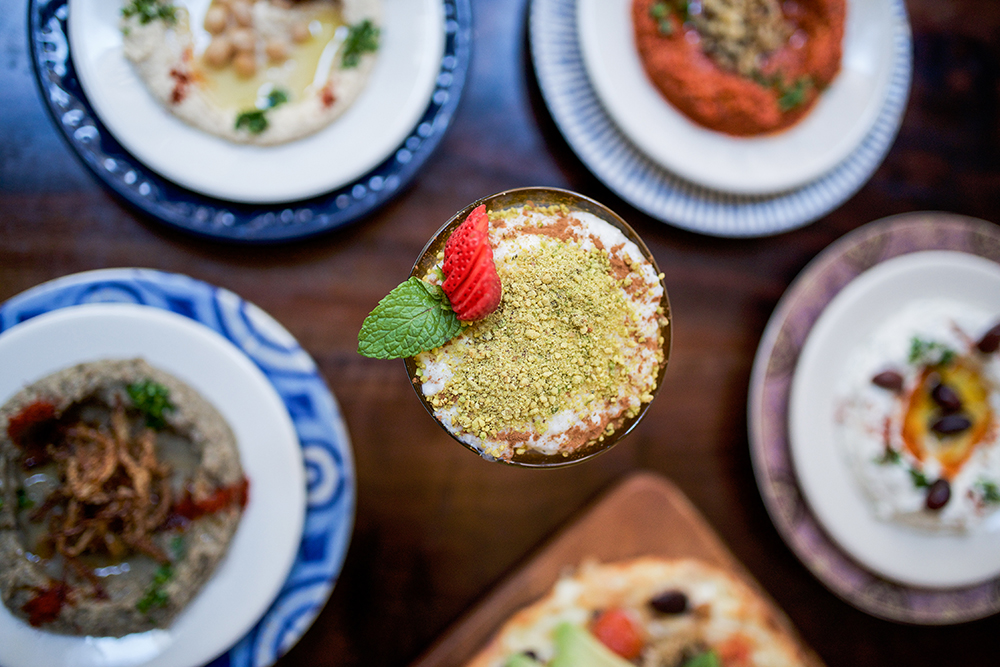 The rosewater rice pudding with pistachio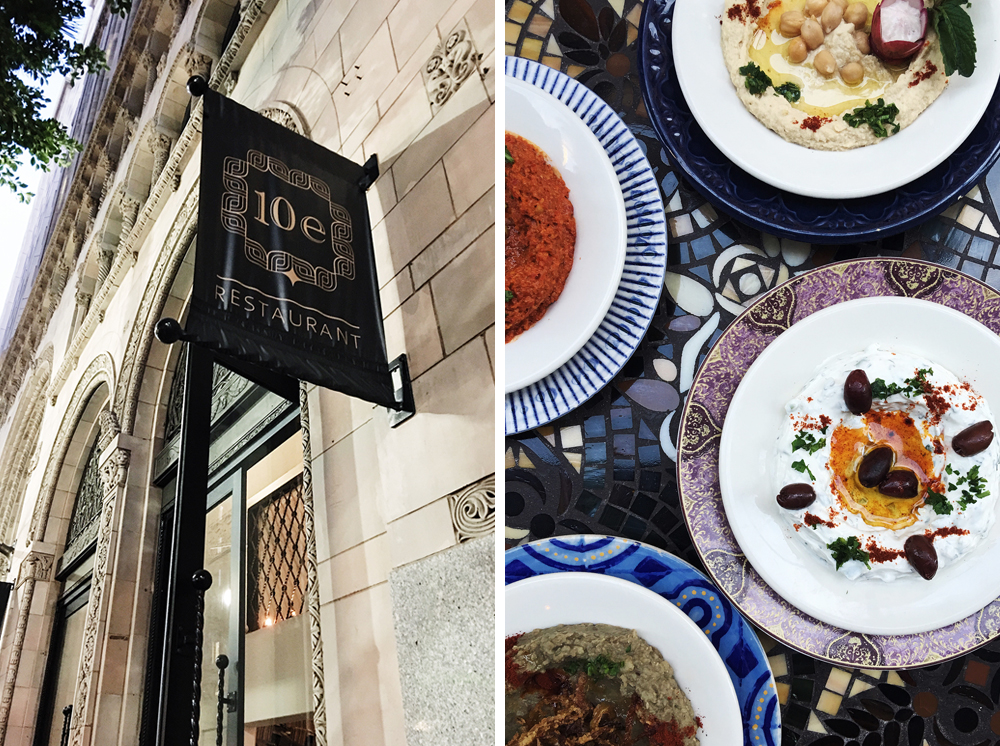 L: the large doors of 10e Restaurant facing 7th Street; R: the power spread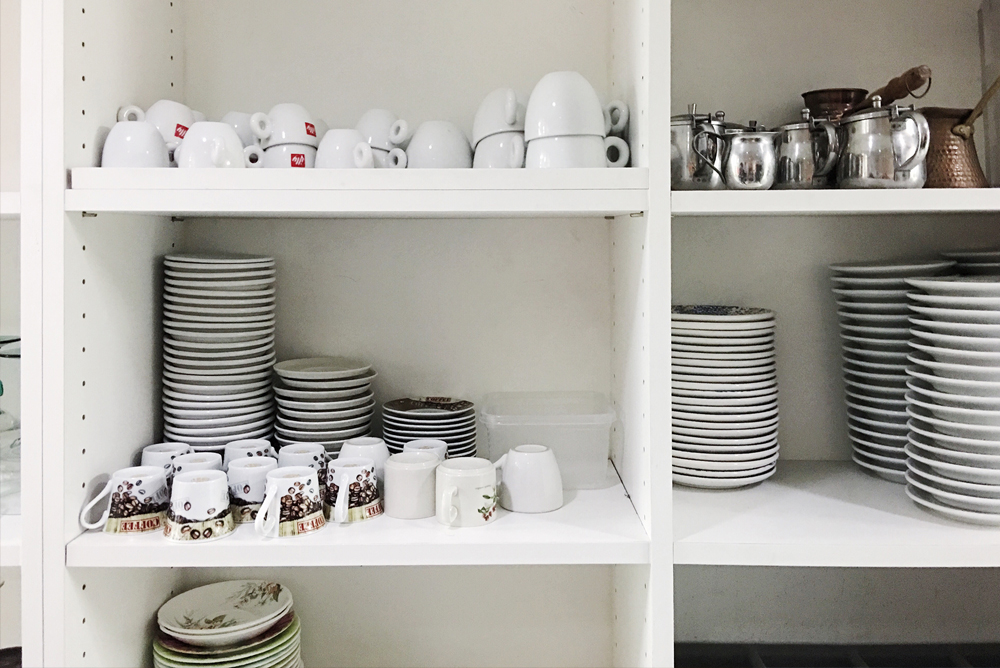 Cute arrangement of cups found near their kitchen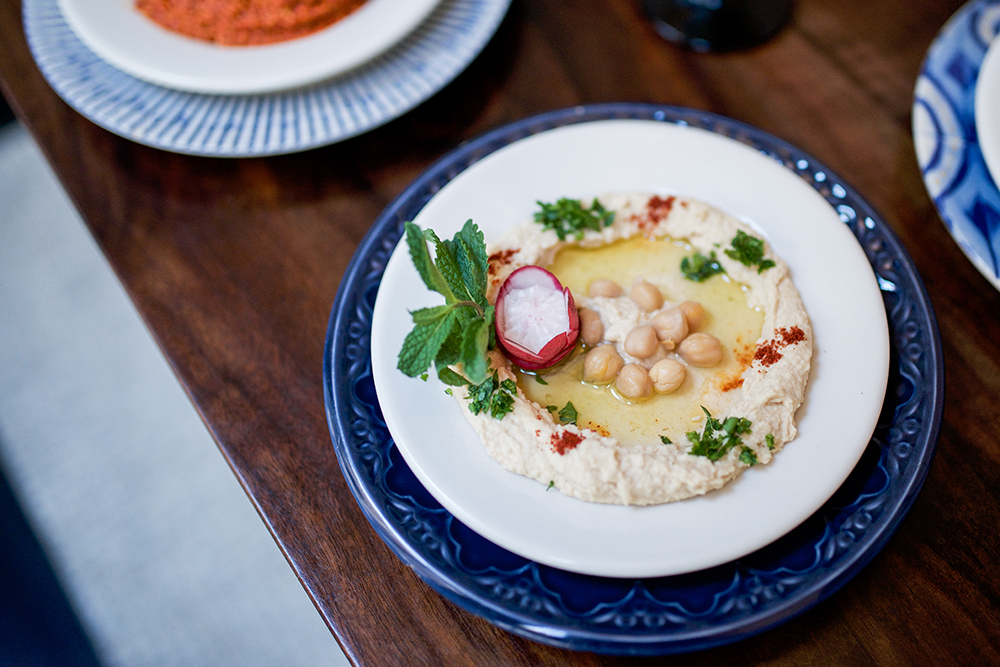 10e Restaurant: 811 West 7th Street

Dinner: I settled on trying 10e Restaurant after hearing a friend rave about it, and was not disappointed. To start off, my dear friends Rachel and Adam and I had ordered their spreads to go with their delicious bread (that I'd learned later was gluten-free, whaaat): a plate of fresh hummus made with tahini and chickpea, a plate of labne (strained yogurt with mint and za'atar), a plate of muhammara (a hot pepper dip with walnuts and pomegranate molasses), and lastly a plate of mujadara, a black lentil puree topped with crispy fried onion. This spread alone was enough to draw me in; there is something so delicious about simple bread and dip, and the range of flavors that these four had... mm.

We also enjoyed their "Chicken Lule Kebab" and "Vegetarian Flatbread" (topped with an abundance of avocado slices, slivers of mushroom, eggplant, basil, and kalamata olives), but our undisputed, absolute favorite was the "Mante", a dish with chewy Armenian beef dumplings swimming in a piping hot sumac/garlic yogurt sauce. Unfortunately I couldn't get a good shot of this dish as the light gave out, but trust me, you'll want to order this!

To round out a fantastic meal, try their rosewater rice pudding with crushed pistachio for dessert. It has all the right elements, no?! If you're a rosewater fanatic like me, you'd be happy to know that you can definitely taste it in the pudding; and you get something milky and chewy mixed with a bit of crunch- it's perfect.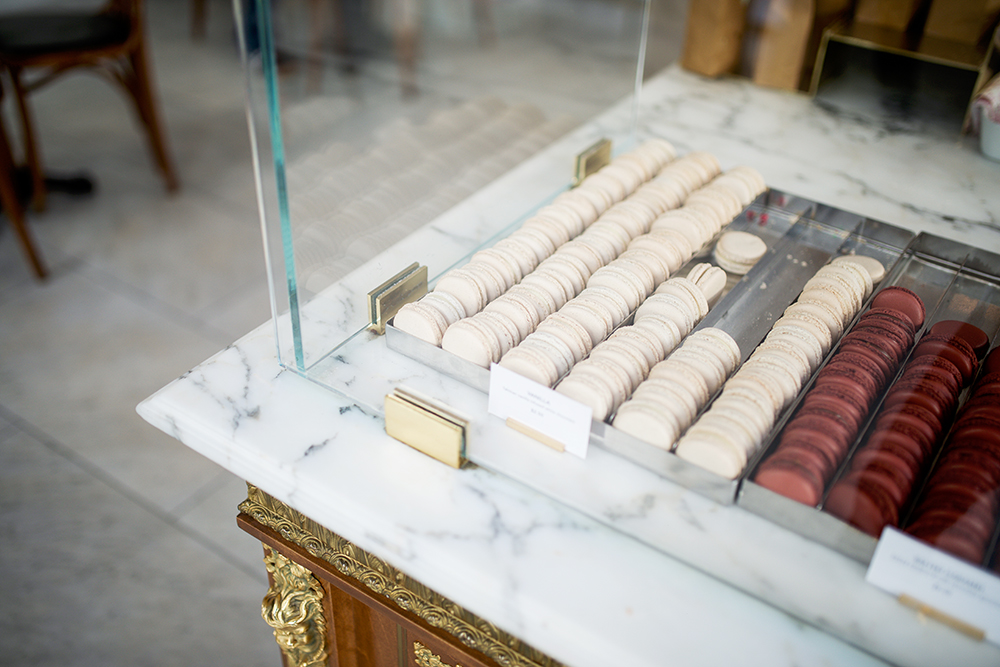 Macaron counter at Bottega Louie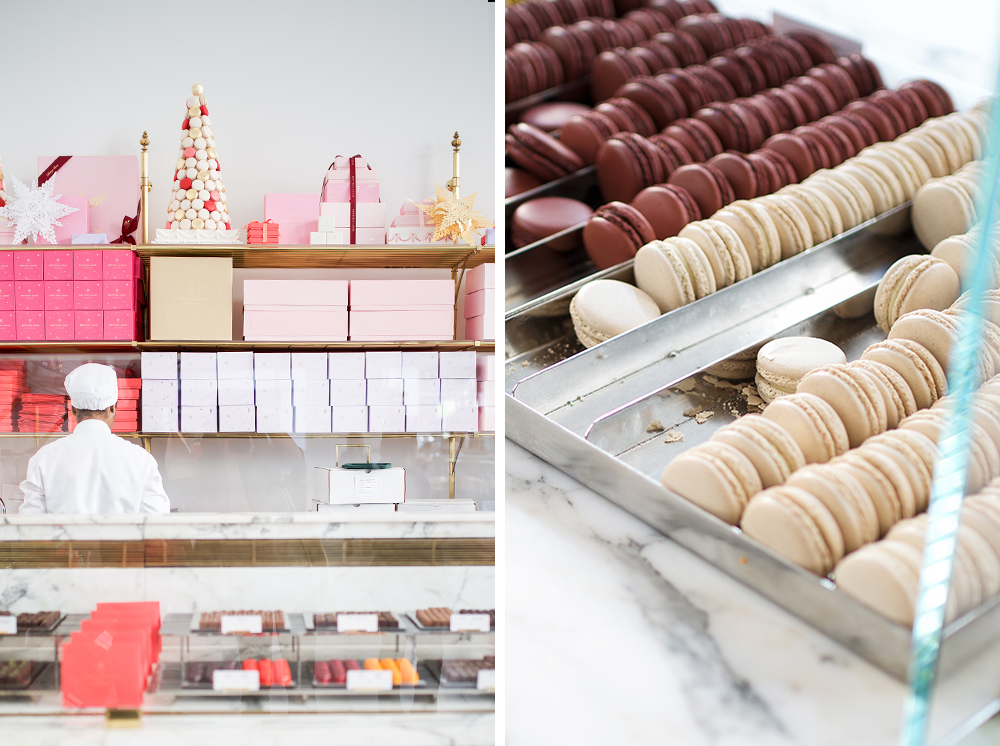 Bottega Louie: 700 S. Grand Avenue

Last but not least: for this holiday season, I'm trying to play Santa to everyone and buy individual gifts. I've realized how stressful this actually is, so I thought, I'm just going to find delicious treats I know people will love. I thought of looking no further than the renowned Bottega Louie for the perfect tiny holiday gifts. They're heralded as one of the most popular restaurants in the nation for their pizzas, portobello fries and of course their beautiful arrangement of pastries. And this is for good reason- the ambiance is spectacular day in and day out; their packaging is supreme and displays major attention to detail. Yes, Bottega Louie is bustling at almost all times of the day, but there is something to be said about the way it exudes elegance even when their space is filled to the brim.

I snagged a case of their enrobed caramels and will be picking up a box of macarons when Christmas Eve is nearer; nothing spreads cheer and warm regards quite like a gift from Bottega Louie does.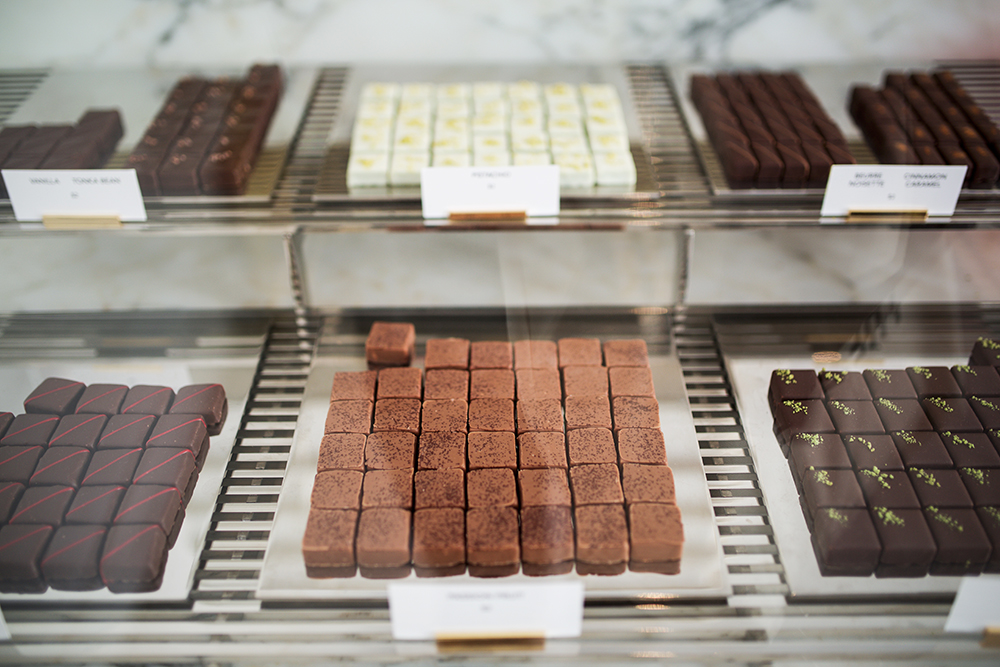 This post was done in collaboration with the Downtown Center Business Improvement District (DTLA). Visit DowntownLA.com for dining guides and things happening in DTLA