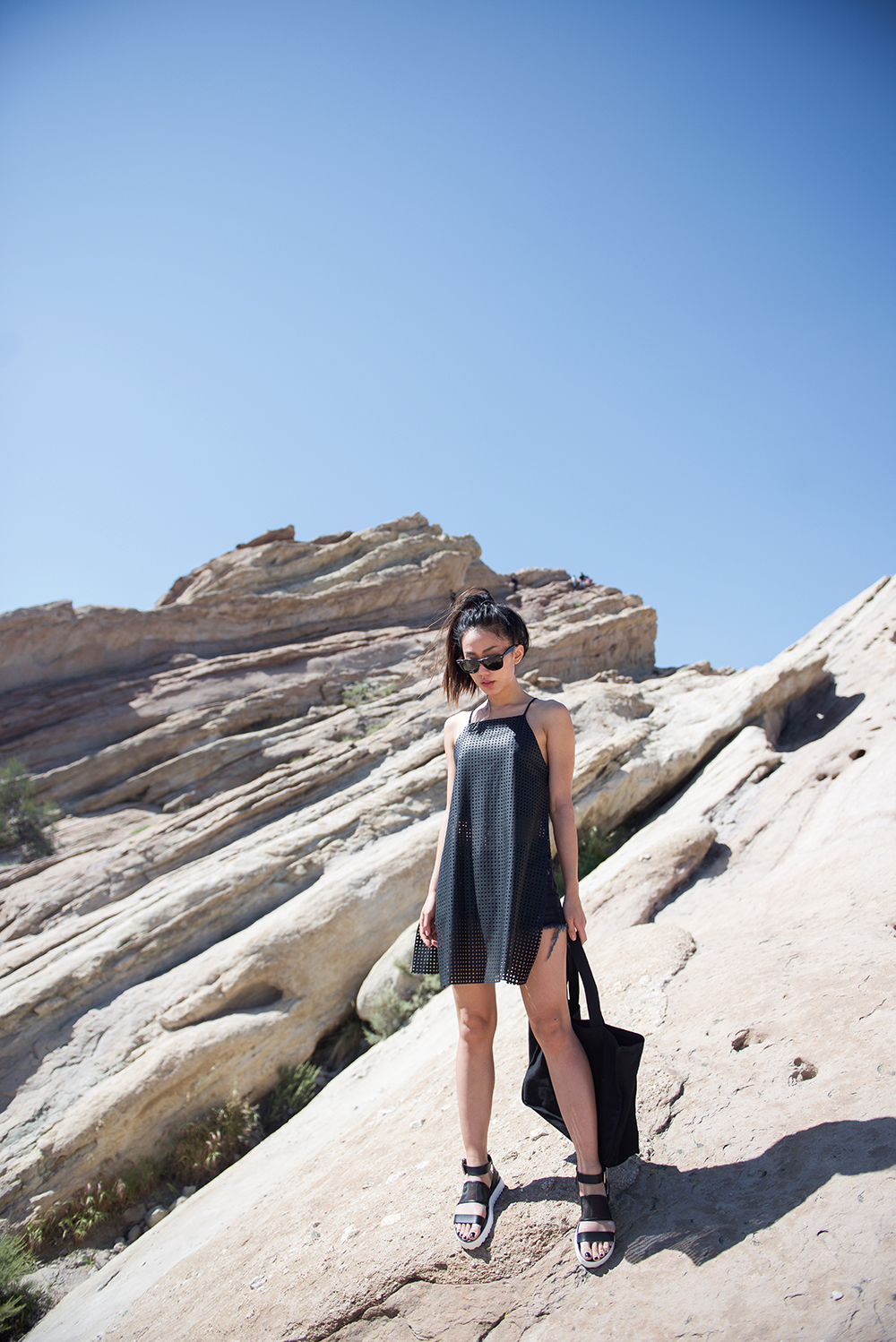 BCBGeneration dress and sandals, Ray-Ban sunglasses, AG Jeans short (similar)

I know, I've been raving about Coachella on pretty much all available platforms of social media, and we're through with the second and final weekend, but I had to seal the deal with a post. This year was only my second time ever and frankly I don't understand why I'd backed out of going twice in the years prior. Having gone and loving both weekends last year, you could imagine my pent-up excitement for the three-day festival reprise. After a whirlwind of a Wednesday/Thursday, running around town completing errands, I got to Indio late Thursday night and prepped for the days to come...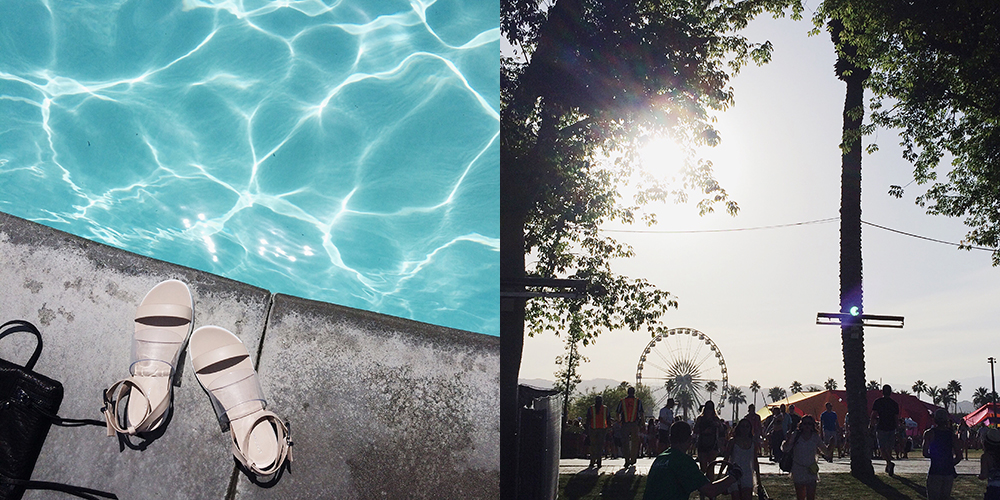 BCBGeneration sandals, Botkier wristlet

A little relaxation before commencing Coachella: started Friday morning pool side at the resort. Had a hearty breakfast with friends and got ready for the festival in BCBGeneration and Botkier. I was stoked about the lineup and knew that I'd be running around a ton so I wanted to keep my looks minimal and fuss free--no heeled boots, no fringe, nada--just easy tops, silky sweats and shortalls, baseball caps and sneakers.



Those damned crab fries. Think my friends and I inhaled three in one sitting, easy.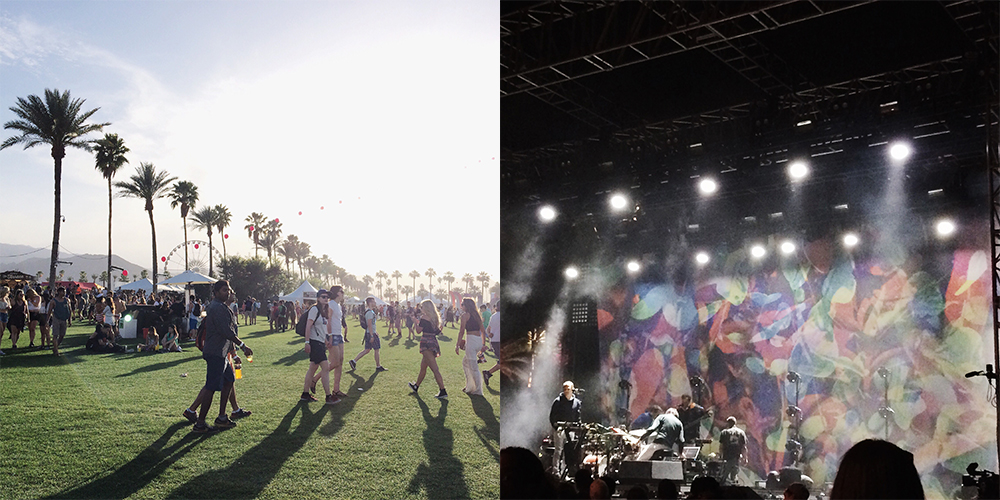 We got to the festival pretty early. Much of my time was spent at the Heineken House on Friday - caught Athletixx, A-Trak and Rome Fortune - but my favorite of the day (and in my top five of Coachella) had to have been Caribou. I'd been dying to see him live for so long after deciding that 'Can't Do Without You' was my anthem for the years to come. His songs are masterfully layered so I was prepared to watch a set with a lonesome Dan handling it all while standing behind a computer, but no, there was an incredible live band accompanying him, achieving the same sounds I'd played over and over again + more prominent bass and percussion. It was electrifying.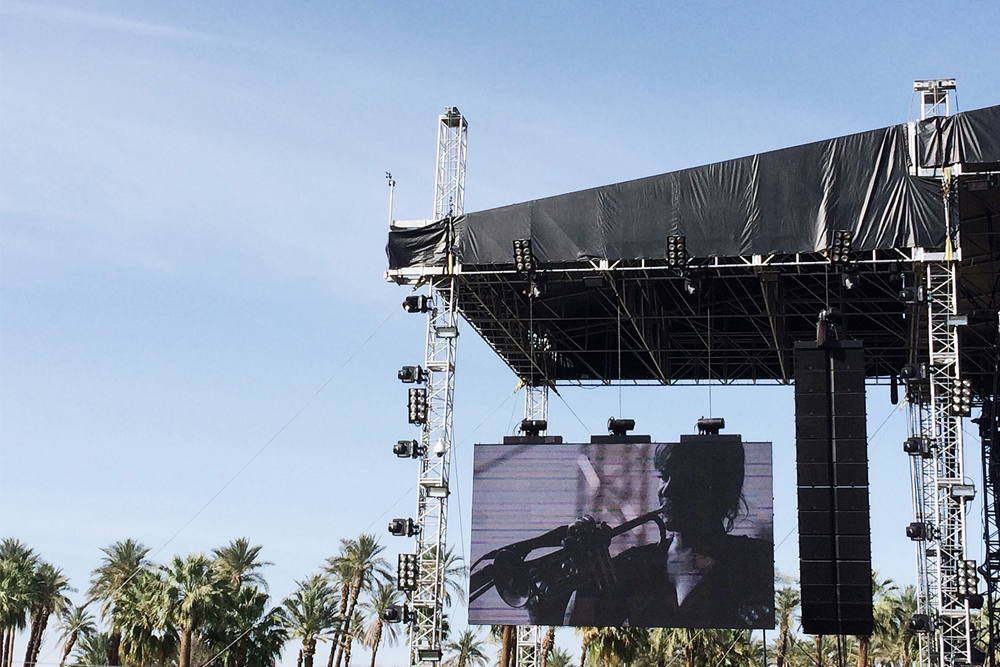 The perfect Angus & Julia Stone on the Outdoor stage - great set to unwind for a bit.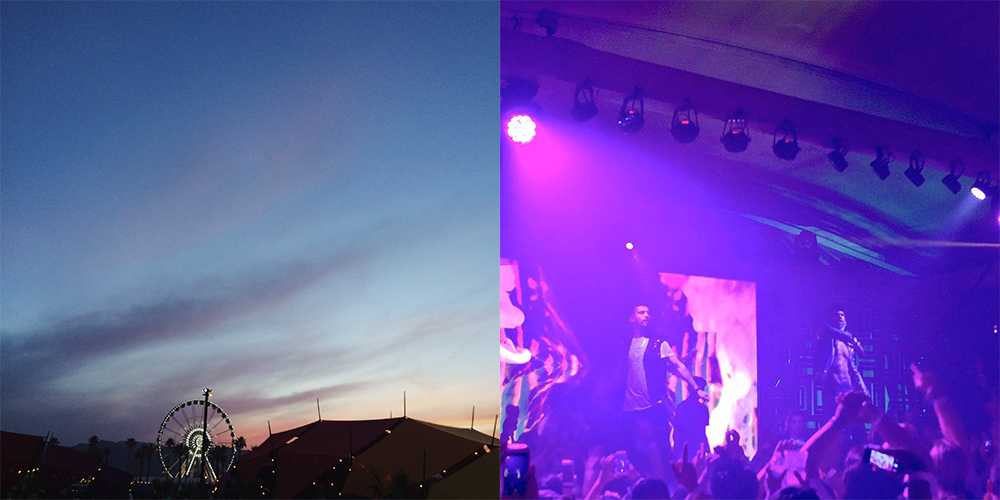 Gorgeous wispy sunset on the first night of Coachella. Also got to finally catch Rome Fortune with A-Trak at the Heineken House! So much energy.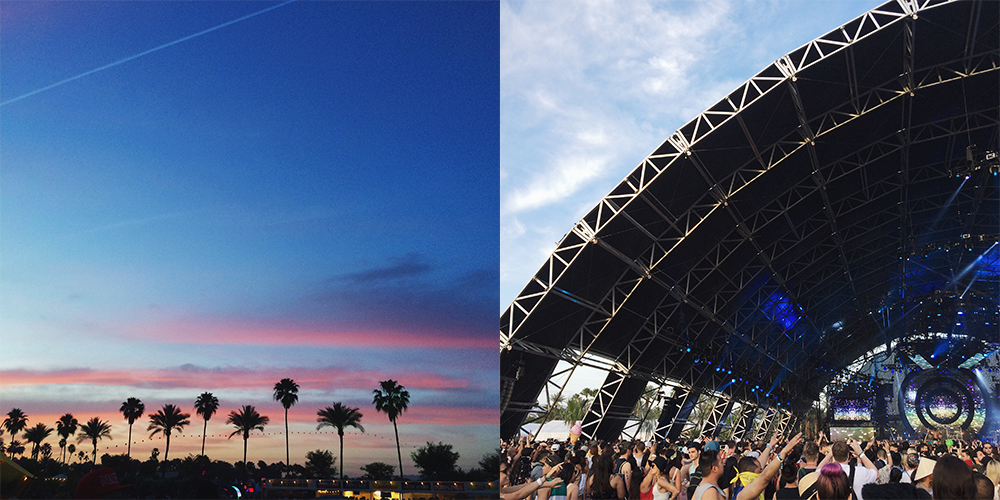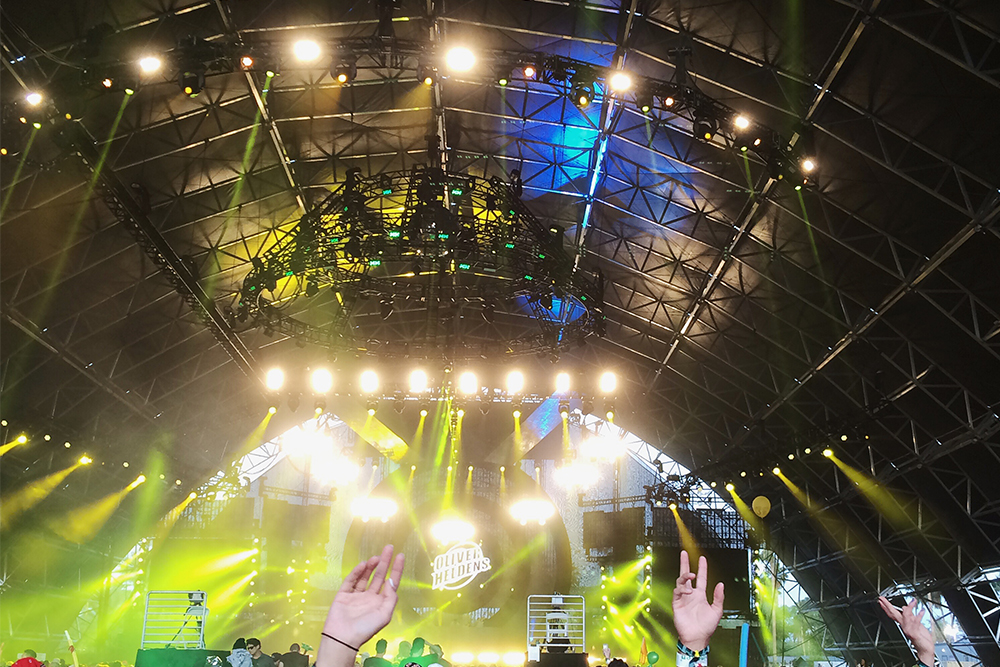 Entered the Sahara tent for the first time and I was pleasantly surprised, ha! I stuck primarily to Gobi and Mojave last year, but I'm glad I branched out to try a different music genre.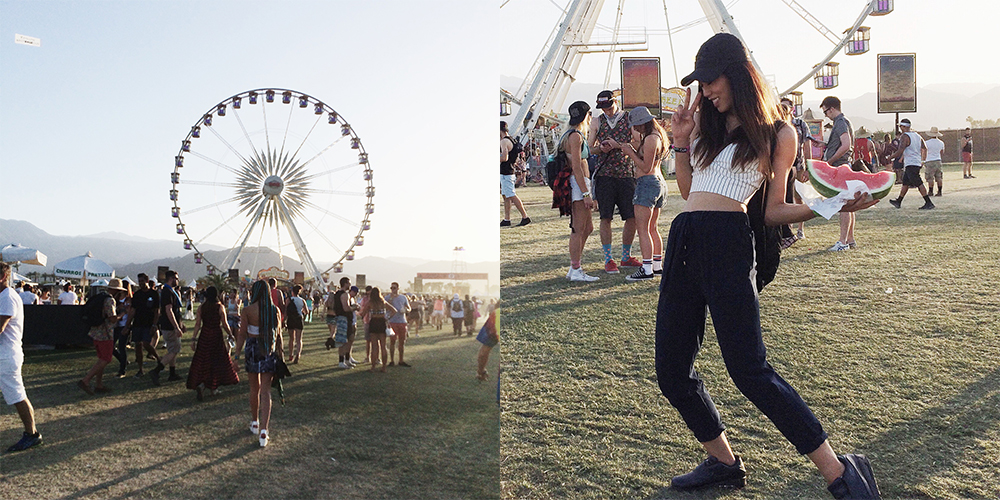 BCBGeneration cap, Style Stalker top, Three of Something pant, Nike sack and Nike x Sacai sneakers

Moments after a quick Chet Faker set: briefly recharged with a nap on the grass, grabbed a bite with your quintessential Coachella prop, and then rushed off to the Gobi tent for Glass Animals!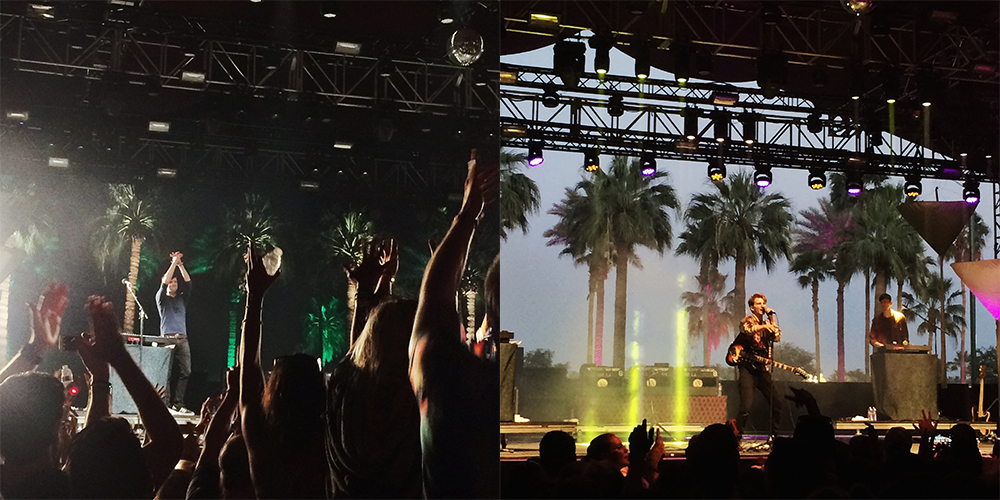 OKAY, no words can describe how good Glass Animals was. Their debut album "Zaba" inspired me to start a vinyl collection last year and I'd missed their show in LA (sobbing emoji) a few months ago due to travel so they were on the top of my list to catch at Coachella. The cool energy, their rhythmic psychedelic sound, and THAT VOICE... Dave Bayley, you are a god. I'm pretty sure every individual in that crowd lost it when they finally played 'Gooey'. Perfect musical backdrop to accompany a gorgeous Saturday sunset.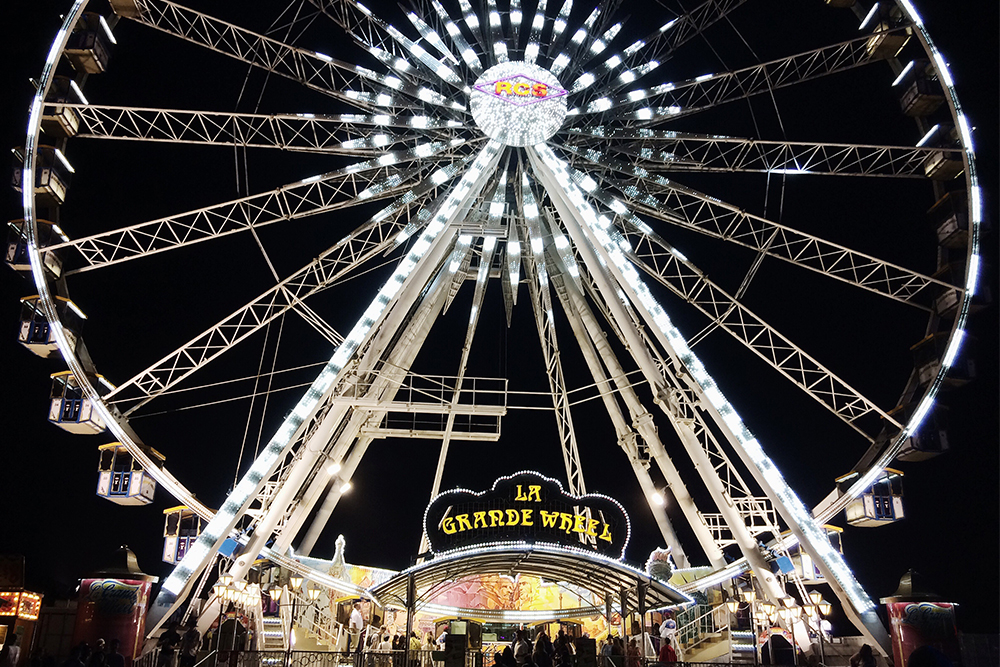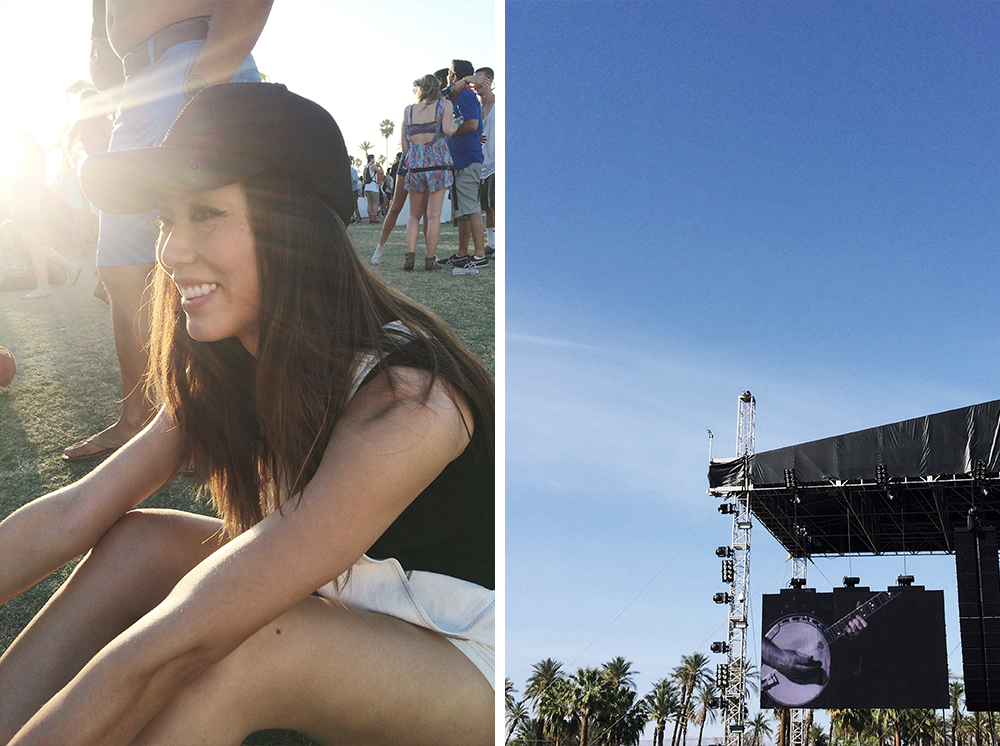 BCBGeneration cap, Style Stalker shortalls, Adidas sneakers

All smiles here, but actually depressed about it being the last day of Coachella *lawls*



WHAT SO NOT! Again, one of the many shows I missed last year. I attended OMFG! in San Diego back in December just to catch them (1/2 Emoh Instead and 1/2 Flume who had recently left WSN) and was only able to get to the venue to catch their last song. I freaked out a little Sunday afternoon when I realized we were running late AGAIN. Two friends and I rushed over to the festival and literally BOOKED IT from the parking lot to the Sahara tent. Pretty sure the security guards thought we were trying to sneak in but we really just couldn't miss out for the second time on seeing Emoh. So glad we didn't because it went UP. Easily top five for me.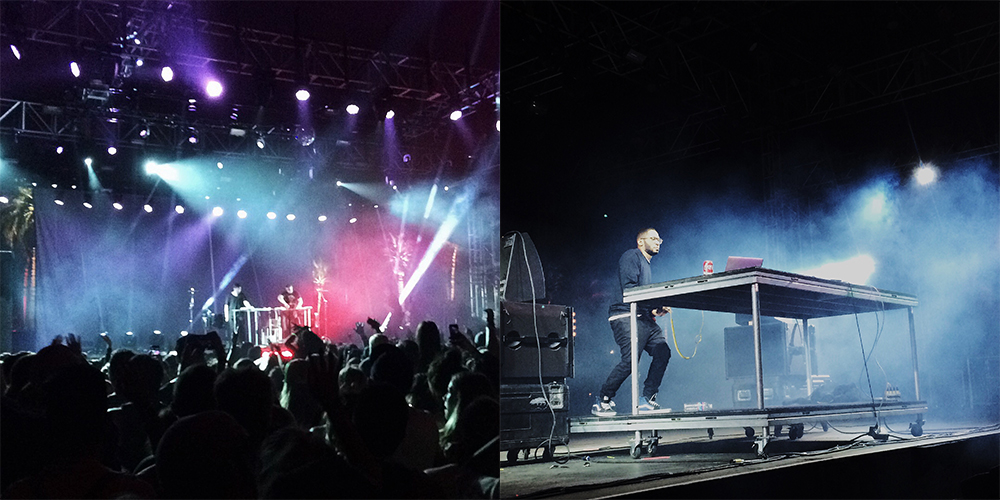 And then there were two. My favorites, Odesza, who I've seen five times last year alone, started the end of the best night. I loved watching their growth and could not be more ecstatic to see where else their unique sound can take them. I don't know how they do it but their performances get better and better each time. Thank you Harrison and Clayton for bringing out Shy Girls and Young Summer to elevate the set. SO GOOD!

Our good man Kaytranada capped it all off. My best friends and I tried our hands at music shows at the start of 2014 with Kaytra being one of the first must-sees, for good reason. The dude knows how to weave trap, r&b, and that disco groove so seamlessly - it's hard not to enjoy the crisp, feel-good vibes he's perfected.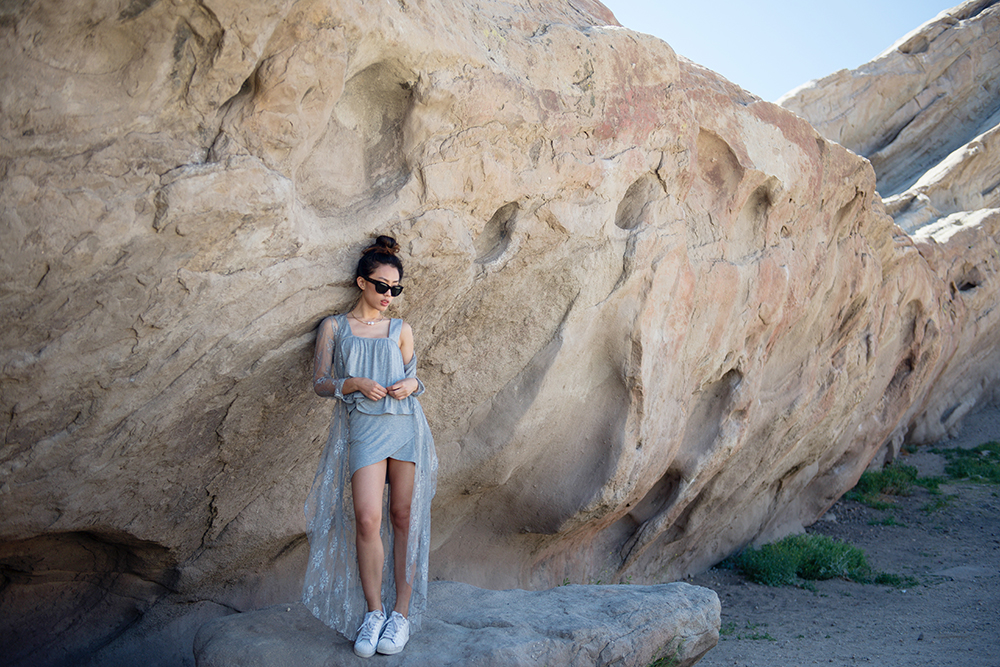 BCBGeneration top, skirt, and necklace, Style Saint wrap dress, Adidas sneakers, Ray-Ban wayfarer

Thanks again for the memorable times, Coach - until next year x