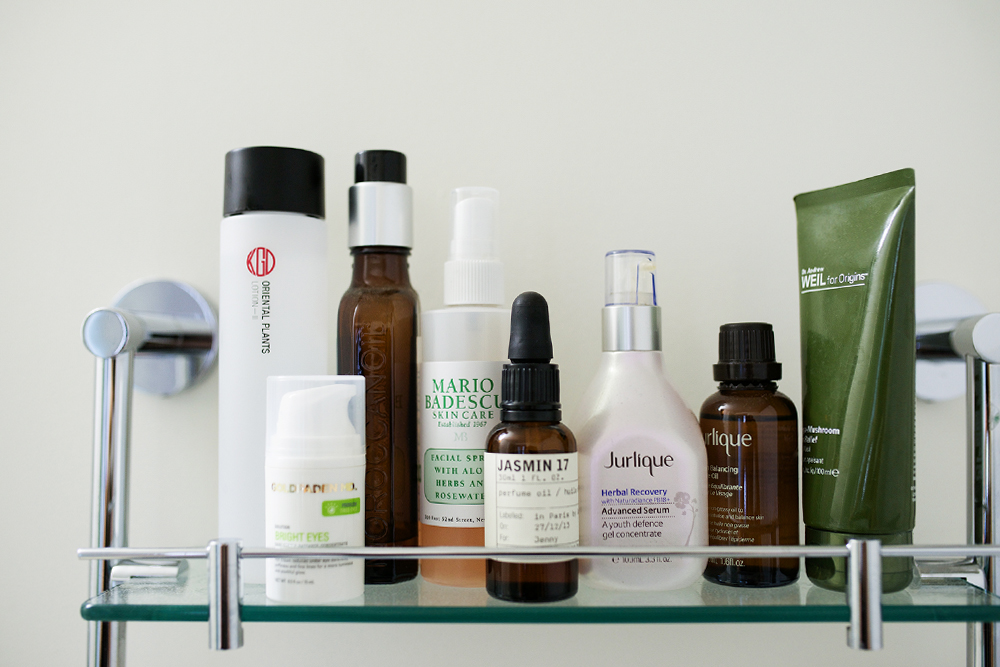 L-R: Koh Gen Do liquid lotion, Moroccanoil treatment, Goldfaden MD bright eyes, Mario Badescu facial spray, Le Labo perfume oil, Jurlique herbal recovery serum and balancing face oil, Dr. Andrew Weil for Origins face mask

It's true what they say, you discover what really matters when you look at what you take first to settle into a new place. I didn't realize how much skincare product I had until I started packing up my belongings for the move. These products I've been using for some time now and they made the final cut, easy. I definitely had to have them the first few nights in my empty apartment. Here are some stand outs as part of my nightly regimen:

Koh Gen Do liquid lotion: sometimes I'll use this alone at night, and other times I'll use it in the mornings before I apply BB cream/SPF. It's refreshing and light, and I feel like my skin appears more even-toned after application. A few dabs on a cotton pad is good for the entire face.

Goldfaden MD bright eyes: for the night owls who stay up way past midnight and for those who also have to rise early, Bright Eyes is a godsend. Throughout high school and college I had pretty prominent dark circles and going into my twenties I believed that I just had to face the fact that they'd become an indefinite part of my appearance. And believe me, I'd tried so many eye creams claiming the reduction of stubborn dark circles... none really seemed to do the job until Goldfaden MD's.

Jurlique serum and face oil: I use the serum as my nightly regimen, and then in conjunction with the face oil every other or two days to really moisturize my skin. I'll apply the serum all over after patting my under eyes with Goldfaden MD, and then I'll use a cotton pad and dab the face oil on my face, with a few extra pats on drier spots. I've seen a big difference in luminance after continually using the serum- love how light and refreshing it is. I use the face oil just to lock in and retain the moisture. My skin always-always feels amazing the morning after.

Dr. Andrew Weil for Origins face mask: for a quick refresh, this mega-mushroom skin relief face mask is a good one to go with. After just five or so minutes, you can just wipe the mask off with a wet paper towel. It visibly reduces redness and it is so easy to put on and take off- love that.