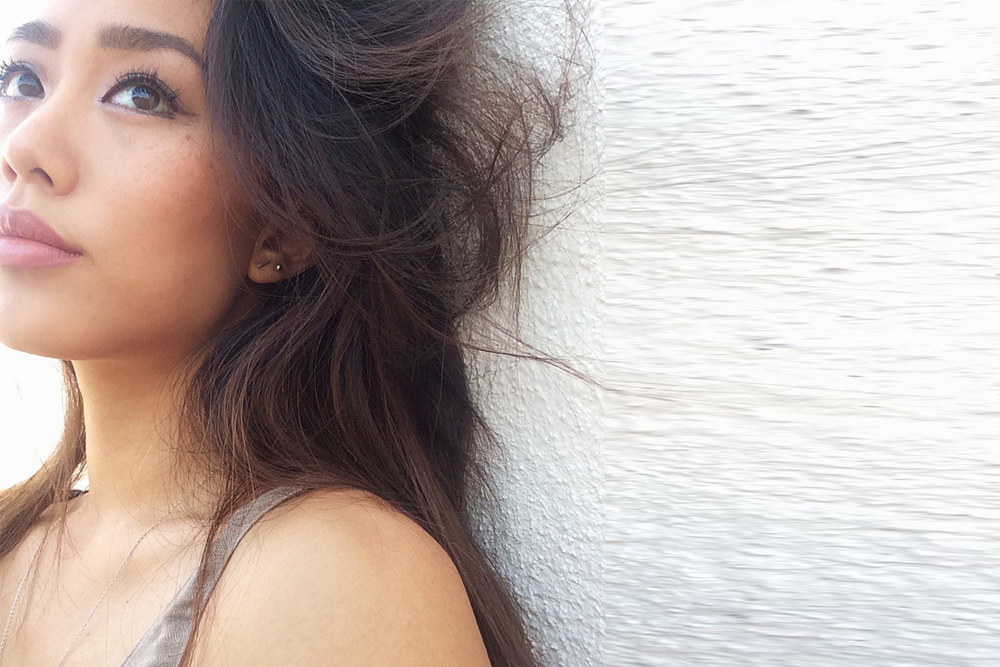 On days when I don't have meetings, events, or showrooms to attend or visit, I like to keep my makeup fairly undemanding. During the day I prefer a much lighter palette as it seems to match up with the sun drenched vibes, while more defined lines are saved for nighttime outings. I wanted to share a few tips with you guys on how to achieve a more 'natural' look-- that 'no makeup makeup' sort of thing.

1. Full eyebrows - as brows are the first things I notice, I place a lot of importance on them. I try to make sure they're filled right but as natural as possible without overdoing it. To make them more natural-looking, I use two different shades (both from The Brow Gal) to fill. I'll use the 'Medium Brown' for most of my brows- line up the bottom of my eyebrows and again a half-inch from the start, all the way to the end. I'll then use a lighter shade, 'Chocolate', to lightly fill in the start and the top of my brows, as it creates this more subtle fade. Once both are used, I'll take the end of one pencil and use the spoolie to brush and create hair-like strokes (the direction at which eyebrow hairs go differs- mine go slightly up, sideways and then down) for the most natural appearance.

2. Cat-eye - I love a good cat-eye but during the day I feel most comfortable wearing it in something other than stark black. I know, it's weird because cat-eyes are usually done for definition but something about a softer one kind of goes in line with my style. And it just seems more fitting for a natural day-time look. Anyway, I'll use Bare Mineral's wet/dry brush, wet it and dab some 'Undone' from Urban Decay's NAKED Basics 2 Palette. I'll slowly line my top and (dot) bottom lids with the brush, without dabbing for more shadow (a little bit goes a long way). The brown liner is a softer alternative that creates more natural-looking eye makeup. Which leads me to the next point...

3. Bottom eyeliner - to maintain the natural look here, instead of using a black eyeliner, I'll use the aforementioned wet/dry brush with the same 'Undone' shadow and dot/dab my lower lash line. Emphasis on the dotting/dabbing. It'll appear a little more undone, literally, and a lot softer than a striking black. If time permits, using a little bit of mascara to do one sweep over the bottom lashes. I like Benefit's 'They're Real! Mascara' because it's not too thickening on me, which is what I'm going for, and the brush actually gets all the tiny, thin lashes.