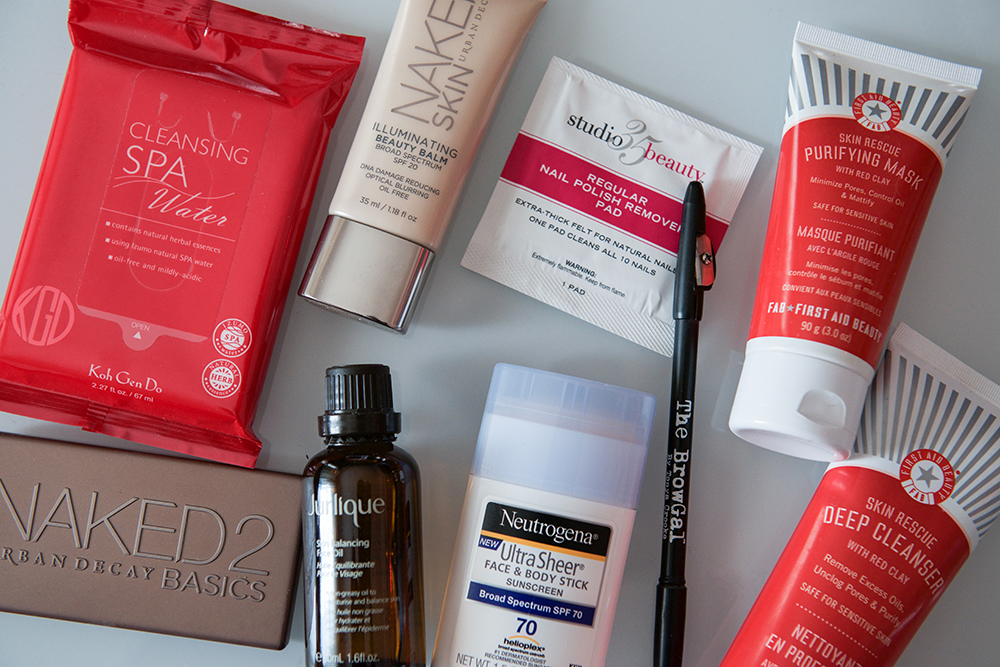 Koh Gen Do cleaning cloth, Urban Decay NAKED Basics 2 palette and SKIN Beauty Balm, Studio 35 Beauty nail polish remover, The Brow Gal eyebrow pencil, Jurlique face oil, Neutrogena SPF face stick, First Aid Beauty purifying mask and red clay cleanser

Just wanted to share some products that I'd brought along with me onto my Caribbean trip with Princess Cruises - the decision to go was made real last minute so packing was done in a hurry. I also wanted to travel light so I'd only brought along what was necessary.

Aside from the red clay cleanser and the purifying mask (which I actually didn't bring but recommend using to revitalize skin after travel), everything else I brought with me had a sort of two-in-one ordeal. These ones from Koh Gen Do are my favorite; they stay moist and gently wipe off makeup and each swipe actually feels refreshing. Face cleansing wipes are so ideal for travel because you don't have to worry about liquid contents and cloths, etc. The NAKED beauty balm and eyeshadow palette from Urban Decay are all you need for light makeup application abroad - the BB cream is a tinted SPF moisturizer with the magical ability to illuminate the skin, while the palette provides a good range for a natural look. Add in my favorite brow pencil (complete with a spoolie on one end and a sharpener on the other) from The Brow Gal and you're good to go for makeup.

For days that I wanted strong skin coverage, I used the Face/Body SPF70 stick from Neutrogena. It's compact and is super high in SPF so it makes me feel a little better about laying out in the sun. Sometimes I'll put this under the beauty balm - I know, it's a little aggressive but it helps put my mind at ease ha. For night time moisturizing, I found this skin balancing face oil from Jurlique to be the most nourishing while at sea with Princess. After a full day of flying and another full day at sea, I felt my skin became drier than usual during travel - this face oil revitalized my skin each night and kept it hydrated each day thereafter.

As for the nail polish remover pads, I thought these would be good to bring in case my nail polish chipped (in which it did). I'd much rather go bare than have four or five nails that look torn and different than the rest. These remover pads came in handy - because this was a last minute trip, I didn't have enough time to improve my current mani/get a new one and when I learned that Princess Cruises would be hosting dinners like the Chef's Table, I felt much more comfortable being able to take the polish off. These pads come ready to remove almost all polish from all ten fingers - you don't have to bring along cotton pads or acetone!