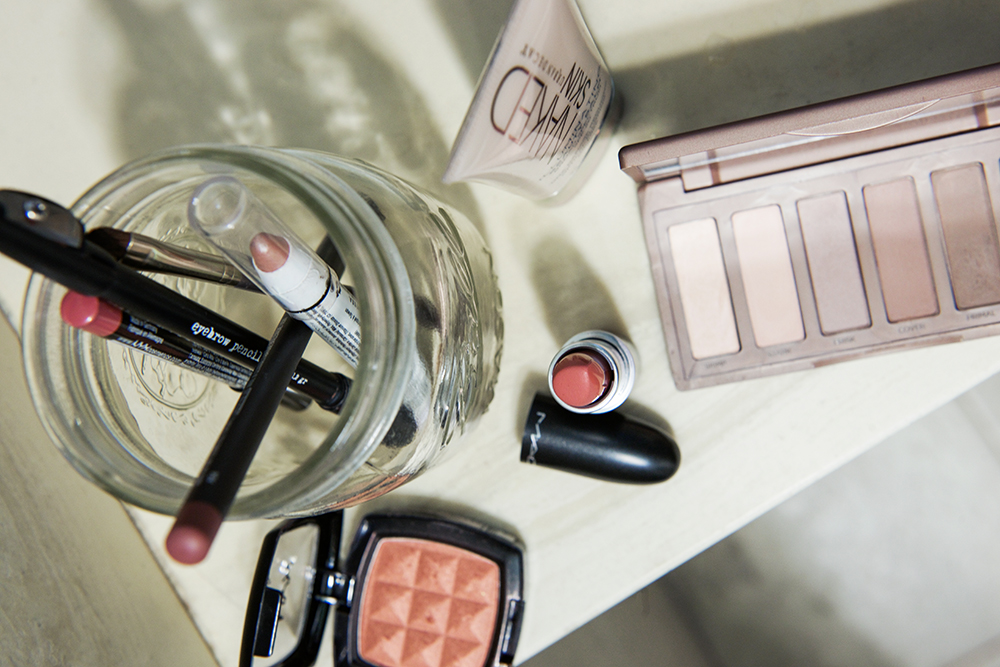 Urban Decay NAKED Skin beauty balm and Basics 2 palette, MAC lipstick in 'Velvet Teddy' and lip liner in 'Stripdown', NYX blush in 'Terracotta', jumbo eye pencil in 'Yogurt' and lip liner in 'Natural', Bare Minerals wet/dry brush, TheBrowGal eyebrow pencil

When I lightened my hair to an ombre for the first time earlier this year, I knew it was likely that I had to change my makeup routine to accommodate the new colors and dimension. After traveling to tropical settings and a ton of visits to drugstore aisles and makeup counters, I determined that browns, bronzes and lip-color pinks complemented tanned skin with sun-kissed hair the best. I'd always been drawn to skin and blush toned colors but it wasn't until this year that I started experimenting with lipsticks and liners and really learned the extent of my love for blush toned makeup. Before this year, I'd owned zero liners and had maybe one or two 'standard' lipsticks only brought out for special dinners and parties. Fast forward eleven months and I've collected a solid set of swatches (that may or may not look incredibly similar from afar) that I think successfully covers the range of my natural lip colors and will provide me enough nuance for the months to come.

Just thought I'd share some of my favorite blush-toned products with you, as well as a quick run through on the way I like doing my makeup best! Please recommend any other products you've come to love - I'm always on the lookout for other hues to add to the blush-toned mix.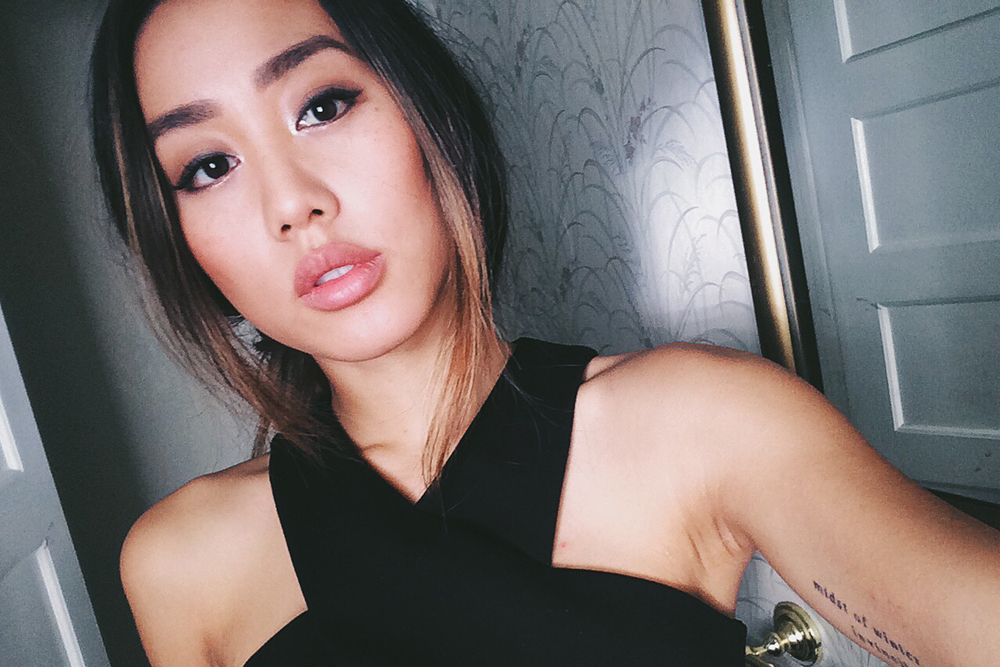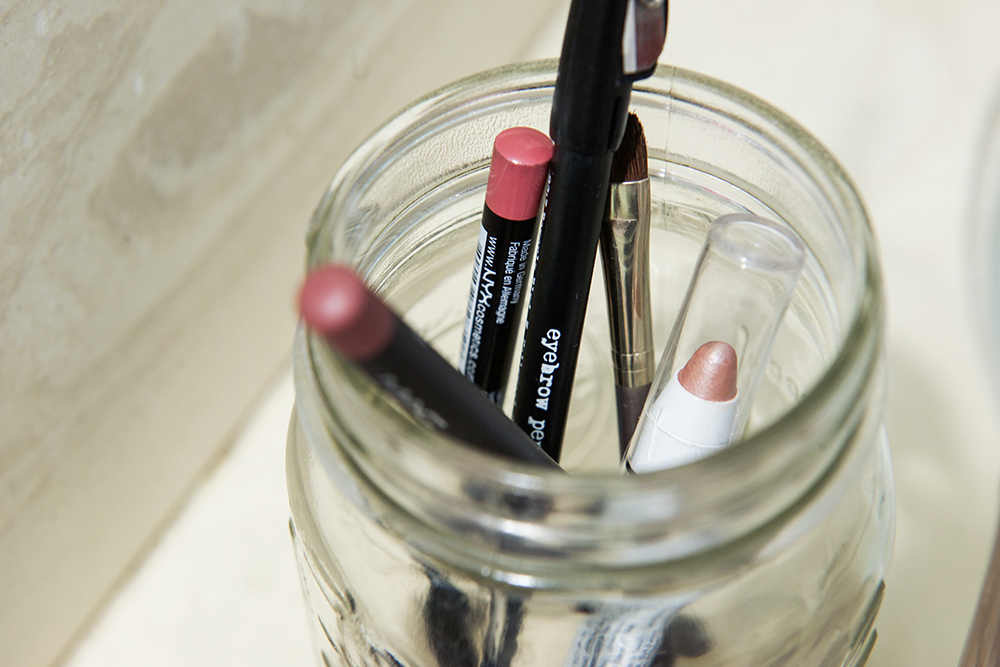 For the look above: after applying Urban Decay's NAKED Skin beauty balm, I blend 'Frisk' and 'Cover' from the Basics 2 palette and sweep the shadows over both lids. I dab my FAVORITE eye product, the jumbo eye pencil (THE prettiest rose-gold color, really the perfect thing to highlight eyes) in 'Yogurt' from NYX, on the inner corners of my eyes and draw it lightly underneath my lower lash line. Next I use the wet/dry brush from Bare Minerals and wet it with a little cold water, collect a tiny bit of 'Undone' (a little bit goes a long way, trust me) and bring the brush to a horizontal slant to use as an eyeliner. After a flick of dark brown cat-eye, I gently line my lower lashes with the shadow, right above the rose-gold shimmer. I then use the same brush, dried, to apply a little bit of 'Primal' over the dark brown eyeliner, blend with a little more 'Stark' and 'Frisk' mix with ring finger.

As for the lips, my favorite liner at the moment has got to be 'Stripdown' from MAC. It's a pleasant chestnut color; a little darker than my natural line, but the contrast makes for a nice pop/dimension. I'll dab MAC's 'Velvet Teddy' lipstick to tint the lips slightly, and then use NYX's 'Natural' (a my-lips-but-better shade!) to better 'blend' the lipstick and lip liner hues. I'll take a slanted bronzer brush and dust 'Terracotta' blush from NYX and then sweep it over my cheekbones, lightly over my temples and right at my jawline on both sides. This helps contour/define the face just a bit. Lastly, I'll use TheBrowGal's eyebrow pencil in 'Chocolate' to fill in my brows, with the spoolie used at the end of it all (brushing upwards) to create a more natural look for the brows. Fin!