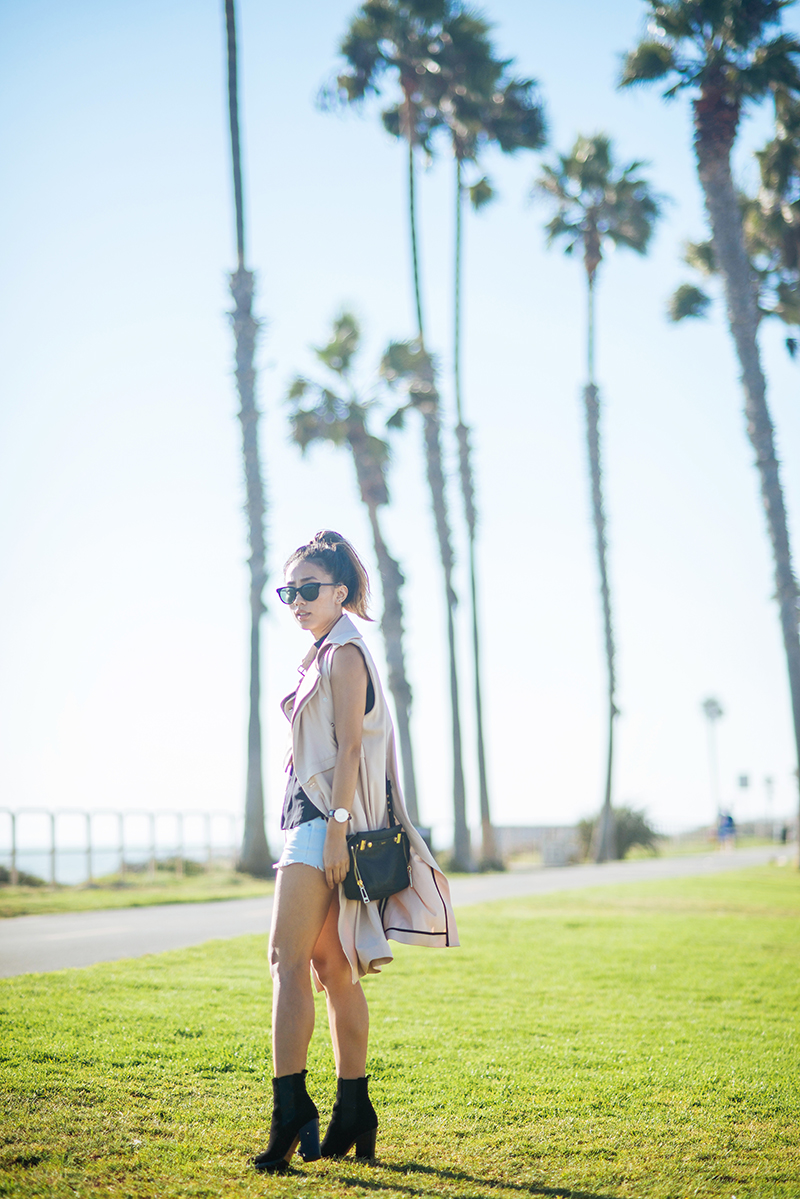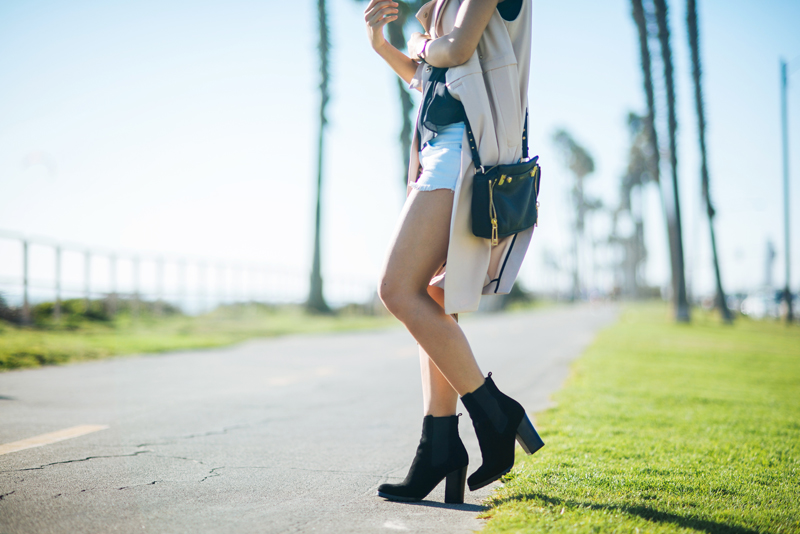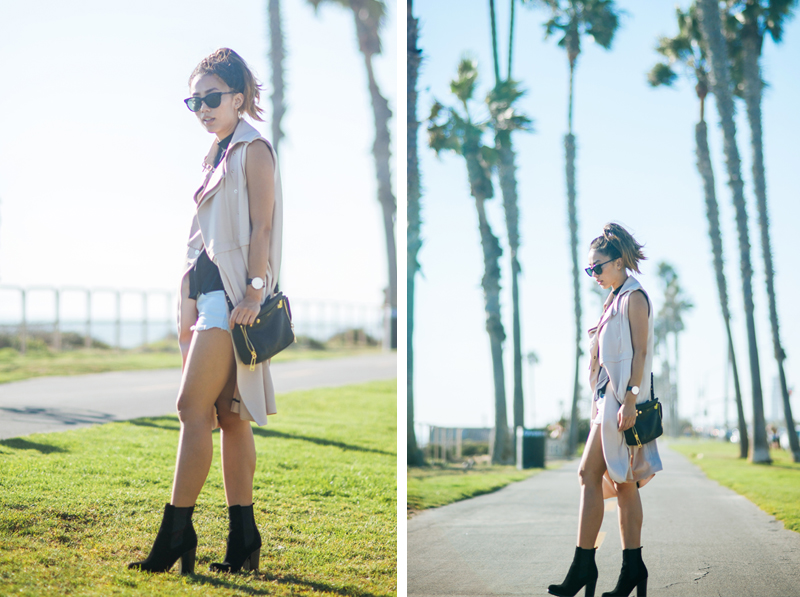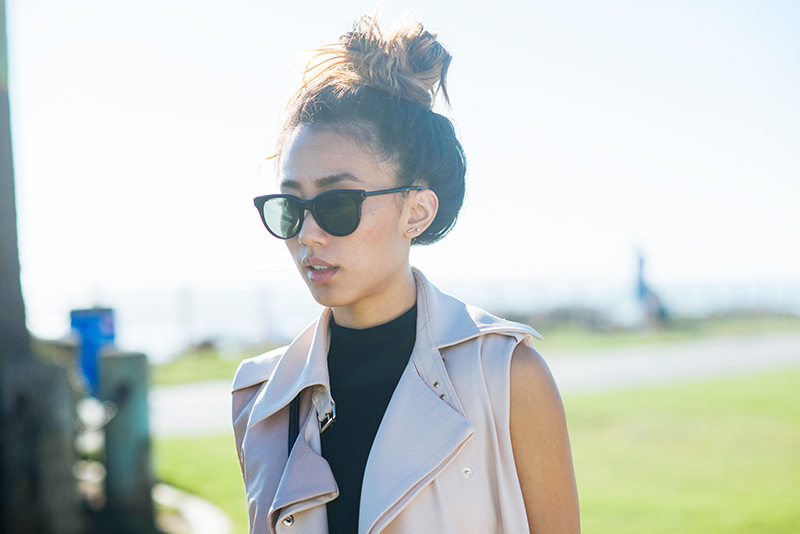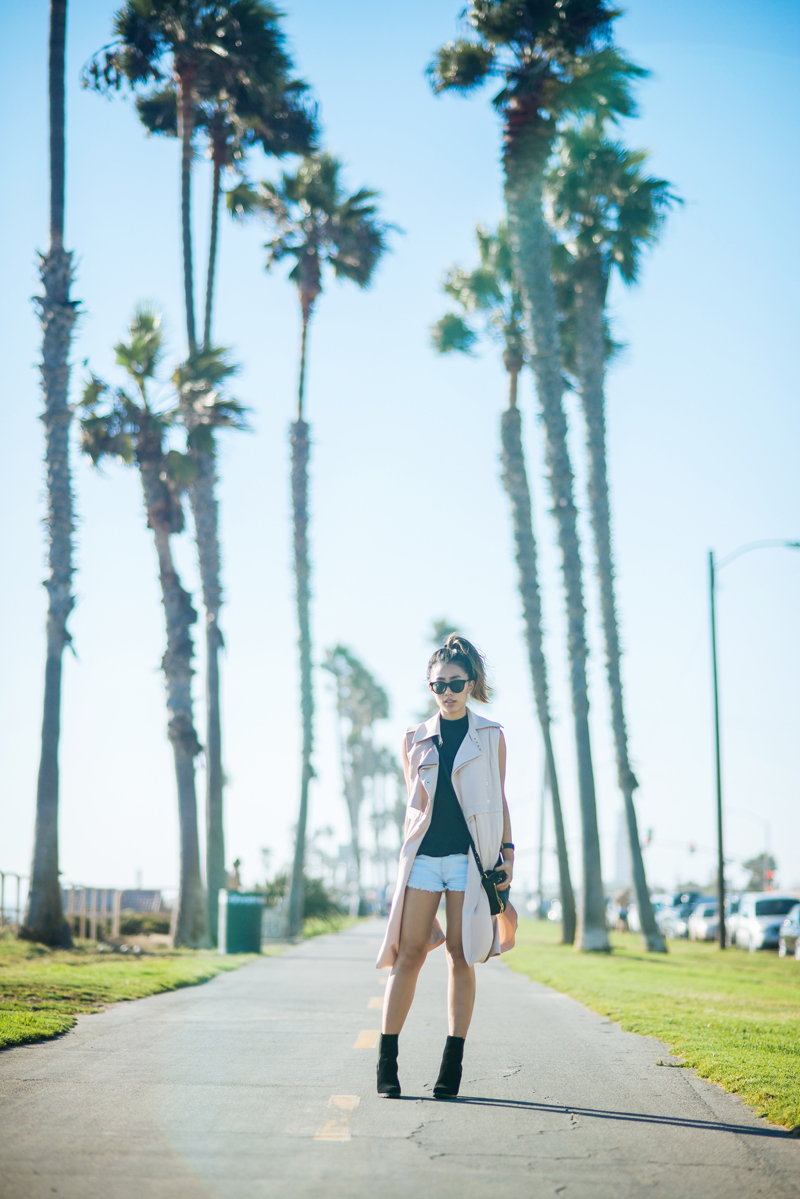 Three Floor vest, A.L.C. top, Current/Elliott shorts, Botkier bag, Elizabeth and James sunglasses, Coach boots

My weekends are usually dedicated to three things: brunch, libations and sun. No matter what I'm doing though, I am almost always in my go-to black Coach boots, as they are versatile enough to transition from day time and night time activities. Whether I'm dressing up for a nice dinner or meandering by the coast, find me in these chunky suede boots.

In collaboration with Coach and Nylon, I've shared some places to visit and things to do around LA on weekends:

1. Dinner and cocktails at Bestia, finishing the night at EightyTwo: I like to kick off the weekend with a great dinner and delicious cocktails. Not only does Bestia serve some of the best dishes around LA (their bone marrow with gnochetti and octopus salad are to die for), it encompasses a laidback chic atmosphere and plays a solid set of 90s R&B that'll bring a wave of nostalgia. Heading to EightyTwo, a bar-cade, after dinner will continue right with that flow, with restored vintage arcade and pinball machines and a fully stocked bar. Both places are a perfect way to start Friday evening, either with friends or on a date.

2. Hiking at Runyon Canyon and refueling at Square One Dining for brunch: Located in mid-city LA, Runyon Canyon is a popular spot for weekend physical activity. I find that Runyon is most crowded Sunday mornings before the brunch rush, but it's still fun. Dog lovers will love both Runyon and Square One, as there are usually plenty of furry friends running around and in the patio area, respectively. As for brunching, you can find arguably one of the best French toasts at Square One Dining. It's just a few miles away from Runyon and usually crowded but so worth the wait. Not only is their toast perfect (thick brioche, steamy and sweetened and glazed just right), they've got a great selection of omelettes and eggs benedict. I personally always have to order their Salmon Eggs Benedict (lox under poached egg, atop frisée and their potato hash). Complete with a delicious iced vanilla latte (sourced from Intelligentsia, with real vanilla beans) or a fresh young Thai coconut, brunch at Square One trumps most other spots in LA.

3. Brunch at Gjelina, stroll through Abbott Kinney and then finishing the weekend off with a sunset at Venice Beach: Abbott Kinney and Venice are synonymous with all things weird but cool. Strolling through Abbott Kinney there is plenty of distraction – several passersby, food trucks, specialty boutiques, and the list goes on. At one end of Abbott Kinney you'll find Gjelina, one of the most highly regarded restaurants of LA. Though I don't think there is ever a time that Gjelina is NOT overflowing with people waiting for a table, it is definitely worth trying to brave the crowd for. The food tastes hearty and home-cooked, with an extensive and excellent list of cocktails and wines to boot. Finish the day off at Venice Beach and catch a sunset against SoCal palms.