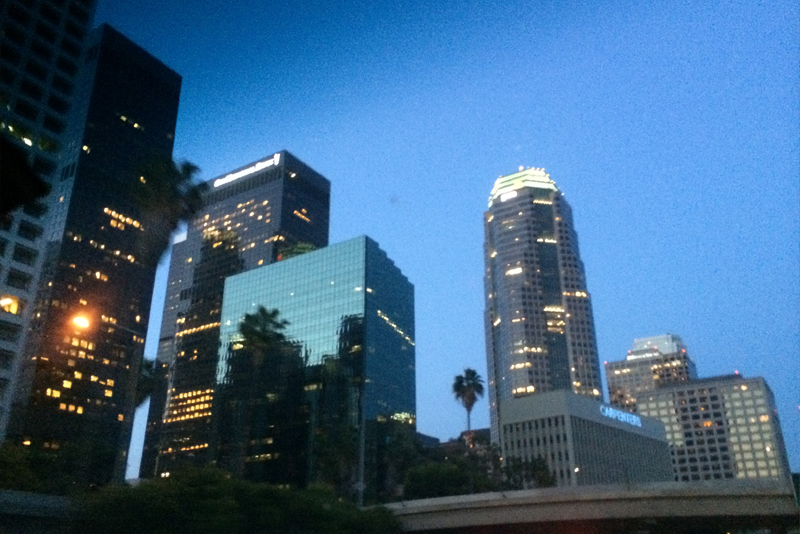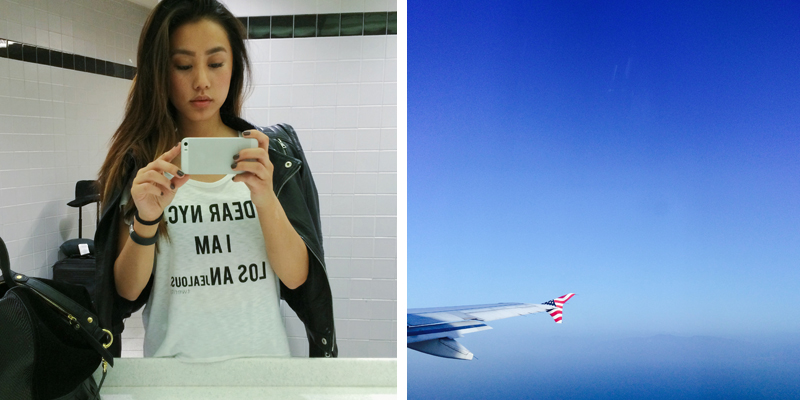 L: Twenty tee, Zara leather jacket, Rag & Bone hat, Cynthia Vincent tote

Back in May I took a trip to New York - not for anything work related, but because I hadn't visited the city for myself in a while. To be completely honest, at the time I'd felt equally exhausted and underwhelmed at the same time. Because I essentially blog for a living, I think being on social media 24/7 I got tired from all the 'noise'. I felt like there was little inspiration to be drawn and that a substantial amount of content I'd see on Instagram was rather formulaic. Strange feeling that was, but of course a few days in New York--a return to finding new good eats, traveling through the city and sitting at coffee shops with no agenda, and most importantly just documenting photos in the moment for the sake of exercising pure interest--did the trick and set me right. I decided to leave my DSLR behind so that I'd capture moments on a whim and feel freer without having to think about when to post, how to craft the photo, what exactly I needed to wear, etc. Every single picture in this post is from my iPhone and some are actually posted in a private Instagram account that initially I wasn't sure about sharing on the blog. But looking back at these photos I get a sense of fulfillment so I thought I'd share them after all in hopes that they'll bring others the same feeling.

Anyhow- I ALWAYS manage to get zero hours of sleep before flying anywhere. It's probably a combination of my masterful procrastination with packing and the fortuitous timing of emails and work that come right before a trip... unfortunately I'm an extremely light sleeper so there's a lack of shut eye in-flight, too. There I am, in the left photo above, up for over 24 hours and completely lethargic at 6:00 am. I knew I'd have trouble napping so I flew comfy in an appropriate "Dear NYC, I am Los Anjealous" tee, track pants from Shop Sosie, and my ever-reliable Zara leather jacket.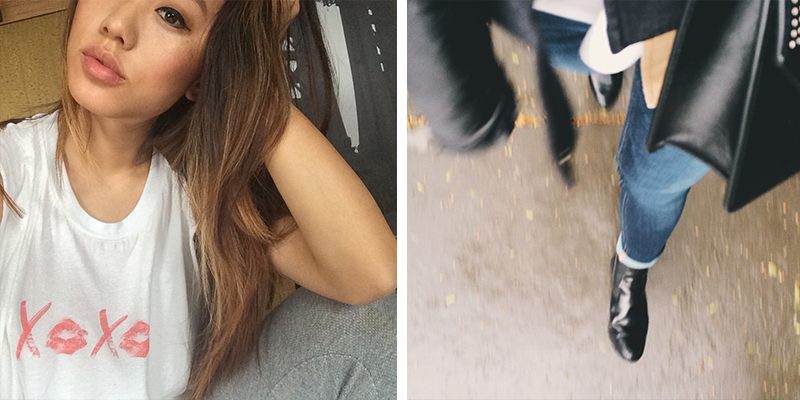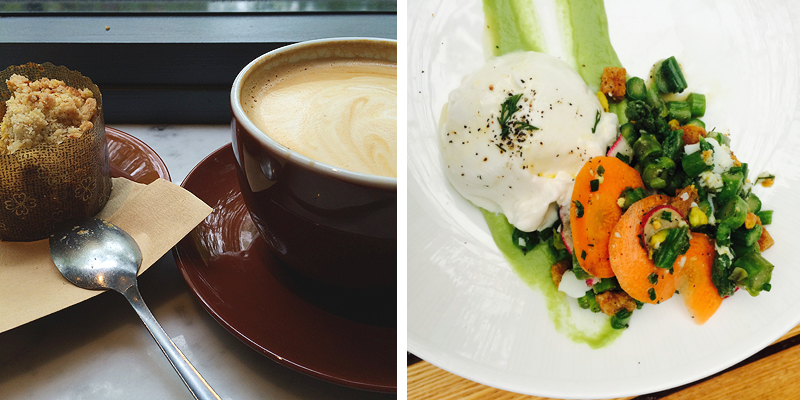 L: Blue Bottle Coffee in downtown Brooklyn; R: first dinner of the trip, at Traif also in Brooklyn

Checked into downtown Brooklyn and decided to find the nearest coffee shop. Thankfully there was a Blue Bottle less than half a mile away! I should've slept, really, but I wanted to adjust to the time and my friend I stayed with would be getting off from work shortly anyway. It was sort of misty with slight residual winter cold air so a latte, coffee cake, and open window suited the calm perfectly.

First meal of the day: late lunch/early dinner at Traif in Brooklyn. My friend and I were seated in the patio, and the gloom made for a cozy and evenly lit dining area. Traif is known for its pork but we stuck mainly to appetizers with lots of veggies. Pictured above: asparagus with pistachio and a medley of celery, shaven radish and carrot - yum. Also equally delicious but not pictured: savory day boat scallops with snap pea risotto and capers.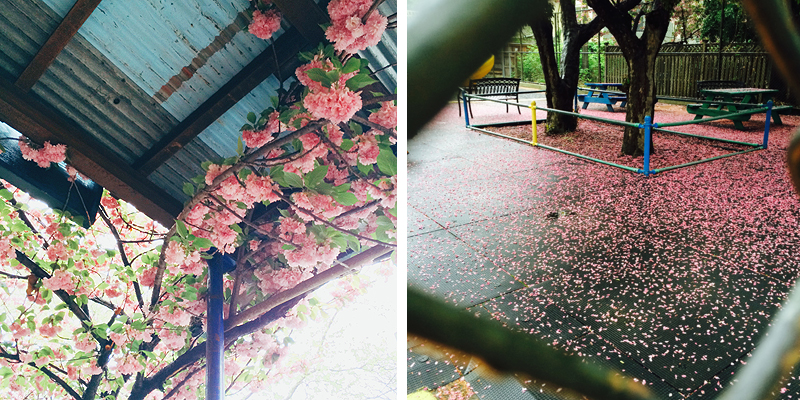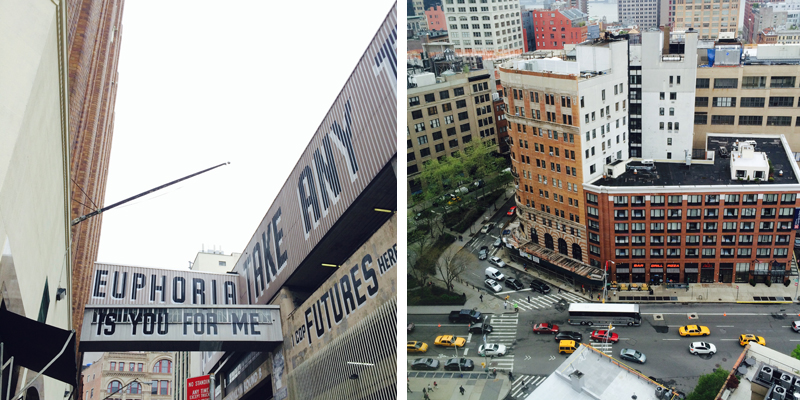 Blossoms and petals everywhere! / Transitioning from Brooklyn to NYC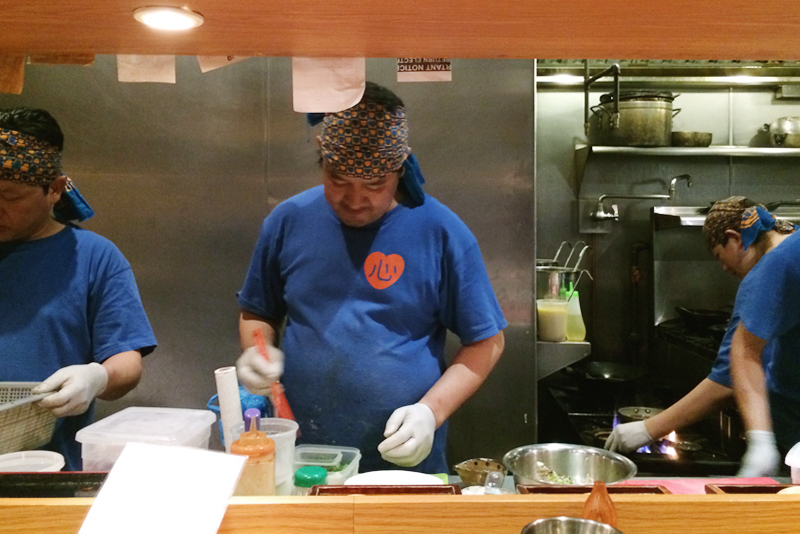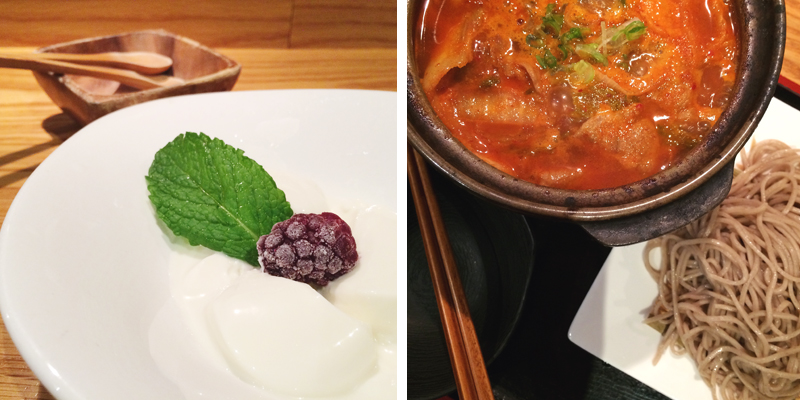 Dinner at Cocoron in the Lower East Side before catching a show

My favorite cuisine is Japanese because of the flavors, the simplicity, and the craft in general. Needless to say, I am SO smitten with this gem that we found on the way to a show. Cocoron specializes in soba and serves it either cold or hot - it was a chilly night so my friend Steph and I ordered it with a side of piping hot kimchi broth. It, was, glorious. Initially Steph opposed eating there but she ended up wanting to order another plate of soba. And to top things off, their dessert (photo on left), "Annin Tofu", was scrumptious. Just scrumptious. They describe it as an apricot tofu panna cotta, but I'm not sure of its exact contents (I tried asking but there was a language barrier). Regardless, it was so silky and sweetened just right. Definitely giving this spot another go when I return to NY.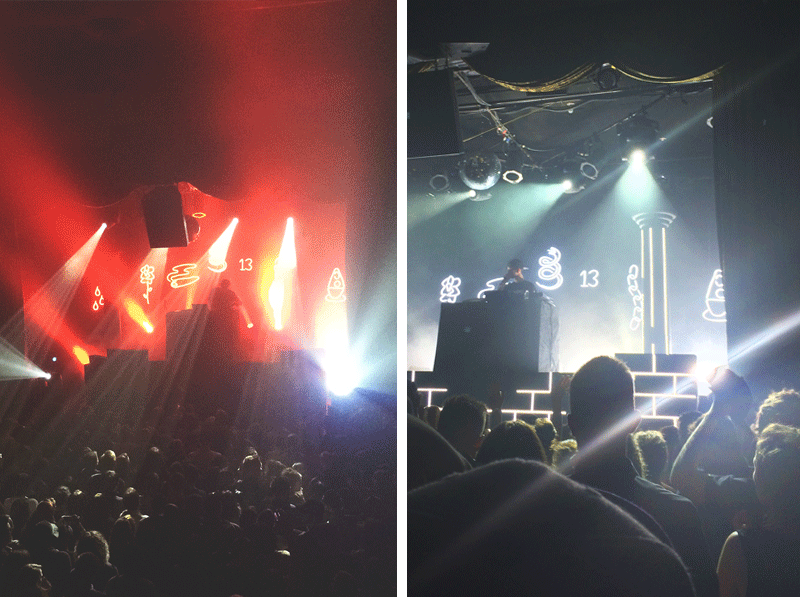 Shlohmo at the Bowery Ballroom

Steph and I went to catch Shlohmo at the Bowery Ballroom - he and D33J killed it that night. I caught his set during Coachella Weekend 2 and found his music to be even more enchanting in person. Leave it to Shlohmo to own the dark, entrancing vibes - one of my favorites from his is this jam.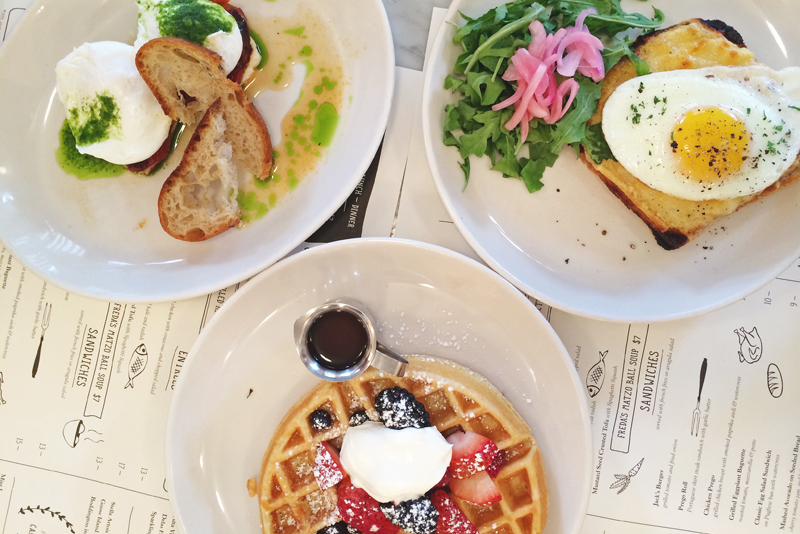 Brunch at Jack's Wife Freda!

I've been wanting to try this place for for-ev-er, but for some reason things always got in the way. This time around, I made sure it happened and I am NOT disappointed even after all of the hype. The Poached Eggs with Grilled Tomato and Haloumi on sourdough was dee-lish - the dish itself is simple but the flavors are intricately intertwined. The same goes for their Rosewater Waffle. Oh my god. For rose-flavored food lovers... this is a must. The rose is ever so slight, the waffle is fluffy and of perfect texture with the yogurt and honey syrup they pair it with. Jack's Wife Freda is simplicity upgraded.



Morning routine: wash face with warm water (not hot, without any product) and wipe clean with a towel. It's recommended that you only wash your face with product once a day so that it doesn't become stripped dry from over washing. Warm water does the trick just fine in removing any face oil that collects overnight. Then, onto makeup...

For a light feel: Urban Decay's NAKED beauty balm for face moisturizer/SPF (works wonderfully- great and light coverage, smooth application), Tarte's maracuja creaseless concealer for the under eye area (I cannot/will not use another concealer), The Brow Gal eyebrow pencil (really starting to prefer this over Anastasia's), summer-perfect bronze and blush from Urban Decay's NAKED Flushed set, and a flick of cat eye liner from KIKO. A few light dabs of my favorite ("MLBB") lip shade, "N9 Copper Pink" from MakeUpForEver.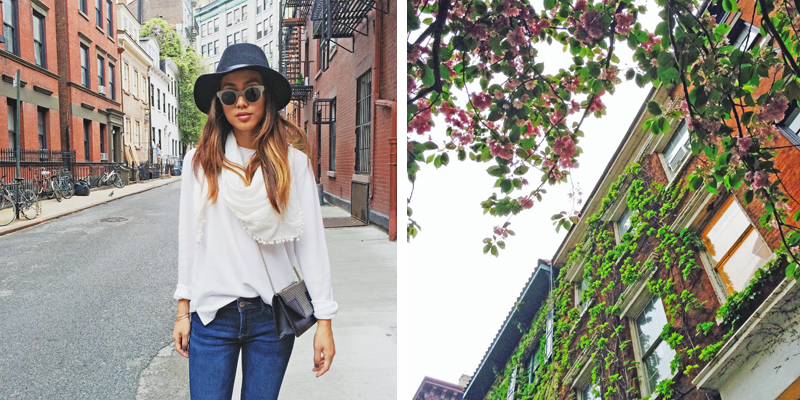 L: Rag & Bone hat, Sun Buddies sunglasses, DL1961 denim skinnies, Saint Laurent bag from Gasmy, H&M scarf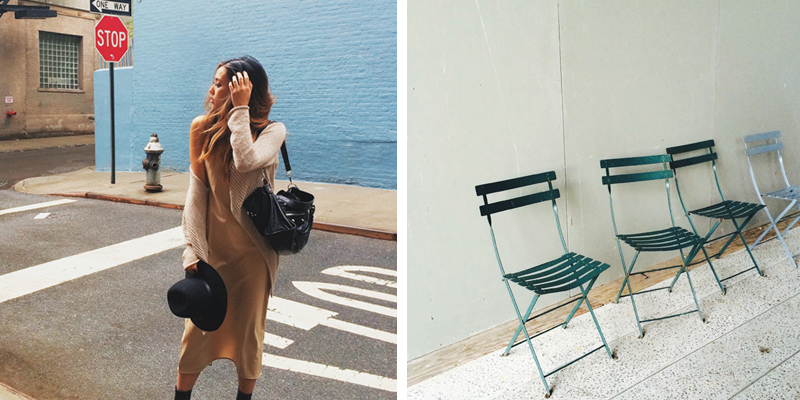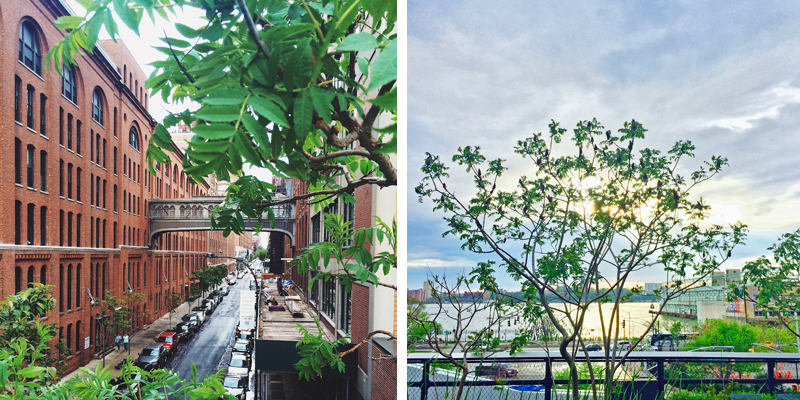 Always love visiting the High Line / Rag & Bone hat, 360 Sweater cardigan, thrifted dress, Balenciaga bag

I visited Carlina Ortega over at Rita Hazan for the second time. I walked into the salon with no idea on what to do with my hair, and I suppose that could be a scary situation to be in but I trust Carlina one hundred and ten percent. She lightened my hair for the first time back in February and I LOVED it. Never thought a change in hair style could make me feel remotely close to Beyonce but that one freezing afternoon, I did. HA. And again, the feeling was revisited this time when Carlina decided to lighten the hair even more. Thank you Carlina for the seamless ombre!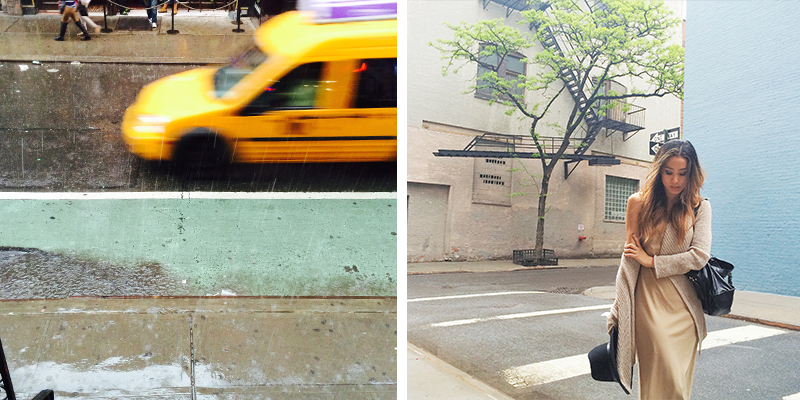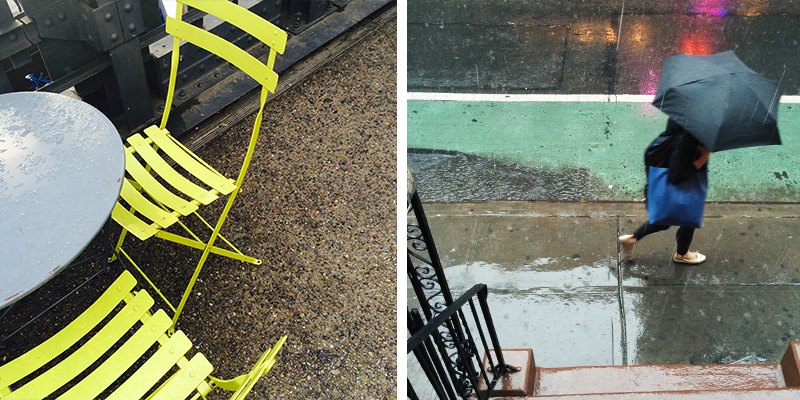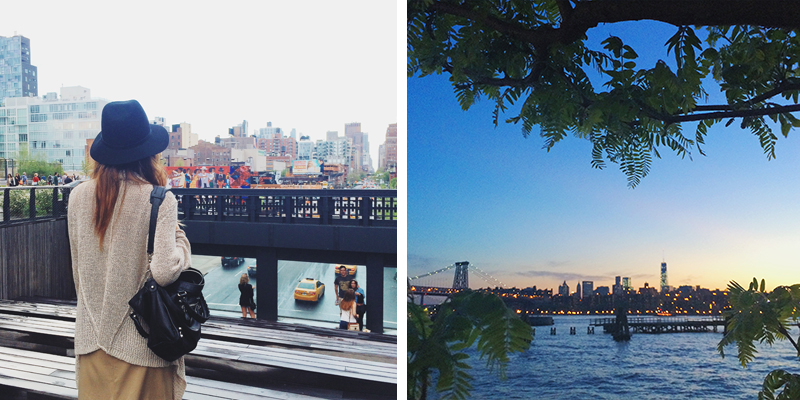 Spurts of rain, slivers of sunshine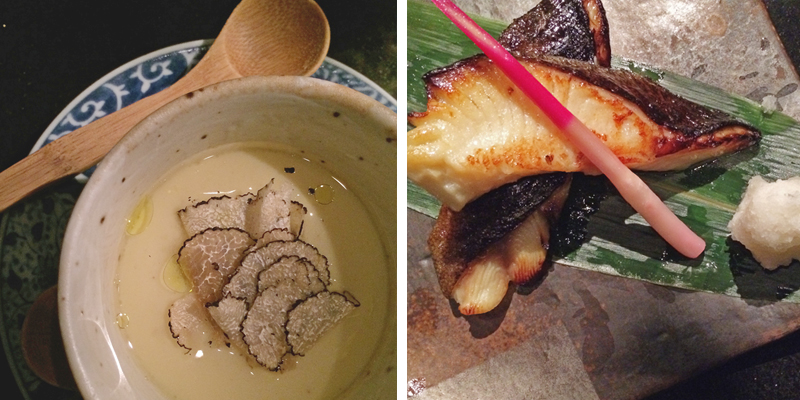 Some of my favorite dishes from my ultimate go-to spot in NYC: EN Japanese Brasserie

My happy place: EN Japanese Brasserie! Well crafted cocktails and mouthwatering dishes galore - rain or shine, convenient or not, I always make it a point to visit EN when in the city. Their black truffle chawanmushi and cod are phenomenal. Phen-om-en-al. Salmon roe fried rice, organic grilled chicken, and their desserts! Pure perfection. There is nothing here that disappoints. Ok I'll stop creepily doting now.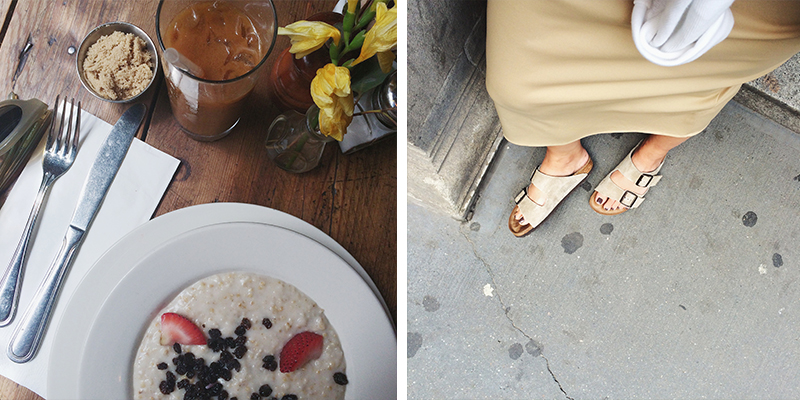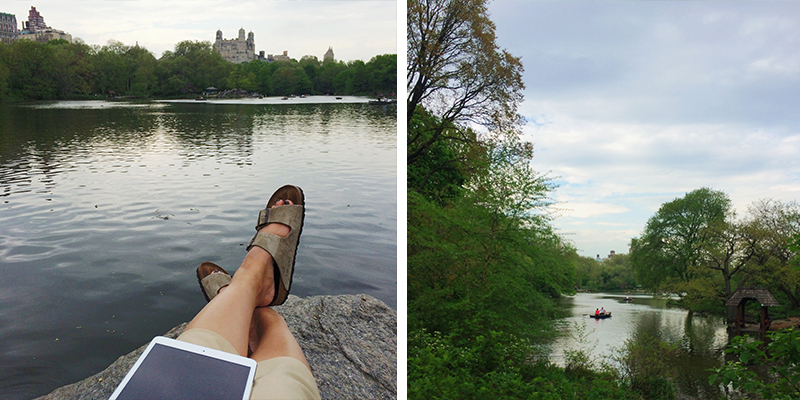 Breakfast/brunch with Ryan Casas and some light reading at Central Park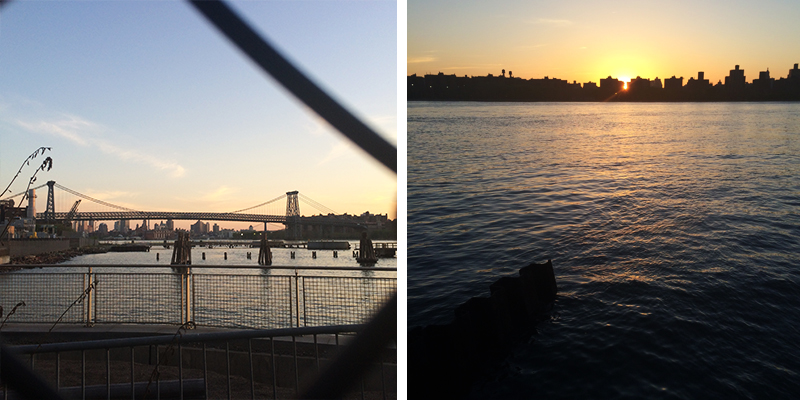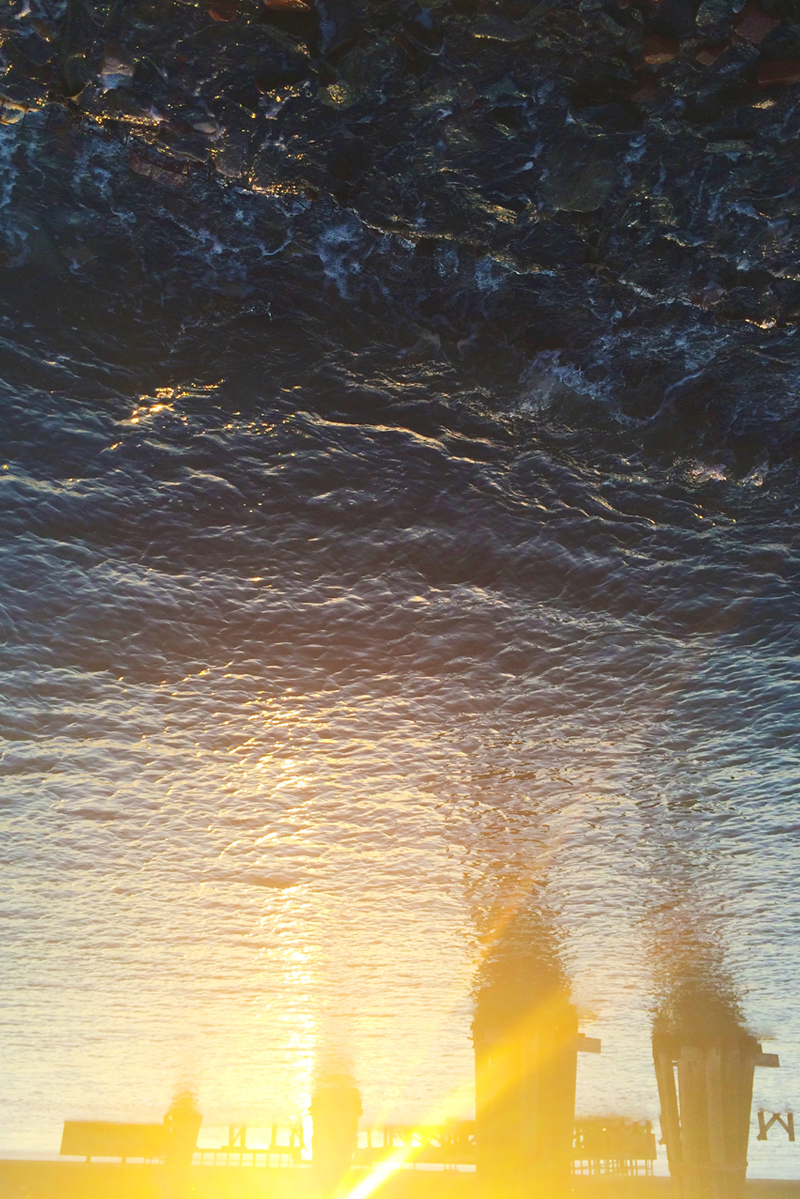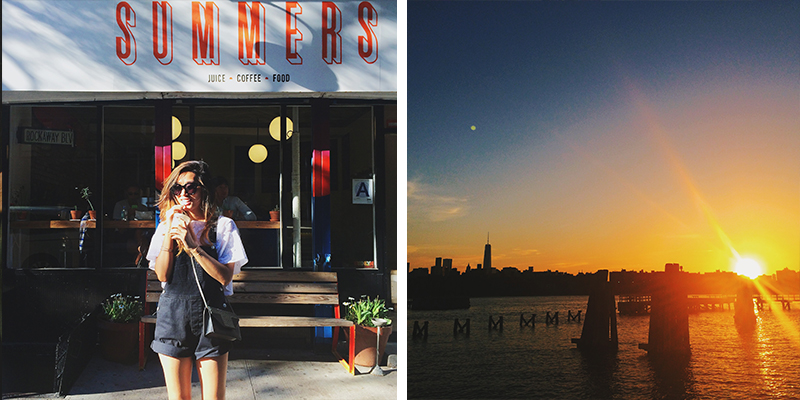 Grabbed some juice at my buddy's place over at Summer's Juice & Coffee in Williamsburg before catching the glorious sunset

Left photo, above: BB Dakota cropped top, RES Denim short overalls, Saint Laurent bag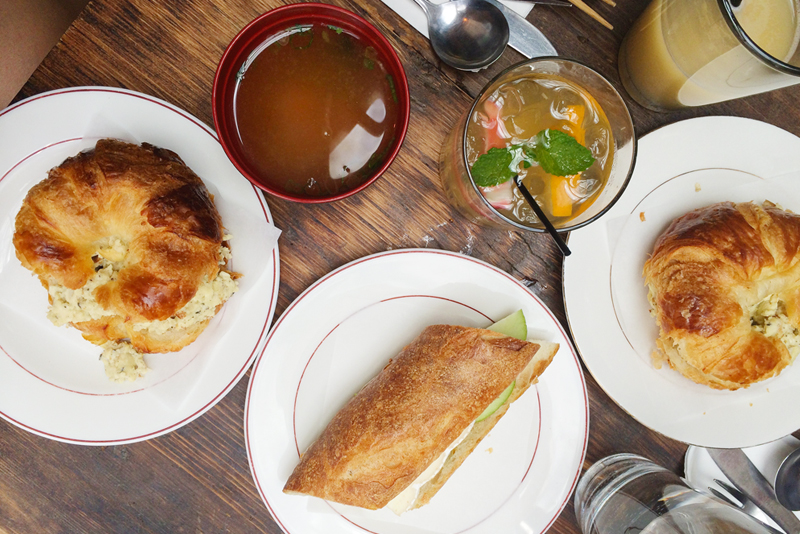 House of Small Wonder in Williamsburg: a gem in BK. My FAVORITE cafe and brunch spot in the area. Real cozy spot with an abundance of light and greenery. Can't complain about the food and drinks either- their egg croissant sandwiches are unimaginably perfect (flaky, tasty, fluffy, and everything good in between), the sashimi zuke don is pretty much a melange of all things good for you, and the fig brie apple sandwich...ah, it all comes together so nicely, the slight sweetness of brie with crisp, sharp tart flavor of the granny smith apple. Yum-my.

To top things off, they've got an organic apple soy shake and earl grey creme brûlée for dessert (!!) I mean... what else would you want?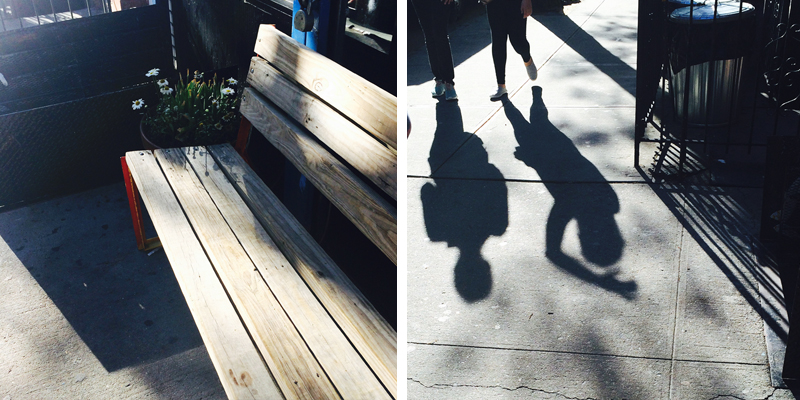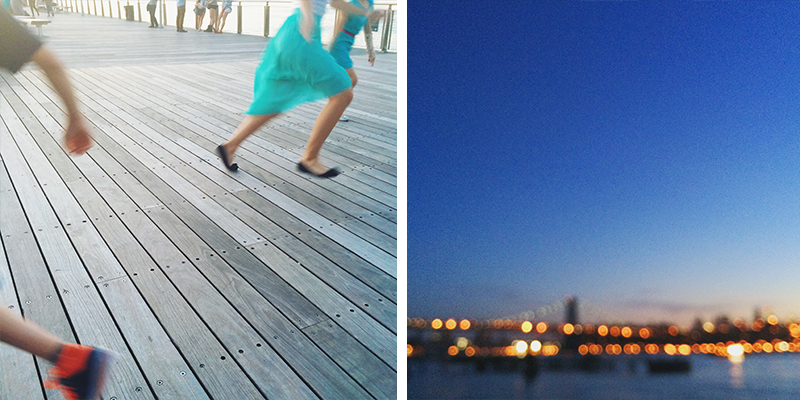 The best moments in life are truly free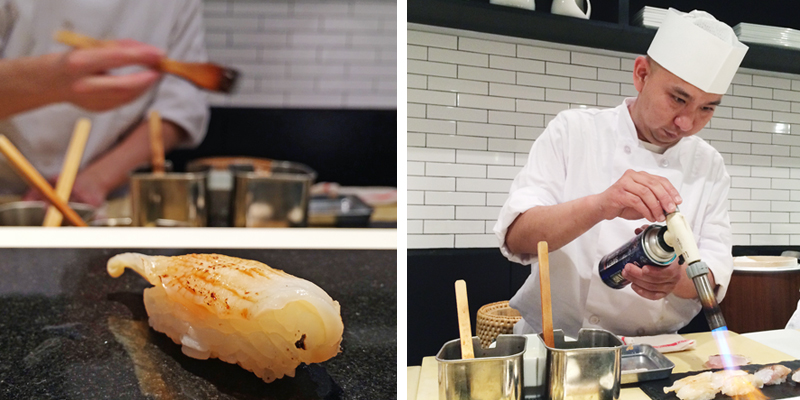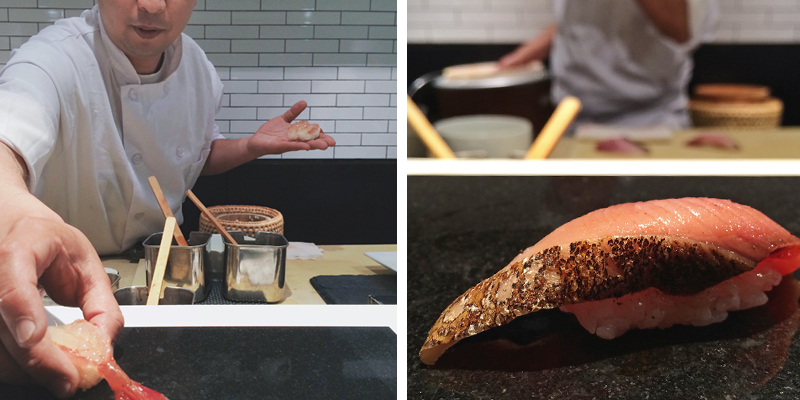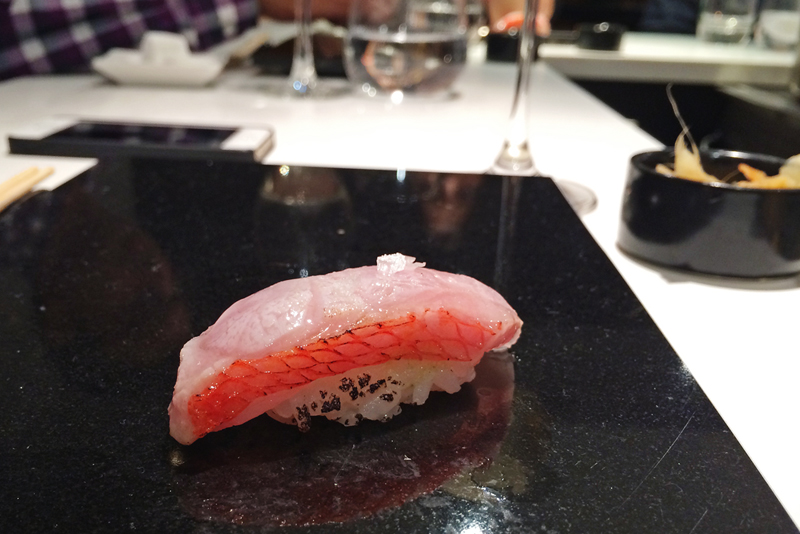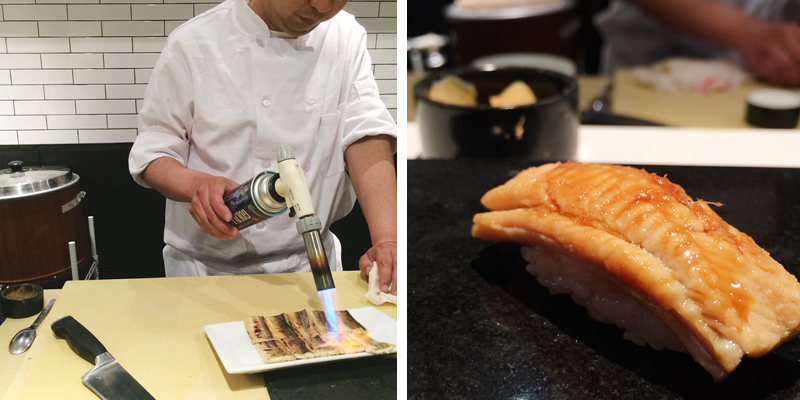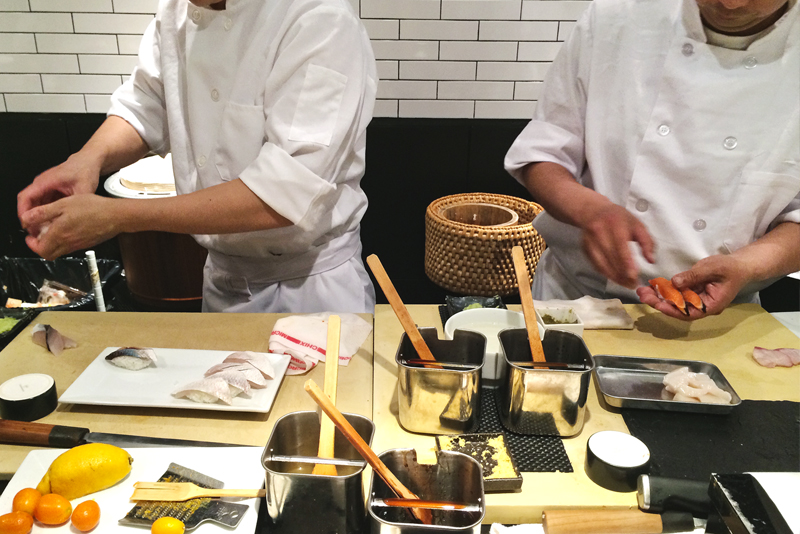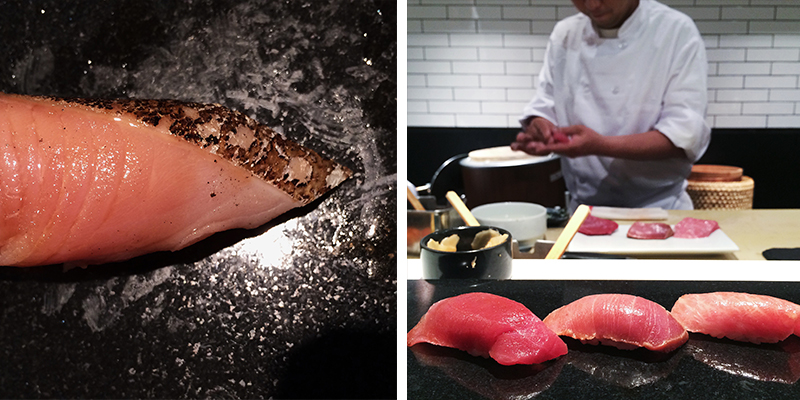 Omakase at Sushi Nakazawa

Long story short, the best sushi experience I've had thus far. Wow. My friend Rocky and I had the omakase set from Chef Nakazawa and each and every piece of the 20+ serving was phenom and mind-blowing. The salmon, scallop, raw shrimp, sea eel, Spanish mackerel, and Nakazawa's famed egg omelet from "Jiro Dreams of Sushi"... all to die for! Even the sea urchin was out of this world and I'm usually not a fan of uni. Not only was the sushi delicious but Chef Nakazawa was entertaining and so warm hearted. I LOVE sushi and lean towards it often when I dine out, but I haven't felt motivated to eat sushi anywhere else after having Nakazawa.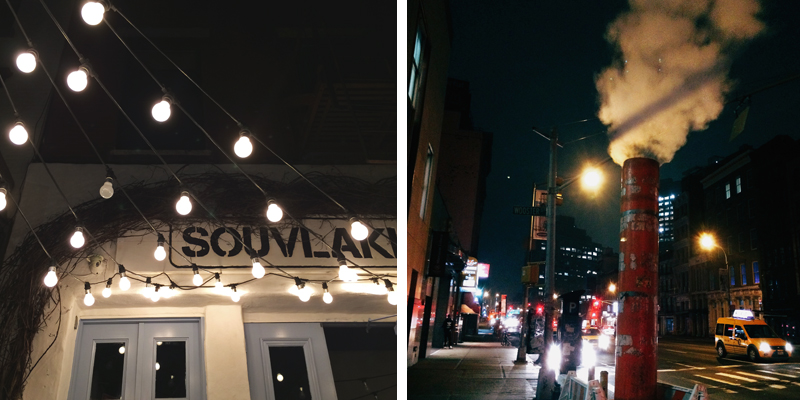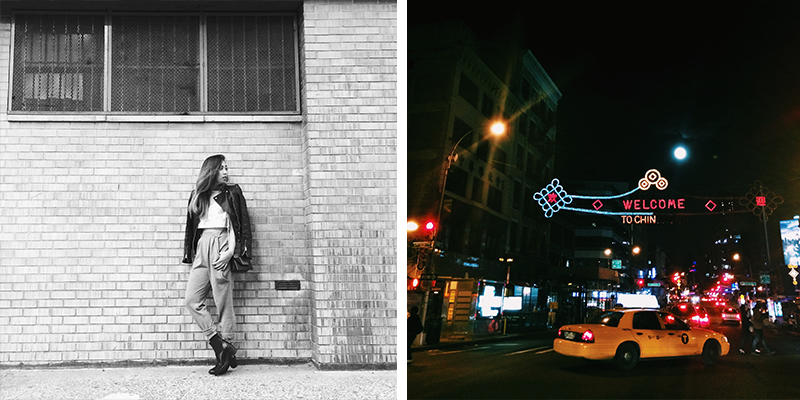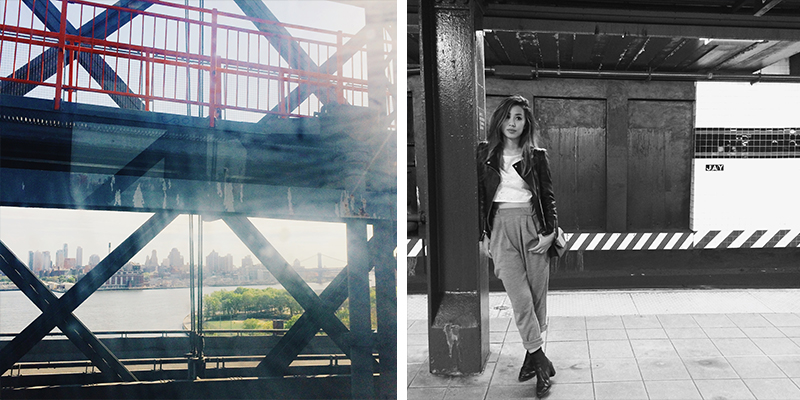 Wearing BB Dakota cropped top, Assali trousers, Saint Laurent bag, Zara leather jacket, and boots from Article&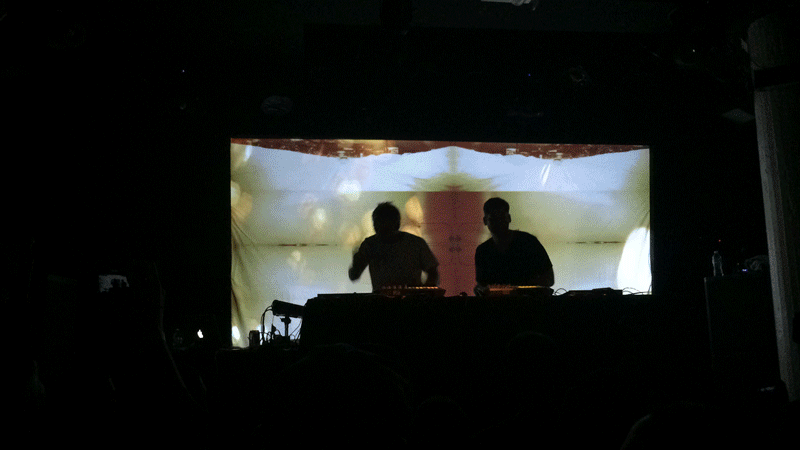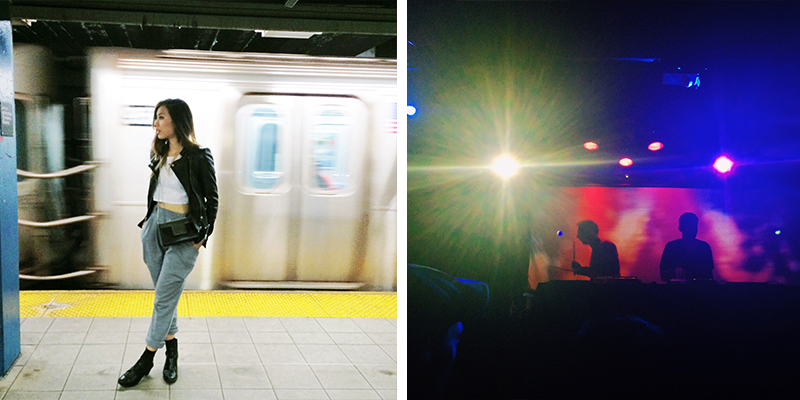 From LA to Coachella to New York: it's not hard to see that Odesza is one of my favorites, ever. The duo puts on a killer show combined with mesmerizing graphics- their music is so energizing and lulling at the same time. Check "How Did I Get Here", "One Day They'll Know", "IPlayYouListen", "Open Wound" and "Without You" if you haven't heard of Odesza before (shame on you). Thank you, Odesza, for rounding out the end of my NYC trip perfectly.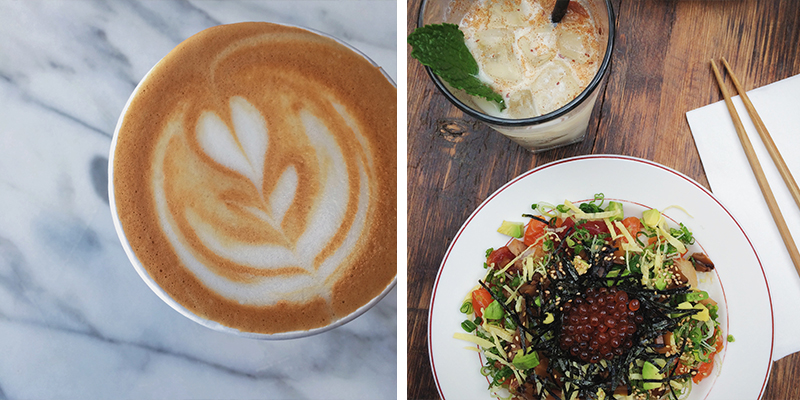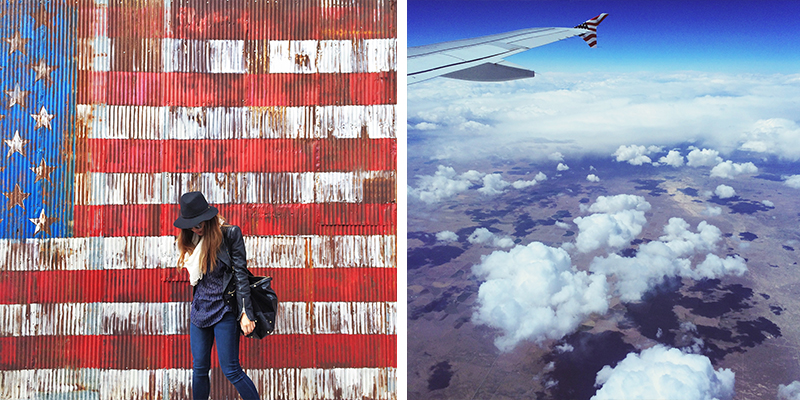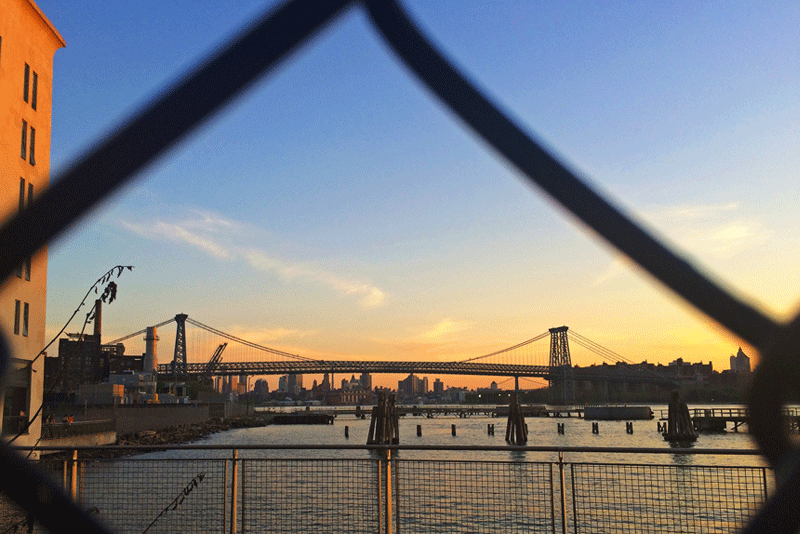 Thanks NYC, for always being that reliable source of a much needed refresh. Love always, JO x

"Dreams pass into the reality of action. From the actions stems the dream again; and this interdependence produces the highest form of living." - Anaïs Nin