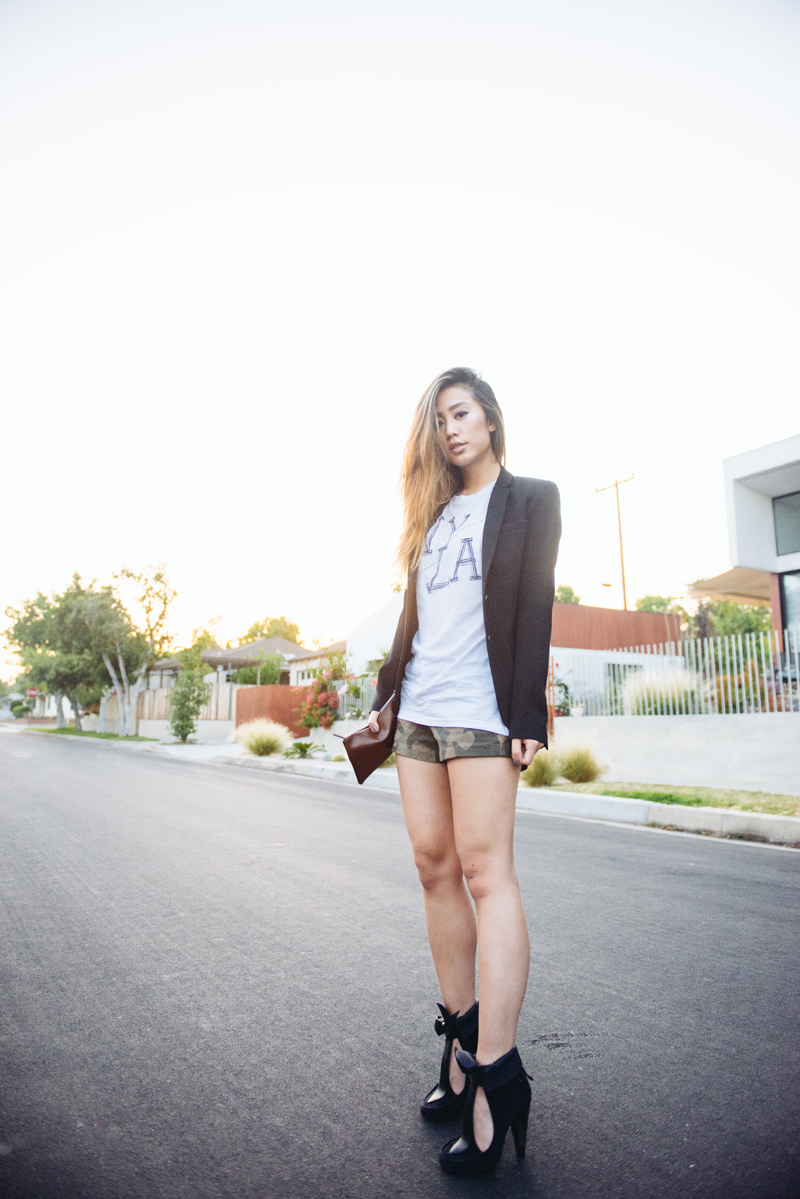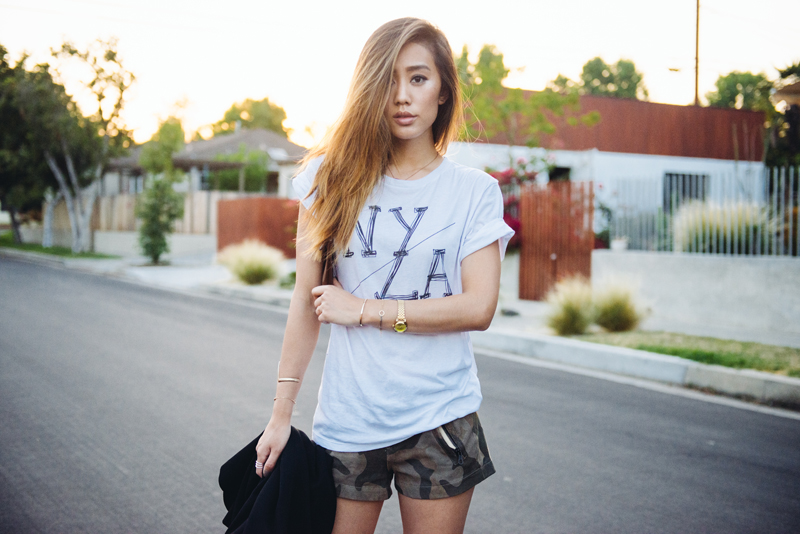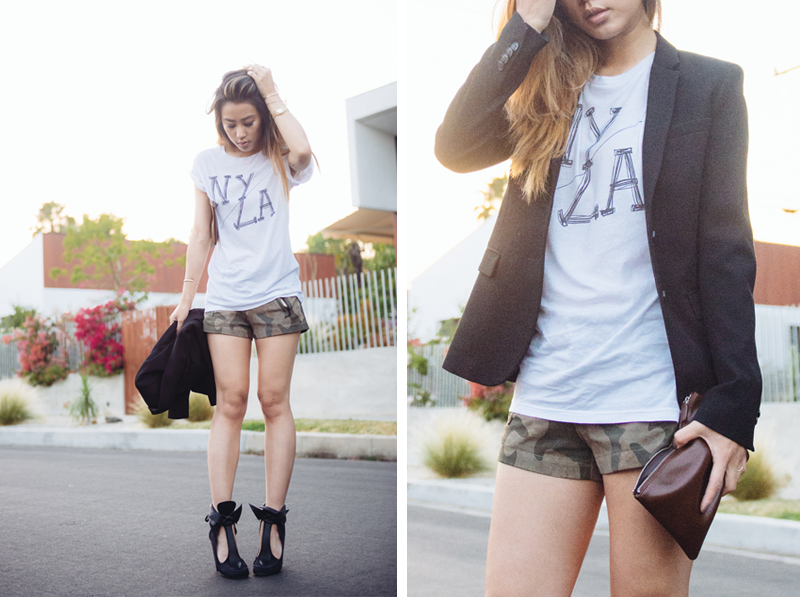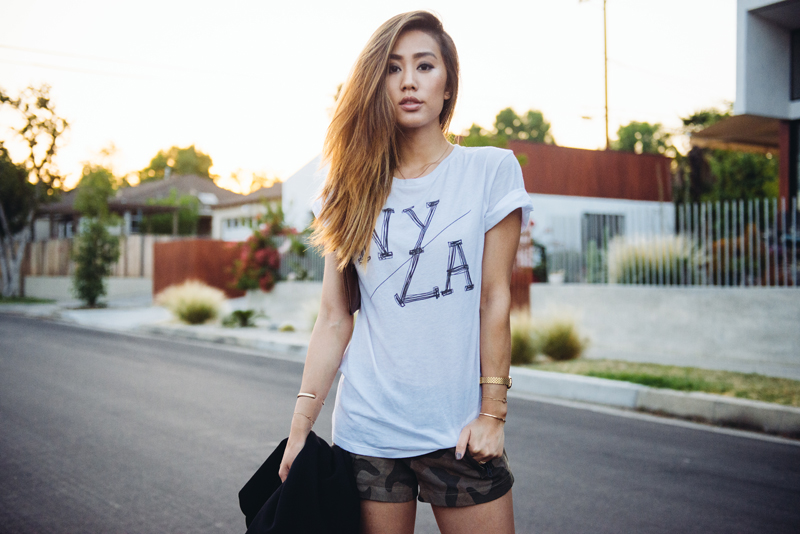 Neon Blush x QTEE t-shirt, Theory blazer, Rag & Bone shorts, Isabel Marant shoes, The2Bandits and Jennifer Zeuner cuff, Nixon watch

For as long as I could remember, when the idea of vacationing would come up, I'd always have a natural inclination of escaping to convoluted cities. There's something about dense metropolitan cities that is conducive to my happiness- maybe it's the fact that there seems to be a constant heartbeat to the city, maybe it's because you can find jolts and pockets of inspiration with nearly every turn. NYC was and continues to be a huge source of inspiration for me--the people, the 'scene', the food, the overall energy--but I've really come to love my own city, LA. There seems to be a revived interest in particularly the downtown area of LA, and I couldn't be more excited about living here and having grown up here, now. Not quite like NYC, but LA's definitely harbored its own charm and is offering its own kind of inspiration.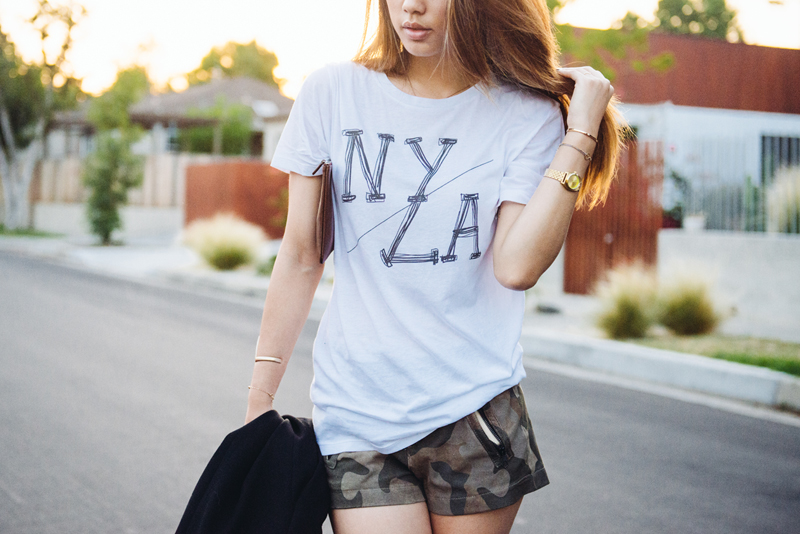 Cue: my NY/LA t-shirt. I've teamed up with QTEE to create two designs, the first of which shares my appreciation for NY and LA. I'm so glad to be able to travel from coast to coast so often; you'd better believe that this tee will be my go-to for travel between my two favorite cities. The neat thing about QTEE is that it offers a unique customization tool wherein as a customer, you're able to make your own changes to any of the designs you see. Although I generally like my tees in black and white, my "NY/LA" tee is customizable with different color options - I love that there's some creative freedom here :)

I've got my hi-lo muscle tank on for my workout this morning - soft and lightweight, perfect for exercising as the weather warms. Which tees fit your every day? Please email me and let me know if you've ordered a tee, I'd love to see how you style it! ...especially if you've got a love for the two cities the same way I do.