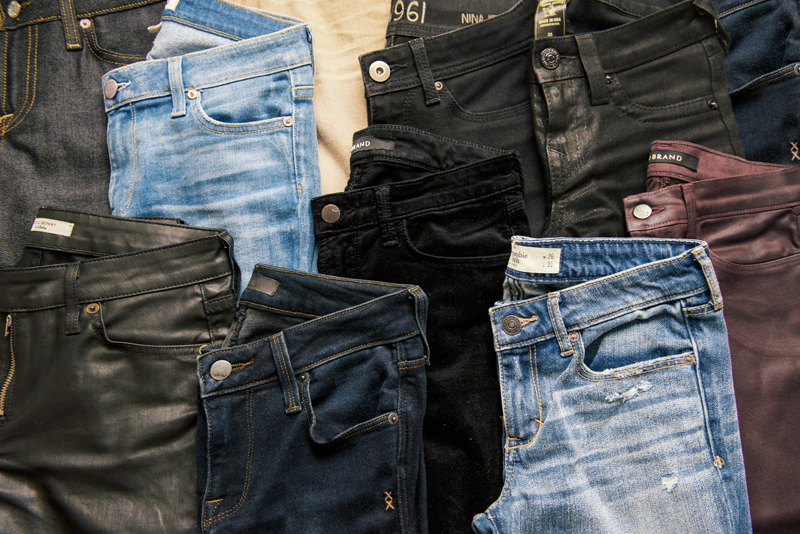 Denim is a staple for me and I think growing up in So Cal really makes an impact on the level of denim usage. Levi's and Abercrombie were the first labels that really drew me in when I was still young but old enough to make my own style choices- I was obsessed with Abercrombie's washes and Levi's for their classic pieces. I've kept a few throughout the years, loving them more and more as the cotton aged with me. Fast forward to present day, with a stint working with a denim company for a little over 1.5 years in between, and now I have over twenty pairs and almost ten brands that I can truly rely on.

J Brand is sort of a no brainer, but I'm really loving their 'Photo Ready' line of denim (got this pair in 'Graphite'). Pretty much near-perfect stretch denim (if you've got to do stretch, this is the way to go) that seals the deal and keeps it that way once everything's all zipped and buttoned up. No suffocation, no weird inconsistent pulls mid-thigh or anywhere else, and really soft to touch. Same goes for the Shya from Genetic Denim, who makes the best faded washes by the way. DL1961's got it in the bag for the super high-rise that compliments the body best (for me, at least).

One pair in constant rotation is this Rich & Skinny coated skinny - I thought I was past coated denim, but this pair isn't over done and I like the neat exposed zip. Other coated styles pictured above: J Brand's super skinny in "Lacquered Pinot" and True Religion's skinny in "SB Black".

I've also gotten to explore other denim brands and found a few favorites this year, some of them being A.N.D. (great fits, even with styles that are made with raw denim), Civilianaire (rad boyish fits with raw Japanese selvedge denim), and Henry & Belle (known for their super skinny ankle with amazing give on the fabric). I love that A.N.D. uses untreated denim and makes them comfortable and worn-in without all the water. Minimal whiskering, really simple, and you get to still "wear in" your piece over time because it's made with raw denim- love this pair.