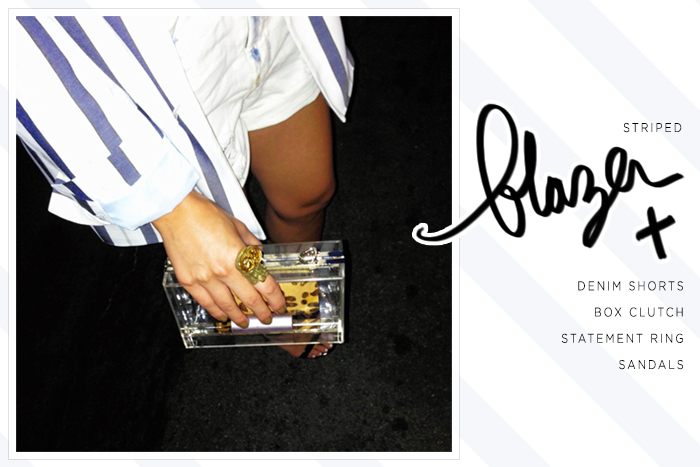 Zara blazer, Choies box clutch, YSL ring

Paired my affinity for blazers with my affinity for denim shorts -- a match made perfectly with statement accessories and pink-hued lip stains for summer nights. I think the striped blazer is still on sale at Zara... did anyone find a bunch of goodies for themselves?



L-R: wearing Zara skort, Vanessa Mooney cuff and rings, and Céline sunglasses; Rag & Bone sweater, Zara top and skort; Joe's Jeans leather jacket, Zara mesh top and Lovers + Friends dress

It's the season for short shorts but I find myself sticking pretty closely to black skirts and dresses. Love them with a crop top, layered under, or with mesh tops.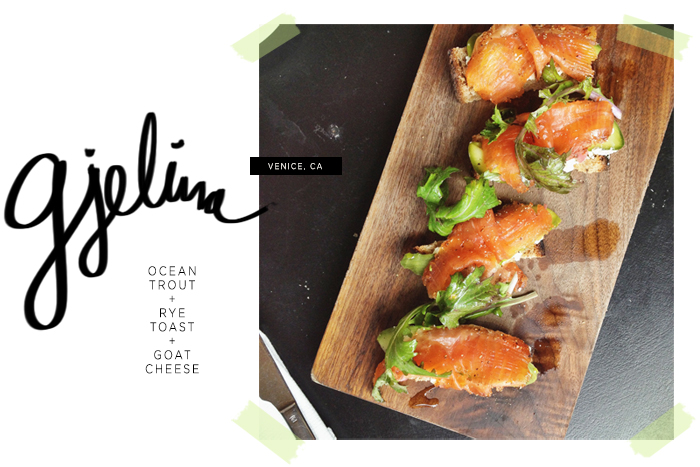 Mmm, so one of the reasons why I wanted to involve more of my Instagrams on the blog (I'm not trying to be repetitive, I promise!) is because I've gotten a few requests on blogging about the food I post. Instagram is a much more personal and quicker environment so the blog kind of serves a more in-depth view of things unrelated to outfits and styles.

Above is one of the small dishes you can find at Gjelina, a cutesy, hip place tucked away on Abbot Kinney Blvd. in Venice. Gjelina isn't my absolute top choice for food but it's solid and the place just has a great vibe. I do love their ocean trout on rye, though (above). It's savory and a little bit sweet and delicious, the goat cheese light and the rye bread slightly crisp but chewy.




Some other places I visited this past month-- Bäco Mercat: one of my favorite spots in downtown! Also a small plates kind of place, which makes going with a group of people more enjoyable. You get to try a variety of dishes, and you're going to want to if you're at Bäco. My favorites: their Caesar brussels sprout salad, their double mushroom flatbread (tell them to throw an egg on it!), and Hamachi crudo (hash brown, fish, avocado creatively put together).

Cafe Beaujolais: though I've never actually had French food in France, I've been to a good amount of really great places in LA, Seattle, and NY. This place is a list-topper. For French food and for the level of authenticity, it's dirt cheap. I went here early in June with Steve and I had gotten the halibut entree the restaurant is ubiquitous for- omg so good. Creamy, savory, so flavorful. Veggies are cooked perfectly and the mashed potatoes are laden with delicious, coma-inducing butter but it's alright once in a while, right?

Marugame Monzo: this fairly new spot may be overshadowed by the crowd outside Daikokuya but it's definitely worth visiting. I'm a pasta and noodle fanatic so when I learned that Marugame offered fresh udon (handmade in-house!), I had to visit. My buddies and I perched ourselves right in front of the window where we watched the udon being rolled, layered, cut, and separated into strands. I ordered the popular uni dish (sauce was AMAZE, the uni was alright) and tried the standard hot udon with broth and one of their fried shrimp rice bowls- can't wait to go back and try more dishes.

Green Street Tavern: not one of my favorite places, but I have been wanting to try their squash risotto. Surprisingly the risotto was pretty light in nature; a bit sweet and nice in texture from the tiny cubes of butternut and kabocha squash.



I've posted some homemade smoothies maybe 3-4 times last month, but in reality I probably take in two a day. I'm obsessed. I don't own a Blendtec or Vitamix yet, but I still go at the blender like there's no tomorrow. I find that it's just easier to incorporate healthy ingredients that I normally don't like eating on its own (in my case, nonfat Greek yogurt).

Green smoothie: two handfuls of spinach, one banana, a cup of ice, and a splash of 7-grain nondairy milk. Blend and then sprinkle chia seeds and garnish with mint to freshen it up!

Breakfast sweet smoothie: a cup of blueberries, one banana, two heaping spoonfuls of Greek yogurt, and a cup of ice. Blend and then sprinkle with chia seeds. Breakfast done quick.

Spring rolls: I pride myself in the fact that I can make quite a few of these, with all ingredients still carefully intact hehe. I know traditional spring rolls use certain ingredients to achieve that authentic taste, but I substitute just two ingredients and feel that it's fine like so. Rice paper rounds + noodles + romaine lettuce (instead of iceberg) + wild-caught shrimp + firm tofu (instead of pork) + slivers of carrot, cucumber, mint, basil, and bean sprouts. So good and refreshing for summer.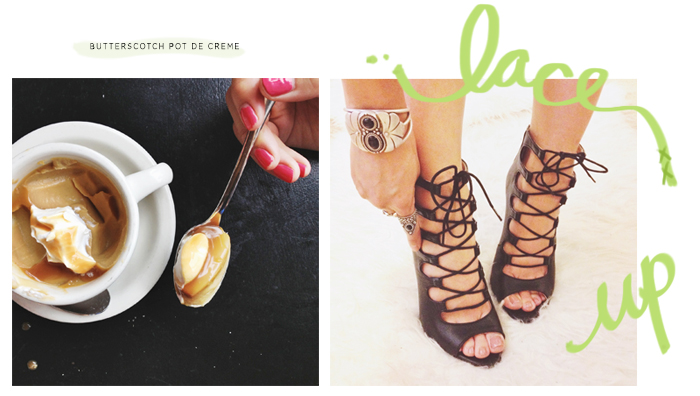 On left: the dreamy butterscotch pot de crème from Gjelina. For some reason, the sea salt flakes are almost always unevenly distributed, but otherwise it's a perfect savory and sweet dessert. Yum!

On the right: selling yet another itsy part of my soul to Zara. I contemplated on returning these because they took so long to get on my feet, but I eventually sided with 90% of you guys who advised to keep. I'm loving them! Ring and cuff from Vanessa Mooney.



L-R: Vanessa Mooney goodies, Zara pumps, Choies clutch and Céline sunglasses

I love me some silver, nude and see-through accessories. These all are my go-tos at the moment, loving the neutral palette for spring/summer accessorizing.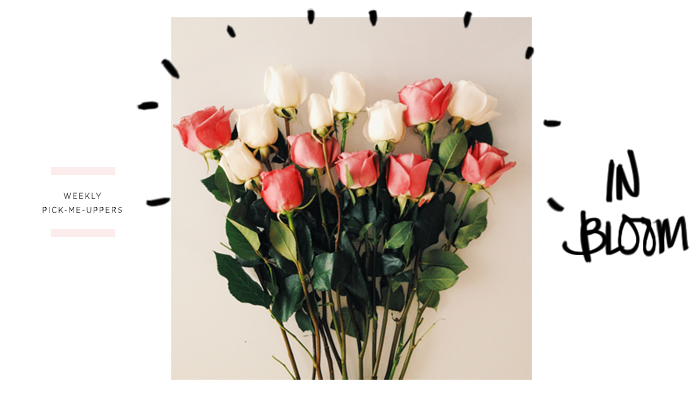 At the start of each week, I try to get some fresh flowers. There's no surprise that they improve the atmosphere and are just lovely! I got these roses from a local TJ's (14 for $16?) two weeks ago and they're still going strong.

And as much as I love flowers, I love coconut water and strawberries, too. Best reenergizing drink, straight from the coconut.

Follow me on Instagram if you aren't already! It's where I post things first, and since I'll be traveling to some place new next week, I'd love to share all of that instantly. Happy week of July 4th guys x