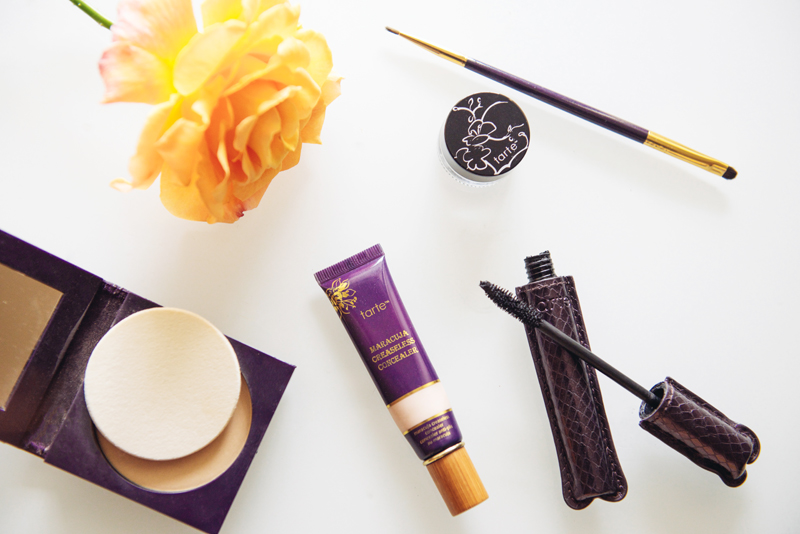 Tarte clay eyeliner, mineral powder, concealer, and mascara

During humid weather, I like to keep makeup usage to a minimum... or at least feel like it's kept to a minimum. As I finish my previously bought makeup products, I've been slowly transitioning over to Tarte's natural line of goods. All that I've tried so far has felt light on the face and covered just enough-- really ideal for summer makeup. And as some of you may relate, many times when using natural or organic makeup products, I've felt that there wasn't enough coverage or they just plainly do not work at all. So, I'm just really ecstatic to finally settle on a brand I trust and thought I'd share with you all!

My favorite finds of the four products above has got to be the maracuja creaseless concealer and the waterproof clay liner. None of Tarte's products contain ingredients that are believed to harm your skin (parabens, phthalates, petrochemicals, GMOs, sulfates, etc.) but the concealer goes above and includes pure maracuja oil--nutrient rich in vitamin C and fatty acids--which helps moisturize and brighten the skin. I've actually got a bottle of organic maracuja oil waiting to be used (finishing up the skin balancing oil from Jurlique) so I'll get back to you on how it feels to use just the oil. But back to the concealer-- it really is creaseless and lasts just about forever. It's got enough stick but feels extremely light. And as for the clay liner, ahh it's easily the best liner I've come across yet! The Amazonian clay component makes the waterproof liner smooth and hydrating, and yet with the natural ingredient it is still extremely easy to apply... which makes it no wonder why Tarte's now my favorite eco-friendly brand. But, I'm still open to discovering other great natural products/brands, do you have any to recommend?