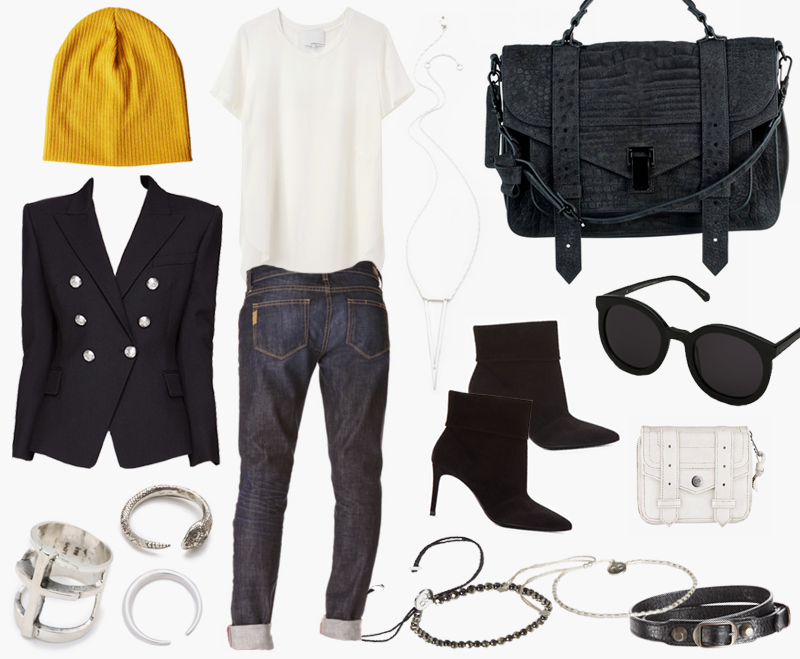 Topshop beanie, Balmain blazer, 3.1 Phillip Lim tee, Paige boyfriend jeans, Jennifer Zeuner necklace, Proenza Schouler PS1, Saint Laurent boots, Karen Walker sunglasses, Proenza Schouler wallet, Pamela Love rings, Gabriela Artigas ring, Nikki B wrap bracelets, Balenciaga bracelet
I love dressing around a good blazer, especially because it's classic and it reminds me of grown up uniform attire. And I strangely love school girl/uniform attire. Also because the one above is from
Balmain
and you can't do wrong with Balmain... have you seen Rousteing's latest divine inventions for FW13? Anyway, pairing up classics with classics is fool proof, so a good blazer belongs with a good ol'
white tee
and trusty boyfriend jeans. The wash on
this pair from Paige
seems promising (would prefer a different color stitch though), but I've yet to try it on for fit. One size up may be a good idea?
Accessorizing an outfit clothed entirely in staples is also fun, no? I stick to neutrals and one pop of color and one or two distinct details here and there. Found my favorite color in the form of my
favorite headgear at Topshop
and uhh
this Proenza Schouler beauty
is making me really (like, really really) want a PS1. Perfect size, material, subtle print, color... AH. My insides hurt looking at it. Good thing the price tag borders on a five-digit number so that's enough to discourage my Proenza wants (/needs). Other than that, at least there's a slightly more affordable
PS1 wallet
and rings and bracelets to count on for dutiful accessorizing. Loving this
Jennifer Zeuner necklace
--simple with an (pointy!) edge and the Karen Walker
Super Dupers in black
.