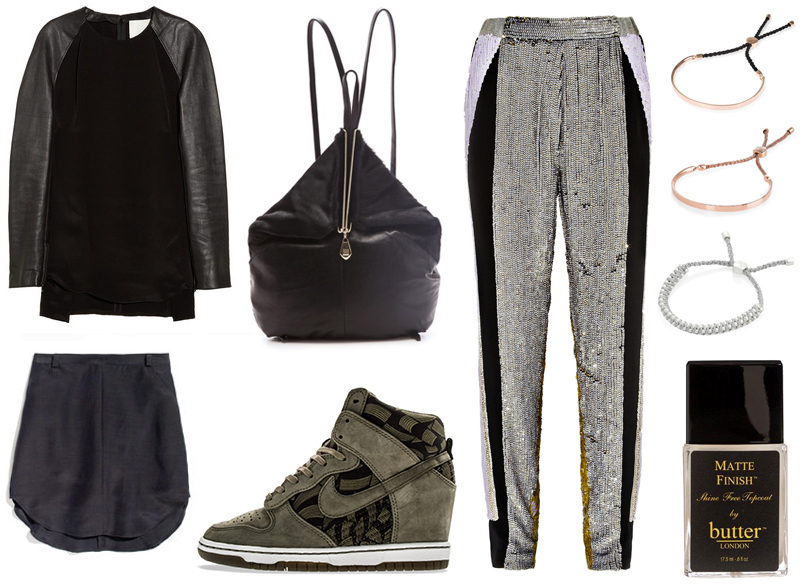 3.1 Phillip Lim shirt, Madewell skirt, Pour La Victoire backpack, Nike wedge Dunks, 3.1 Phillip Lim track pants, Monica Vinader friendship bracelets, Butter by London matte nailpolish

Been really drawn to tomboy-ish pieces lately... ones that seem men-inspired, but are "girlified", sorta. I love anything with baseball sleeves and well, this sporty silk/leather combo from Phillip Lim is such a good prototype of that perfect balance between tomboy and girlishness. I tried on this athletic-cut satin skirt from Madewell last week and I fell in love with its shirttail hem. I couldn't put it down so I ended up getting it!

I've also had my eyes peeled on this black Pour La Victoire backpack when I saw it on Shopbop a few weeks ago. The shape is unique and who doesn't love a handy, chic backpack for fall? And since we're finally experiencing a dip in weather here, my eyes have been on the lookout for more wedge sneakers. I swore to myself that the Isabel Marant ones were the only worthy ones, but coming across this army green pair of wedge Nike Dunks made me believe otherwise. So good! Too bad the ones above sold out in almost all sizes, but there are similar wedge Dunks here.