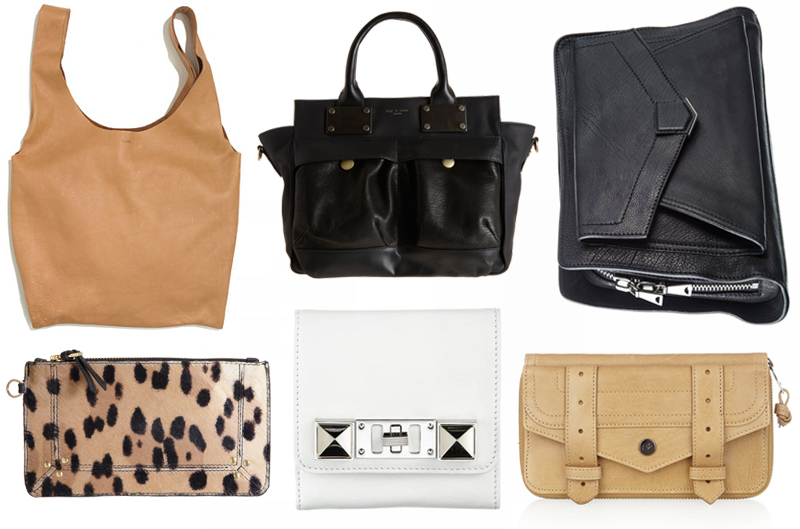 Clockwise L-R: Madewell tote, Rag & Bone 'Pilot' mini satchel, Proenza Schouler PS13 clutch, Proenza Schouler PS1 wallet, Proenza Schouler PS11 small wallet, Jerome Dreyfuss pouch

Truth be told, as briefly mentioned here, I'm turning into quite the bag lover. I've always appreciated bags for doing the old job of carrying around essentials and random utensils, but never really saw them as instrumental to an outfit as I did, say, with shoes. I guess as I'm growing older, my eyes are now constantly scanning for that 'IT' wallet or bag, and it doesn't help that beautiful designs continue to pop up, or that it's Cyber Monday today... damn it. In any case, I welcome you with my abridged (believe it or not) and perpetual list of lust-worthy bags.

1) Madewell, I think, has some of the best and cleanest casual bags. Plus they're offering 25% off everything and free shipping. 2) The Rag & Bone mini Pilot is almost equal parts rugged and sophisticated, such a good look. 3) You can do absolutely no wrong with Proenza. 4) Also, Jerome Dreyfuss can do no wrong.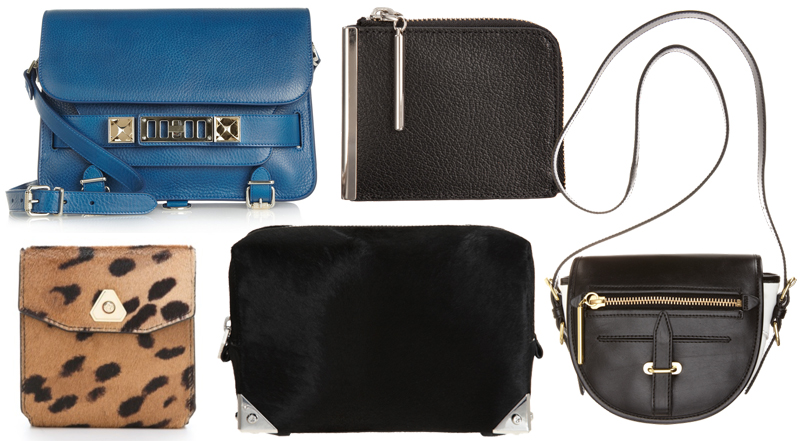 Clockwise L-R: Proenza Schouler PS11, 3.1 Phillip Lim wallet, 3.1 Phillip Lim mini 'Vendetta' bag, Alexander Wang pouch, Alexander Wang 'Trigone' wallet

1) Really, Proenza, did you really have to make this in a gorgeous blue, too? 2) I'm convinced 3.1 Phillip Lim embodies the entire notion of subtle chic. 3) Alexander Wang is one you can never go wrong with, either.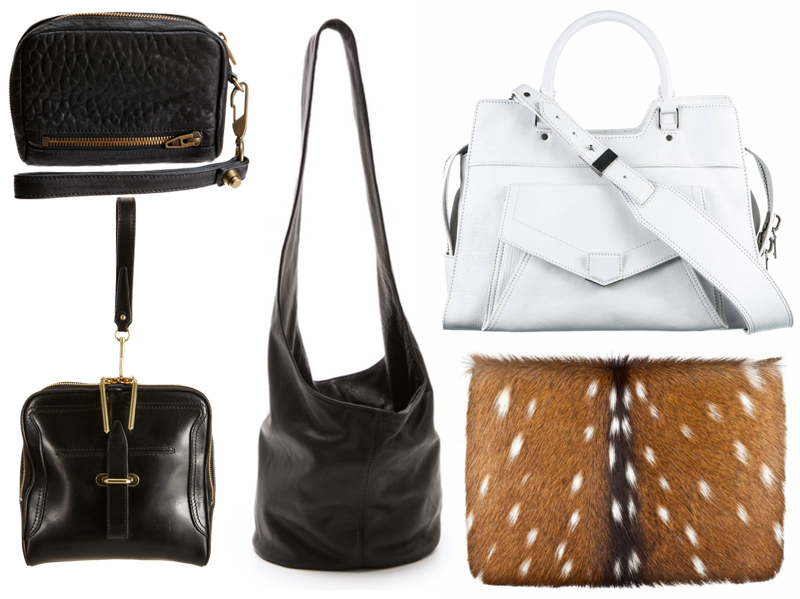 Clockwise L-R: Alexander Wang 'Fumo' large wristlet, Marie Turnor 'Detour' bag, Proenza Schouler PS13 bag, Proenza Schouler 'Chieko' bag, 3.1 Phillip Lim 'Vendetta' clutch

Shopbop is offering major deals right now (until 11:59pm today), and so are Barney's, Net-a-Porter, Bloomingdale's, Saks Fifth Avenue, and Nordstrom. Don't. Miss. Out. And if you'll be purchasing any of these bags or wallets, I'll be living vicariously through you. Happy Monday!