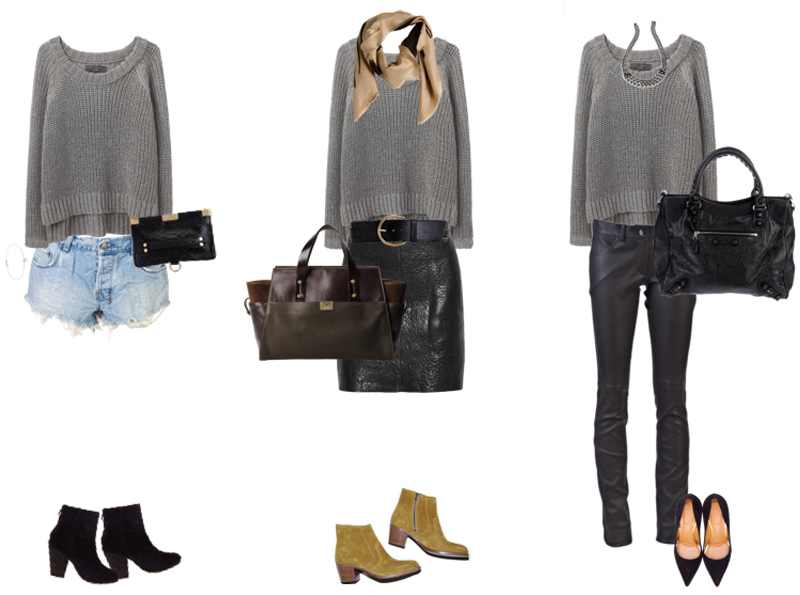 Rag & Bone 'Sandra' knit pullover

What I'd rather be wearing--I'm a sweater-and-boots kinda girl and I probably will stick to being one forever. As a SoCal girl and a creature of habit, I like being able to depend on things over and over again, and a good sweater does that for me. Despite sartorial limitations, I'm a firm believer in making staple basics work in most situations, and in leaving room to go about your day comfortably. No fuss.

Daytime: Ksubi shorts, Rag & Bone boots, Proenza Schouler clutch, Jennifer Meyer bracelet. Keeping it California-cool with minimal accessorizing and perfectly destructed shorts (alternatives here and here). I thought I was over the Newbury boots, but they're creeping back into my thoughts and now I can't get over the suede pair in an ultra-dark navy.

Work-friendly: Carven skirt, Balenciaga scarf, DSQUARED2 tote, A.P.C. boots. I was never the type to get excited about office wear, but I think I could muster up enthusiasm for a business-casual look complete with a comfy sweater, killer tote, leather skirt, and mustard-colored boots. Love how the neutral scarf kind of brings it all together. A similar belt (perfection--seriously) exists on Shopbop, from Madewell!

Night out: Dannijo necklace, Barbara Bui leather pants, Balenciaga bag, Givenchy heels. Still looking for a nice fitting black leather pant with an affordable price tag (impossible, probably), because leather pants make the sloppiest of all things look, well, just more put-together all around. A sweater and leather pants? I'm sold. Ditched the boots in this case and opted for black pumps--either or would've worked for me.