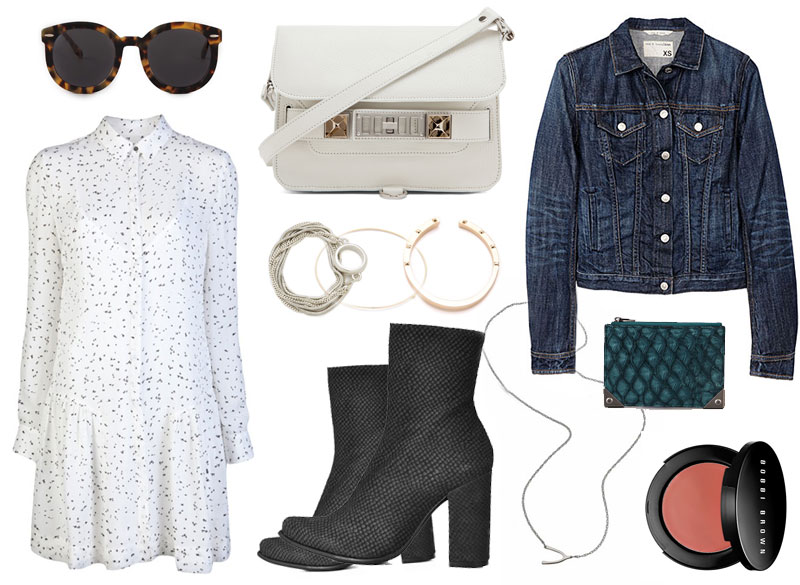 Karen Walker sunglasses, A.L.C. dress, Proenza Schouler PS11 mini, Maison Martin Margiela bracelet, Jennifer Meyer bracelet, House of Harlow 1960 bangle, Jeffrey Campbell boots, Acne denim jacket, Alexander Wang coin wallet, Jennifer Zeuner necklace, Bobbi Brown blush

Something I'd wear on a casual Friday night out, simultaneously all things (except the Bobbi Brown blush, which I have) are on my longstanding wishlist, hmph. Making these collages are always so fun, I should be making hundreds more since I always have a ton of product spilling out of my 'wishlist' folder!

Anyway, best things first: HOW good is that white PS11 mini? It's the perfect mini white bag, and although I didn't like the shape in black, it seems perfect in white. Paired with an equally gorgeous salt and peppered A.L.C. dress, a quintessential Acne denim jacket (in an excellent indigo wash!) and these awesome snakeskin-patterned leather Jeffrey Campbell boots, the PS11 mini evolves into something edgier, slightly casual despite its crisp white appearance... if that makes sense.

As for the other accessories, I've been coveting the Karen Walker 'Super Duper's for a while now, and I know they even sit nicely against my face, but I just can't commit yet. Any thoughts on it? I do know it's a pretty cult-ish pair of sunnies. The bracelets from Maison Martin Margiela, Jennifer Meyer, and House of Harlow 1960, and necklace from Jennifer Zeuner all have that delicacy and simplicity that I've been drawn to in jewelry for the past few months. And the 'Prisma' coin wallet is well, just damn cute. A girl can dream. TGIF!