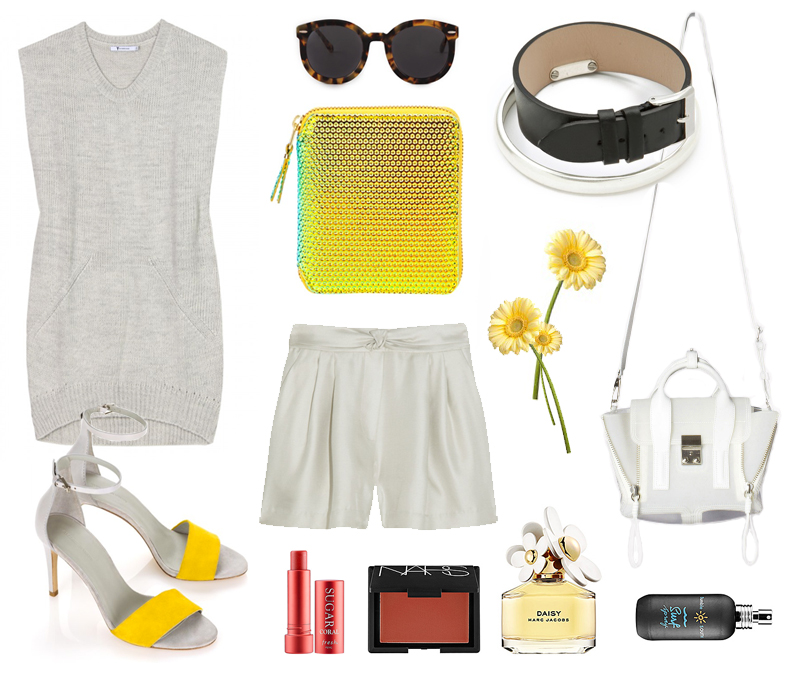 T by Alexander Wang muscle dress, 3.1 Phillip Lim shorts, Alexander Wang sandals, Karen Walker sunnies, Comme des Garcons wallet, Maison Martin Margiela bracelet, 3.1 Phillip Lim mini Pashli

Late-night wishful thinking and a thirst for the finer things brings me to this point. With no budget in mind, this would be my perfect way of lounging around long summer days, clad in whites, heather greys, and yellows (my favorite color, by the way), and smelling of delicate daisies. It's my favorite color, but I think the best outfits for summer always include only splashes of yellow.

Been eyeing a few muscle tees lately and realized this muscle knit dress from T by Alexander Wang is actually just the ideal piece I'd been imagining and searching for. Worn with or without the Phillip Lim shorts from The Outnet, the knit can look appropriate for the hot weather when paired with these color-blocking Alexander Wang 'Carmen' sandals. To add, this semi-translucent mini Pashli satchel in "milk" (black version here and bigger version here) burns in my mind as summery perfection. Practicality aside--it's such a seasonal piece in my opinion--I've been seemingly obsessive with white bags as of late.

Beauty accessories: Fresh's Sugar lip moisturizer in "Coral", NARS blush in "Liberté" (I've stopped using cult-favorite "Orgasm" and switched over to this), Marc Jacobs' "Daisy", and the trusty, fail-proof Bumble and Bumble surf spray to top it all off.