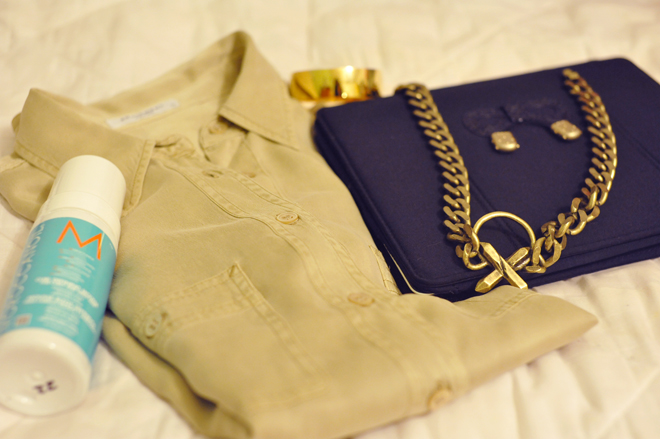 Equipment blouse, Moroccan Oil mousse, J.Crew cuff, Luv Aj choker, See by Chloe iPad case

My most recent (and current favorite) purchases: 1) the unequivocally perfect silk blouse in an utmost perfect champagne-y color from Equipment (similar one here) seems to go with a lot of the other neutral-shaded pieces in my closet; 2) the mousse that does the job but doesn't feel mousse-y, ah, thank you Moroccan Oil... you even make my hair smell that much better; 3) the gold cuff from J.Crew, thick but small enough to accessorize with a lot of things; 4) the necklace I can't seem to peel from my neck and clavicle bones, ugh I love it; and 5) a dainty-but-straight-forward case for one of my other latest splurges, the new iPad.

Okay, so I guess I have been spending a bit - I'm going to eat my words from this post. Sometimes, a dip in spending just facilities a huge peak in spending, and right now I'm experiencing that peak. Still coveting these sunglasses from Karen Walker, this pair of undone cut-off shorts in such a good berry/peachy hue from 7 For All Mankind, and Dannijo's simplistic Nicoline necklace...