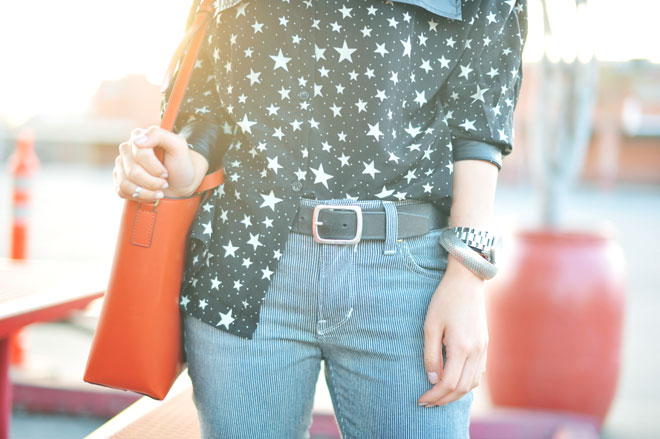 Romwe star-print top, Kasil Workshop cropped skinnies, Zara sandals & bag, Michael Kors watch

Finally, a post more up-to-date for the new month: my latest 'do, my new favorite pants (ever), and these sandals I still am not tired of. I realized after looking back at the photos taken that I am sort of reminiscent of the American flag but... um, yeah that wasn't intentional. Stars, and stripes and the colors red and blue just seem to magnetize each other.

About these pants: it's a cropped skinny called the "Rail" and it's pretty much simplicity in a pant, perfected. It fits me like a glove, and the thin-stripe detail goes with anything, dressed up or down. I've gotten a lot of email inquiries about where to buy Kasil, because it's only exclusively sold in certain boutiques, Nordstrom's, and Bloomingdale's. It's unfortunately hard to track down such good bottoms... BUT if you're in LA, this pair is available at Madison, Satine, and Ron Herman.