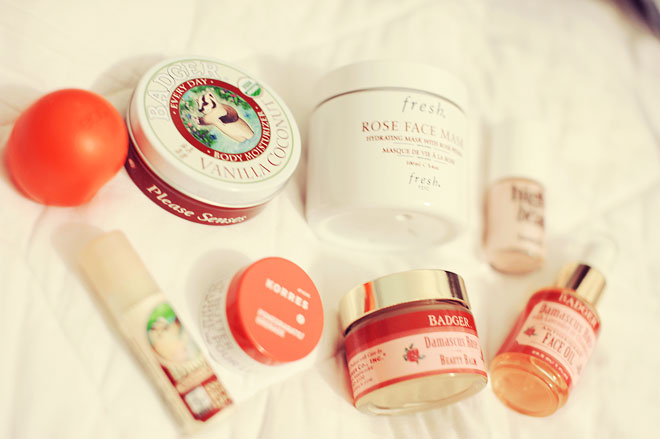 Somewhere in between trying to muster up enough energy to pack five hours before my flight for Seattle and playing the most addicting app game ever, Scramble with Friends, I managed to take a photo of a few products I've been loving as of late. As mentioned in this post, the Rose Face Mask from Fresh is still one of my favorites. But I've added onto my list of must-haves...

I recently discovered Badger, a small but impressive company that makes organic balms and skincare products - exciting! I had been scouring the net for organic-but-affordable products for a long time and Badger does not disappoint. So far, I've tried their Damascus Rose Face Oil (face), Damascus Rose Balm (under eye), Every Day Moisturizer (body), and Cocoa Butter Lip Balm (also in 'vanilla' - I'm obsessed). LOVE every single product. Every thing is packed with antioxidants and feels absolutely nourishing. The moisturizer and lip balm smell like fresh vanilla macarons, too, so that's a plus in my book.

The other products in the picture: EOS sphere lip balm in "summer fruit", also mostly organic (95%). The smell is great, the feel is even better. My lips are truthfully kept moisturized for extended periods of time with this odd-shaped lip balm. KORRES lip butter in "pomegranate" - overall just a great moisturizer with the perfect pinkish-red tint. Not sticky, not overbearing. Lastly, Benefit's High Beam! Quite late in the game, but I do realize the legitimacy in the cult following for this product. Simply put: it's amazing. Every girl needs this if they want their face to look like it's glowing (of course, aside from drinking plenty of water and eating ample amounts of vegetables and fruit). A must-buy.