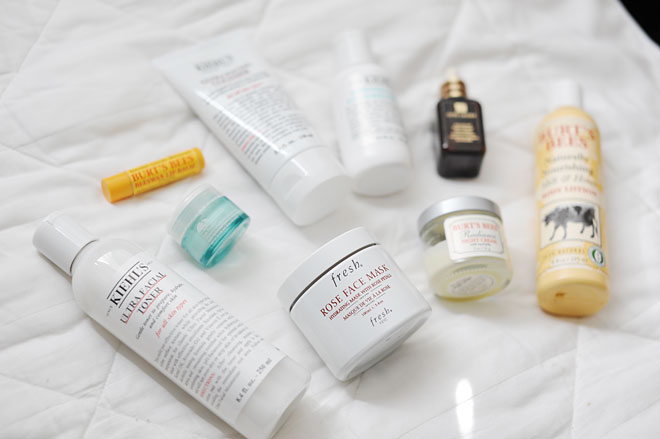 I've gotten a handful of emails asking about my skincare regimen. During the winters I think I tend to take better care of my skin, mainly because it does react to the colder temperature by drying out (normally doesn't happen otherwise). Here's what I use almost religiously during the wintertime:

The recently discovered Rose Face Mask from Fresh is one of my favorites. It's a gel mask made from rose oil and water, chamomile, aloe, and cucumber, and it's so soothing. After going about my usual routine with Kiehl's, every two or three days I spread a thin layer of the mask onto damp skin and let it sit for 15 minutes. Once 15 minutes is up, I wash my face with warm water and it feels completely fresh - renewed, almost. But before I put on the mask, I wash my face with Kiehl's Ultra Facial Cleanser, take off any remaining eye makeup with Kiehl's Supremely Gentle Eye Makeup Remover and then tone it with, yet again, Kiehl's Ultra Facial Toner. I trust and stick with Kiehl's because it's consistently made my skin feel clearer and gentler. The toner removes any remaining crap off of my face, and it moisturizes it with Vitamin E, and kernel and avocado oils.

After the mask, and of course, before any face moisturizer, I apply Estee Lauder's Advanced Night Serum. Serum is something I like to splurge on, especially because it's supposed to penetrate your skin. Call me paranoid, but I want to make sure I find the best stuff if it's seeping into my deepest pores. I love Estee Lauder's serum, but I have been wanting to get my hands on the full bottle of Ole Henriksen's Truth Serum - I've sampled it from Sephora and that stuff feels even more amazing and refreshing. I'm running low on Estee Lauder's so I might have to get Ole Henriksen's soon...

To finish things off, I evenly spread Radiance Night Creme from Burt's Bee's over my face (avoiding the area surrounding my eyes) and dab a little bit of Origins' Eye Doctor cream under and over my eyes (so smooth). The Radiance Night Creme is 99% natural, made with royal jelly and shea butter, which really persuades me into thinking that this stuff is legit. I'm on my second jar so far and it has done my skin no wrong. I also love it because it's inexpensive and it works just like its more expensive counterparts that I've used before it.

To avoid waking up with awfully dry lips the next morning, I put on Burt's Bees Lip Balm before jumping into my bed. Following suit are my hands, arms and legs with Burt's Bees' Milk & Honey Body Lotion. The body lotion is natural, made with milk, honey, coconut oils, and Vitamin E - it moistens my skin almost instantaneously and it stays like that for a long time. My favorite lotion to date, and I don't mind the sweet smell.

Do you guys have any skincare secrets? I've been such a skincare nut lately (ask my boyfriend) and I'm always looking for the next best product. Right now, while I'm running low, I've got my eyes on this Creamy Eye Treatment with Avocado from Kiehl's, and as mentioned earlier, Ole Henriksen's Truth Serum. I'm a sucker for lip balms, too, and wouldn't mind trying this: Burt's Bees Tinted Lip Balm in "pink blossom". Any thoughts?