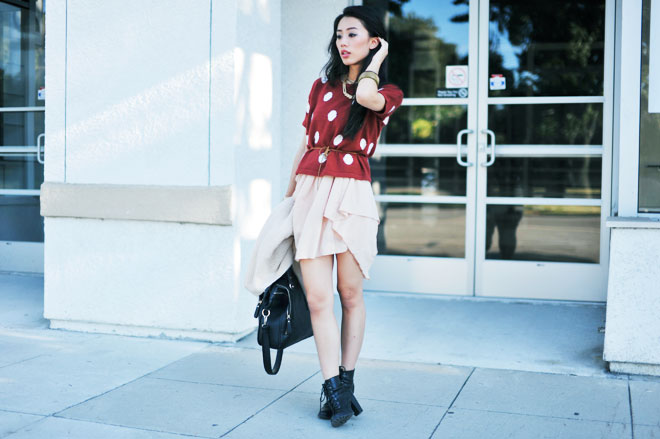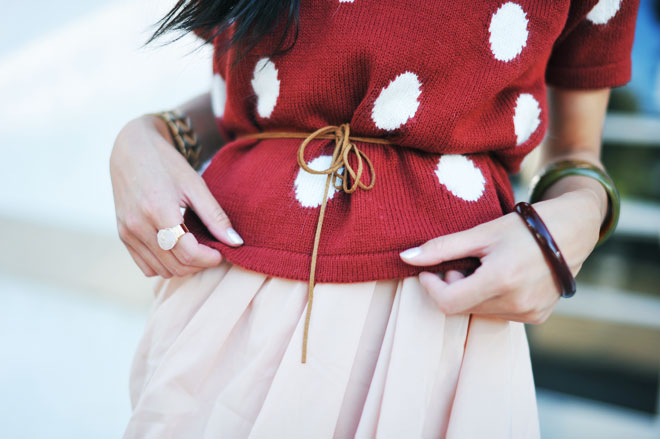 Topshop cardigan, Forever 21 top/boots, VJ Style skirt, Melie Bianco bag, Urban Natures braided necklace

I was just going to write something quick about the unrelenting heat pervading the month of October (very unwelcoming, in my opinion - I want my cold so I can finally make better and more reasonable use of my knits) but I just felt a slight chill come through my window... so I'm not complaining. I love the sunshine, but sometimes a girl needs a change in season to know where she's at. I guess that's why I've always been attracted to NY, where four seasons actually exist.

Speaking of which, I've been having major withdrawals from NY. You know how pedestrians in NY just step off of the curb even when the light is still red for them to cross? I find myself stepping off of the curb as soon as the last car zips by, wanting to cross while the adjacent light is still green. NY habits, NY food, NY streets, NY buildings... I miss it all. I'm overtaken by big dreams of traveling; I wonder if I'll have enough time/money for Europe in the summer. Feeling like it's time to pack up some bags and start living life in a new city again :)... but right now I'm laying low and trying to indulge in the simple things in life... like the feeling of engaging in three intense battles on Words With Friends and pulverizing your enemies. Hahaha.

Anyway, I've been getting an odd amount of emails asking about my hair and makeup routine. As mentioned in this post about my hair, I only say 'odd' because I don't do anything to my hair... and I still don't, even after discovering the power of Bumble and bumble. In this post I used Moroccan Oil from Misikko - I LOVE it. It smells good and it makes my hair soft, smooth, and shiny but matte at the same time. Excessive usage ATM (at the moment). Yes.

My make-up product go-to ATM is Anastasia's ILLUMIN8 bronzer in 'Sun Kissed.' I generally use a light pink blush only, so when I received this bronzer two weeks ago, I decided to give it some time to get comfortable before actually documenting my face with heavy contours. Honestly, even with my apparent cheekbones, I really like it. I'm a bit late in wearing bronzer, as summer (for LA anyway) is coming to an end, but the very light brown/orangey shade is seemingly perfect for any season.