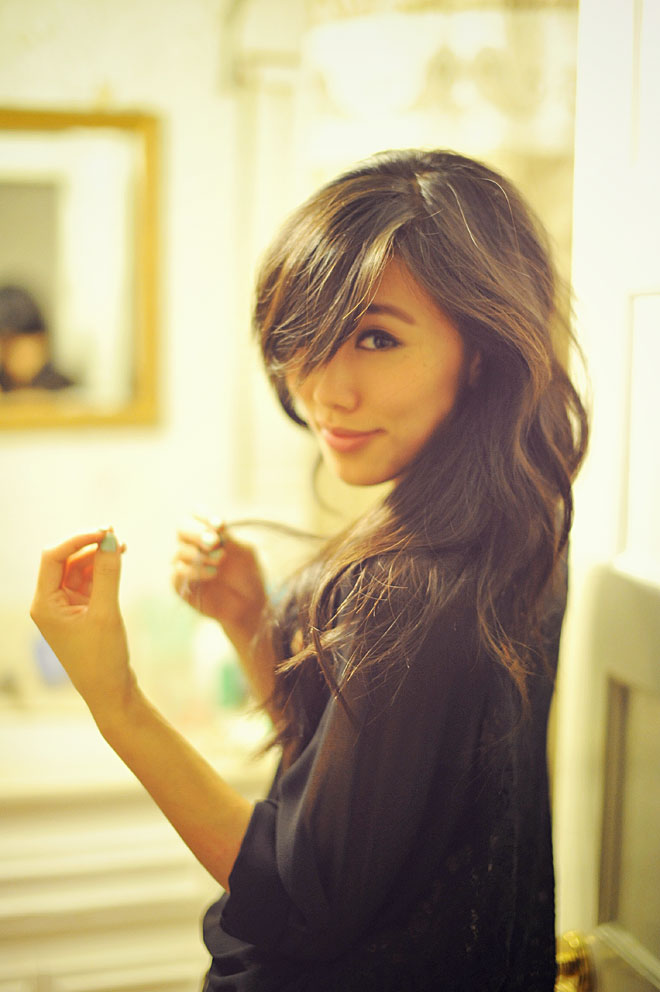 Bumble and bumble texture creme, Corioliss .7" curling iron

As I mentioned in my previous post, it's kind of odd to realize that some people are at all interested in my hair! Honestly, my hair routine is less exciting than... pretty much everything lol. I don't comb or brush it (although I should--recently in a magazine I read that combing it every other day helps distribute the essential oils that sit near the roots). I don't usually do anything to my hair except wash it with generic Dove shampoo and conditioner. Sometimes I'll wash every other day if I can cope with some oil (I hate the feeling)... but I will admit that occasionally alternating my shampoo usage between two-three days definitely makes my hair feel thicker and shinier.

For as long as I can remember, I've stayed away from hair products... everything from hairsprays to volume lifts to blowdryers, yep. I am very picky with my hair as I am with my lips and I'd rather do nothing to them because doing anything at all makes me feel super self-conscious. I guess I'd rather deal with my stubborn baby hairs than have put-together, sticky, stiff hair.

When I do feel the need to dress up my hair, I rely on Bumble and bumble. I was never too happy with any products or brands until a few months ago when I started using Bumble and bumble's surf spray. Finally, it was something I was able to put in my hair and still feel comfortable. Although I quickly got over the spray because some days my hair would fall flat (Asian genes, gotta love 'em) and lose the waves it had initially started out with.

Late June, I tried Bumble and bumble's texture creme and only then I felt entirely satisfied with a hair product. It's definitely an upgrade from the Bb. surf spray and a little goes a long way (so get to your nearest Sephora or hair salon and grab one of these presh babies!). It does everything the 5 oz "hair (un)dressing creme" says it does: it loosens the hair but gives it a nice hold. Run one or two dollops of the creme through damp hair, let it dry. Then style as you would with your hairdryer or a curling iron. I used a Corioliss .7" curling iron from Misikko.

I LOVE this curling iron. When I received the package from Misikko, I was almost scared to touch it (it looked like a wizard's wand!) haha--I'm such a noob when it comes to hair styling. It didn't have the clamper like most curling irons I had used in the past but it turns out, using a curling iron without one is so much more hassle-free. It really curls your hair without making a dent anywhere and the electrical cord swivels freely. I quickly got the hang of it and now I'm able to make really noticeable curls or just loose waves. Really great product, not lying.

If you've been looking for a solid hair styling creme and/or an effective curling iron, the Bb. texture creme and Corioliss iron are my recommendations. I've never gotten so many compliments about my hair during my days out, seriously.

Misikko is offering $10 off of any purchases over $100 with the code 'JFTB10'!