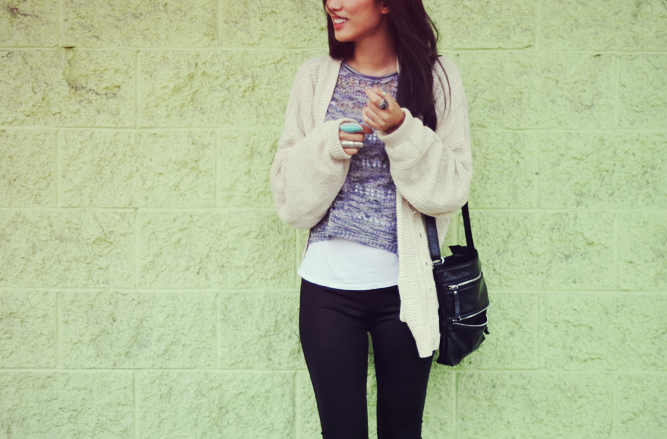 vintage knit cardigan, Kensie space dye pullover, Forever 21 leggings, gifted Corso Como 'Leila' wedges, Kmart crossbody bag

When life gets hectic and when I don't want to look like a chump in sweats, I find that black leggings, a white tee, and an oversized cardigan are the next best things... that, luckily, don't make you look like a completely lazy arse. Although I'm not fond of purple, the Kensie pullover provided a nice pop of color and contrast. And, lastly, much thanks to Corso Como for saving the day with these wedges that they sent over last week. So comfy but exciting enough (with the studded gladiator straps) to spice up a really basic outfit.

After finishing up some research tomorrow, I've got to plan out what to wear for Sun God and for Wango Tango. Am I the only one who styles my outfits according to how my hair looks? When I had the fringe/bangs, I felt the need to wear sky-high platform boots to go for that punk look haha. I went in for a trim the other day and came out looking like a young little Asian boy. I swear, sometimes hairstylists get too happy with their scissors. One inch almost always translates into three. Dang it.